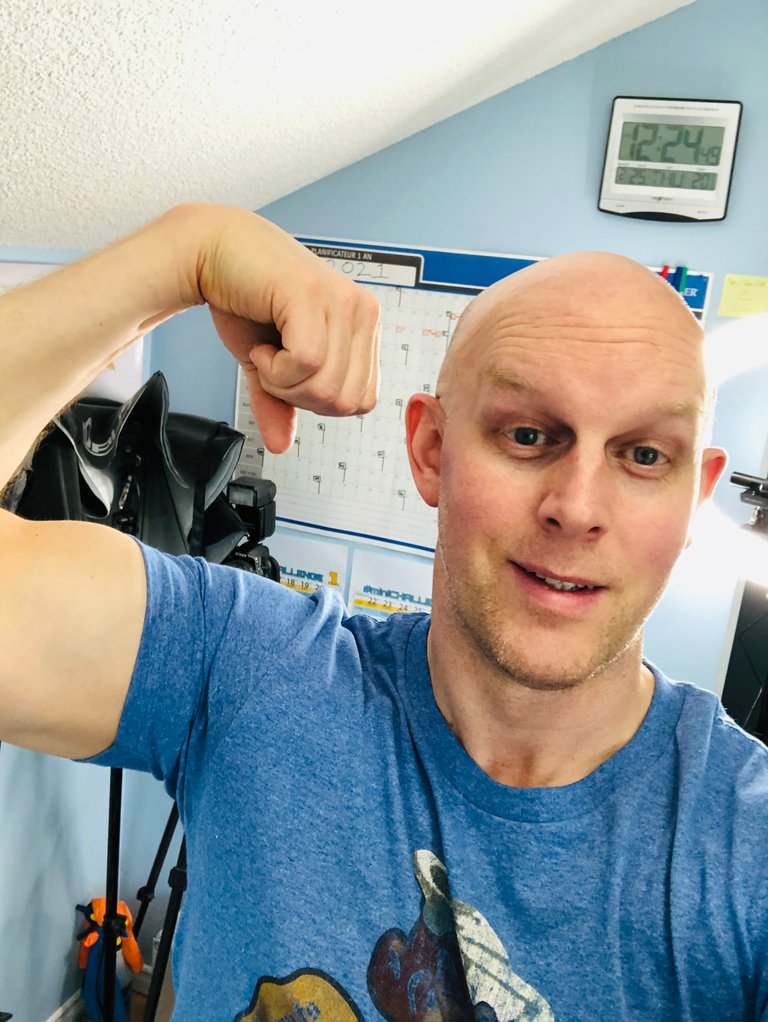 ---
I took this selfie after today's LIVE lower body workout. The days have been slipping by and we are headed into day 11 of the #LiveFitChallenge2021... already!
It feels great to get reps and steps especially first thing in the morning. Having won the day everything else that I do afterward just feels that much better!
So how have you all been doing? Are you thinking about joining this fitness challenge?
Yes... it's a challenge so that means deciding to participate means that you would likely be pushing outside your comfort zone a little... but I think you should join us!
An exciting thing about challenges is that they bond the challengers in a special way and after two weeks of workouts we are all beginning to get some results as well! I'm always in a good mood when I see results!
And I guess that's why I took today's picture... I was/am feeling pretty good today... so I wanted to remember this moment as a high point. Another stepping stone to where I'm going, who I want to be, and what I want to do.
I believe in stringing "heck yeah" moments together. BE NOW. It's really about rejecting the deferral lifestyle... you know... the one that says to do what everyone else is doing. Just keep on banging your head against the wall... even though there's a door right there just to the right of where you are! Wait and wait some more. If you wait something good will land in your lap.
Forget it! Don't wait. ACT! Don't live in a shadow. Step into the light... because if you want something... you gotta go out there and GRAB it with both hands! Life's yours and only yours... and it's there for the taking! Poke the universe... see what pops out the other side!
And while your at it... make a whole lot of memories along the way! Living a life worth living is t about waiting for a 3 weeks vacation. It's about living a lifestyle that you don't need a vacation from! Don't buy into the story everyone's telling with their life on hold lifestyles.
Risk is pretending you haven't jumped out of the airplane... without your parachute on... guess what! We all have jumped out of the airplane the very first breath we took confirms this for all in the land of the living! And believe it or not... none of us have a parachute on!
Play it safe. Don't do what you want to. Please the people around you. Set your dreams to the side... it's not going to change anything! Your not avoiding anything risky... only the discomfort in realization.
Be now means that as long as your being authentically WHO you really are on the inside... as an identity statement your declaring to the world that this is who you are unconditionally and unapologetically... this is what you want from life and this is how you choose to show up in the world... so that's what "BE" is all about.
"NOW" is action word that ground you in the present. By doing life the way that you want to do it... right now (!) you are who you say that you are. Confidence and energy come from the present. Regret and shame from the past. Fear and greed from the future. But all are unstable when compared to the potential that the present grants.
If you want to be an artist... A web designer, a rocket scientist, an investor, a entrepreneur, a father or mother, an intellectual, a peace maker, an inspiration, an inventor, a new pioneer, a programer, a personal trainer...
All you've got to do is do that 1 thing (that moves you in the direction you want to go) every single day. As long as you were true to your identity... your why and your who... you are who you say to yourself (and others) who you are.
BE NOW.
So that's the sort of day I had today... an empowering one where I didn't live my shadow life... instead I did the thing I aspire to and in alignment with who I want to be and what I want to be.
What is that?
As a certified personal trainer and fitness entrepreneur, I want to set up the game for people to win, I want to add meaning to people's lives through activity, and I want to bring peace and purpose to the world with the work that I do.
I did all of that and more today... I'm compounding win's and so that is what I see when I look at this picture.
Thank you for letting me share.
I hope that these words reach out and touch you.
Let's all grab for the goals that matter,
@wil.metcalfe
Certified Personal Trainer
Fitness Entrepreneur
@Actifit
@AdventureReady
@BeachReady
@OneMoreNutrition
@EveryStepCounts
And the creative mind behind the WIN SYSTEM & the #HighFive movement.
---
Today's #AutomaticWin
This report was published via Actifit app (Android | iOS). Check out the original version here on actifit.io


11007

Daily Activity,Walking,Weight Lifting