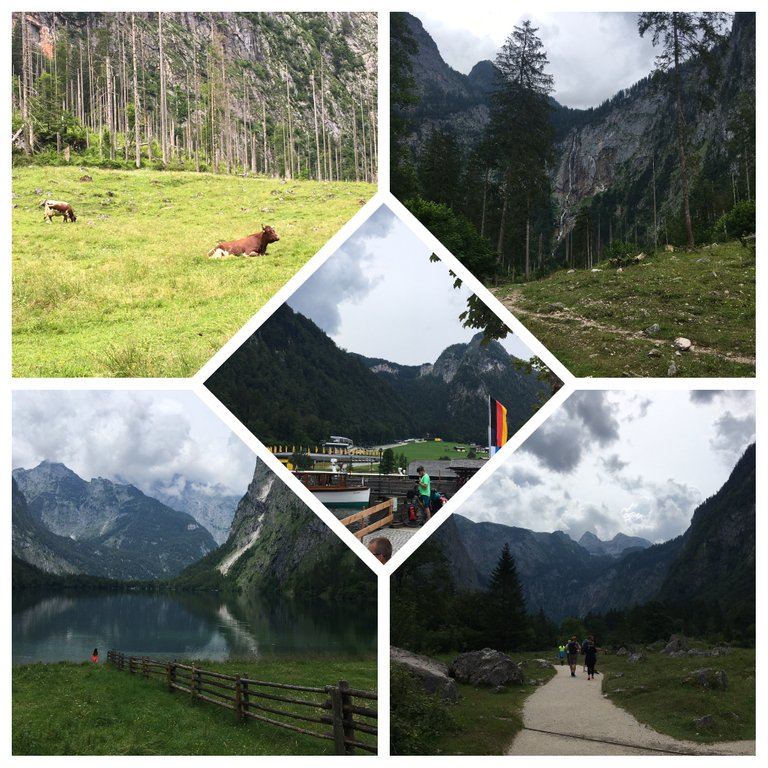 Hallo Steemians, HivePeople und Actifitter,
Heute Morgen scheinte die Sonne am wolkenlosen Himmel und es sah nach einem schönen Tag aus.
Für heute hatten wir einen Ausflug zum Königsee in Schönau geplant. Hier wollten wir dann mit einem Schiff weiter bis nach Salet und dann eine Wanderung über die Fischunkenalm bis um Röthbach-Wasserfall machen.
Wir sind früh aufgebrochen, da diese Tour schon den ganzen Tag einnimmt. Angekommen am Königsee hatte sich der Himmel mittlerweile bewölkt, dennoch haben wir uns die Tickets für die Hin- und Rückfahrt gekauft. Insgesamt habe ich für 2 Erwachsene und 1 Kind ca. EUR 50,- bezahlt.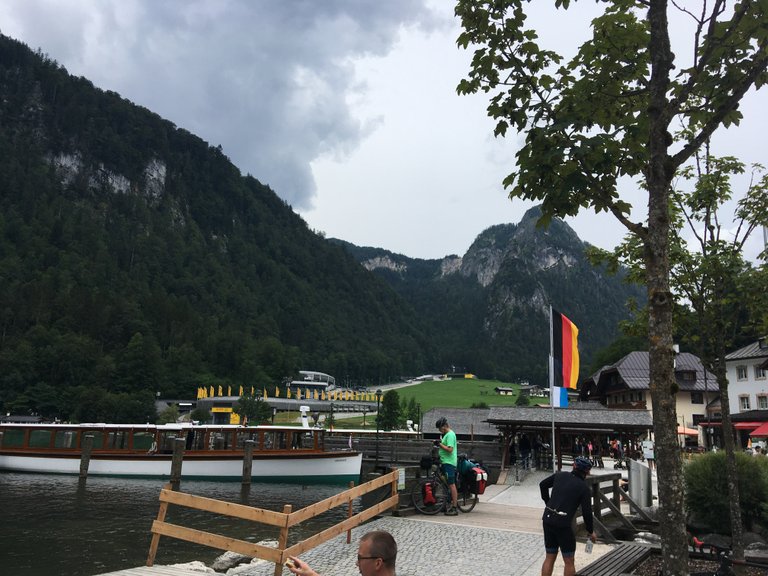 Die Schiffsfahrt über den Königsee dauerte ungefähr 50 Minuten und war sehr informativ, da unterwegs ein paar Dinge erzählt werden. Unter anderem hat man eine schöne Aussicht auf den Watzmann, den dritthöchstem Berg Deutschlands.
Von der Anlegestelle in Salet geht es in einer rund 1,5-stündigen Wanderung entlang des Obersees bis zur Fischunkenalm wo man sich dann noch einmal stärken kann für die Fortsetzung der Wanderung bis zum Röthbach-Wasserfall. Das gefragteste Getränk hier auf der Alm ist neben dem Bier ein Glas Milch. (Wer's mag?!).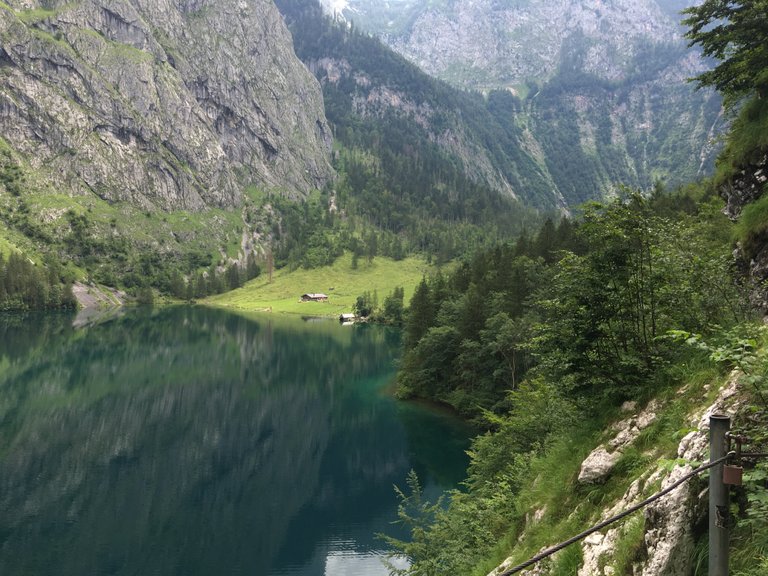 Die Wanderung zum Wasserfall beginnt mit einer ordentlichen Steigung und meine zwei Damen, die sich zuvor mit einer Milch gestärkt hatten, begannen schon zu schwächeln. Nachdem aber die erste Steigung geschafft war, ging es in der Ebene weiter bis zum Wasserfall.
Am Wasserfall angekommen, begann es bereits ein bischen zu regnen, dennoch ließen es sich meine zwei nicht nehmen, die Füsse im klaren Bachlauf zu kühlen.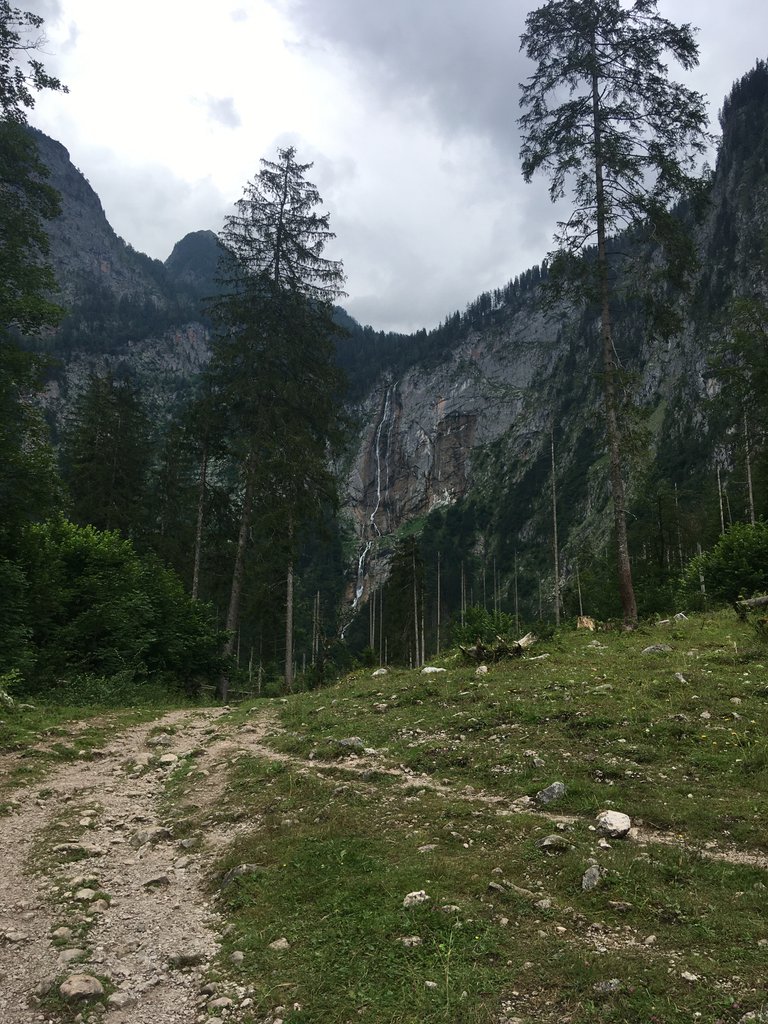 Auf dem Rückweg hatten wir vereinzelte leichte Regenschauer die aber harmlos waren. Der Regen wurde erst etwas stärker als wir in Salet am Bootsanleger auf das nächste Boot warteten.
Auf das Boot mussten wir relativ lange warten (ca. 30 Minuten). Eigentlich sollte jede 1/4 Stunde ein Boot kommen.
Auf dem Rückweg mit dem Boot wurde der Regen noch einmal deutlich stärker, weswegen wir keine Fotos mehr machen konnten. Um 17.00 Uhr waren wir dann zurück in Schönau.
Der Tag war wieder voller Programm und nachdem wir zurück zum Ferien-Appartement waren und etwas zu Abend gegessen hatten, fiel die erste vor Müdigkeit fast vom Stuhl.
---
---
Hello Steemians, HivePeople and Actifitter,
This morning the sun was shining in the cloudless sky and it looked like a nice day.
For today we had planned an excursion to the Königsee in Schönau. Here we wanted to continue with a ship to Salet and then hike over the Fischunkenalm to Röthbach waterfall.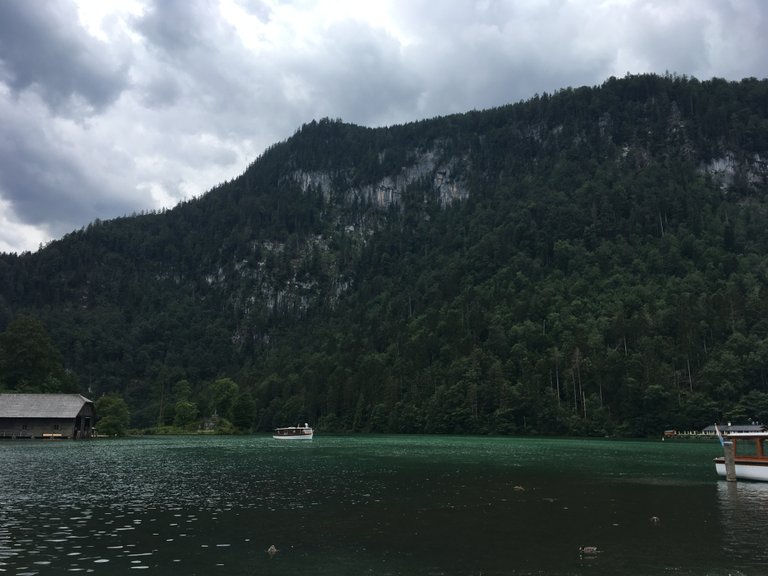 We started early because this tour has been taking place all day. When we arrived at Königsee, the sky was cloudy, but we bought the tickets for the trip. In total I paid about EUR 50 for 2 adults and 1 child.
The boat trip over the Königsee took about 50 minutes and was very informative, as a few things are told on the way. Among other things, you have a beautiful view of the Watzmann, the third highest mountain in Germany.
From the landing stage in Salet, it takes around 1.5 hours to hike along the Obersee to the Fischunkenalm, where you can strengthen yourself again to continue the hike to the Röthbach waterfall. The most popular drink here on the mountain pasture is a glass of milk next to the beer.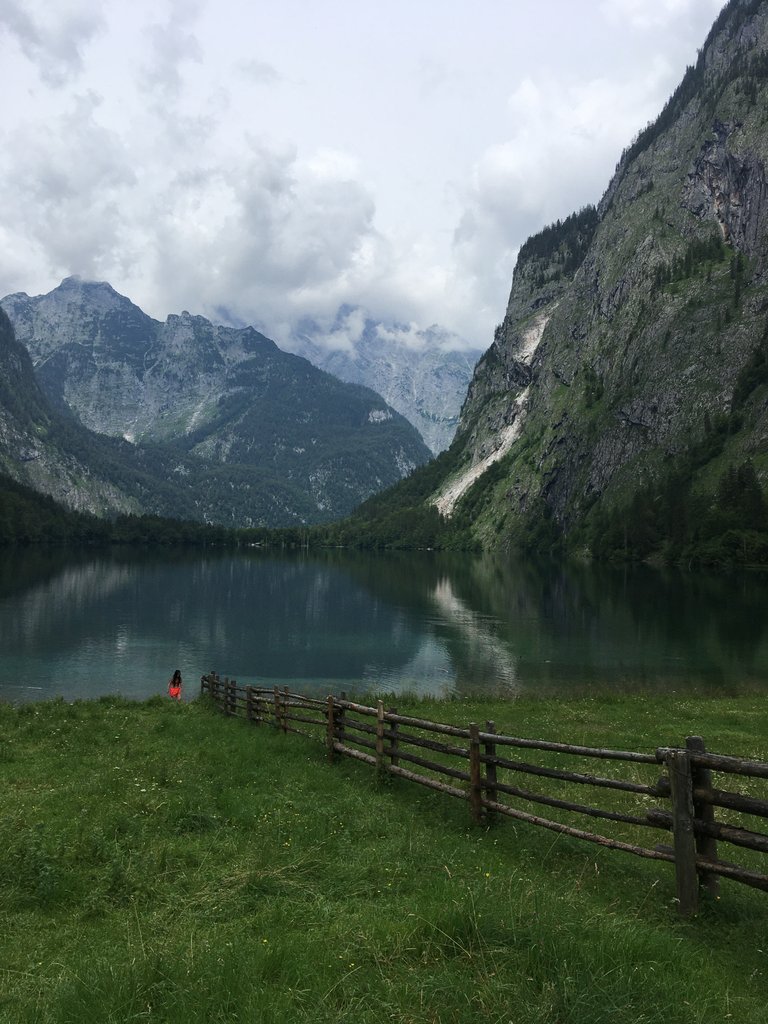 The hike to the waterfall starts with a decent climb and my two ladies, who had previously fortified themselves with milk, were already starting to weaken. But after the first climb was done, we continued on the plain to the waterfall.
When we got to the waterfall it started to rain a bit, but my two couldn't women help cooling their feet in the clear stream.
On the way back we had occasional light showers which were harmless. The rain only got a little stronger when we waited for the next boat at the boat launch in Salet.
We had to wait a relatively long time for the boat (approx. 30 minutes). Normally a boat should come every 1/4 hour.
On the way back by boat, the rain got a lot stronger, so we couldn't take any more photos. At 5:00 p.m. we were back in Schönau.

This report was published via Actifit app (Android | iOS). Check out the original version here on actifit.io




18815

Art der Aktivität,Hiking,Walking