Top 5 By Position - Center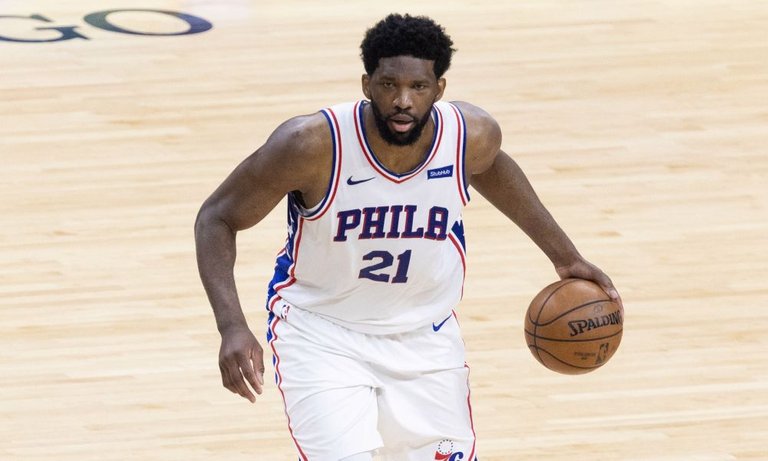 Image Source: https://sixerswire.usatoday.com/2021/09/01/joel-embiid-takes-to-twitter-to-remind-sixers-fans-they-have-to-be-better/
Wrapping up my top 5 by position series, I will be looking at the best centers in the league.
Honorable mentions: Bam Adebayo, Kristaps Porzingis.
5. Nikola Vucevic
I think that Vucevic has been a player that has flown under the radar for years. This is due to the fact that the teams he has played on haven't been too great: the Magic and now the Bulls... However, this guy is wildly impressive at the 5 position because of his shooting ability, especially from the three point line as he shot 40% last season. He leads all centers in field goal attempts per game at just about 20 shots a game and is still shooting almost 48% on all shots... Dude is pretty good, just needs some help.
4. Julius Randle
Randle had a career year last year, landing him on the all star team and on this list now. He led all centers in the league in 3pt percentage at just over 41%. He singlehandedly kept the Knicks in a lot of games this season, and he is primed for another huge year coming up as the Knicks will hopefully be even better than they were... Though they are the Knicks.
3. Karl Anthony-Towns
KAT had a tough year off the court, so we didn't get to see as much of him as we usually do, but this guy is a special player. All around just a great center. He moves the ball well when he gets it, shoots well and is able to grab tough rebounds in the paint. Really excited to see how he'll play when fully healthy with a more clear mind.
2. Nikola Jokic
What can we say about Jokic other than he's the MVP. He is a triple-double machine at over 7 feet tall and just makes the most ridiculous passes and finishes I've seen from a big guy ever. Though he moves around the court like a turtle, he somehow finds himself in space with his handles and knocks down sick rainbow jumpers every night. When Jamal Murray is healthy again, this duo will be tough to stop on the pick and roll.
1. Joel Embiid
My favorite NBA player and the future GOAT of Philadelphia. Other than injuries, Joel's NBA career has been marked by absolute dominance on the floor. He has developed a fantastic shot from certain spots on the floor and is one of the strongest guys in the game. When the Sixers finally get some floor spacing (bye Ben), the team will be unstoppable with Embiid running the block and distributing to the open guy off the necessary double team. Joel will be an all time great if he stays healthy.
---
---