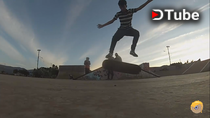 ---
Hello friends. Welcome to another video for my channel today. I am going to leave you some attempts from my friend Ricardo had not seen him for a long time and after a while without going to the park, what I arrived at he was and told me that she did the kickflip.
The truth is that I got very excited because the last time I recorded it I was close to falling. So in what he told me that I decided to take out the camera and record some shots until he got it I really like my friends to progress because they are advances in skateboarding and in the team So I hope you enjoy the video friends this boy looks like he will have a lot of talent.
SKATEBOARDING-NEVER-DIE.
---
▶️ DTube
▶️ IPFS