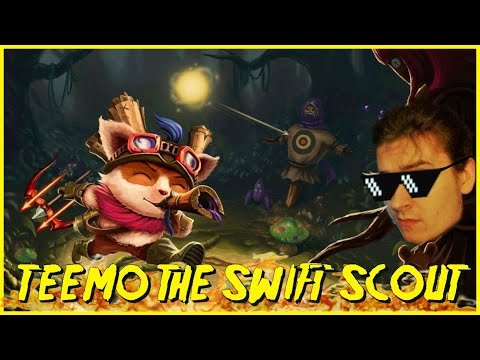 ---

Welcome everyone 👊😎

I'm Daniel "Dirapa" (Tripple Diamond) &...
It's my Teemo - The Swift Scout in League of Legends on ARAM
BADGER, BADGER, BADGER. MUSHROOM, MUSHROOM, MUSHROOM 👈
Teemo is a legend among his yordle brothers and sisters in Bandle City.
As far as yordles are concerned, there is something just slightly off about him.|
While Teemo enjoys the companionship of other yordles, he also insists on frequent solo missions in the ongoing defense of Bandle City.
Despite his genuinely warm personality, something switches off inside Teemo's mind during combat so that the lives he must end while on patrol do not burden him.
Even as a young recruit, the drill instructors and other trainees found it a little disconcerting that, while Teemo was normally charming and kind, he turned deadly serious and highly efficient the minute combat exercises began.
Teemo's superiors quickly steered him toward the Scouts of the Mothership, which is one of Bandle City's most distinguished Special Forces unit alongside the Megling Commandos.
More in video...
If someone want to play with me that's my nicks:
➡ EUNE Dirapa
➡ EU WEST Dirappa
➡ US Dirapa
Write to me for confirmation.
I hope you will have fun ❣
Be ready for more...
💚💛❤️
See you later, peace ☮ 👋
---
▶️ DTube