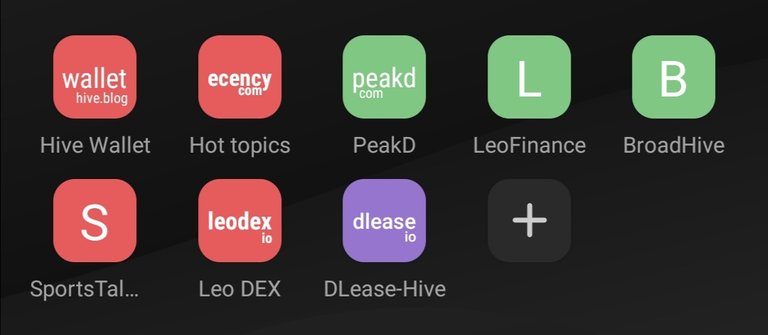 Note: I cut the image from the browser (opera mini) app I use.
Hive Wallet:
wallethive.blog
We can call it the gateway to the Hive Blockchain world. I often use the market part, especially. You can make a profit by exchanging Hive-HBD in the market section.
Ecency:
ecency.com
Ecency has a very useful interface. I can say that the interaction point I use most often. Ecency points application is highly encouraging. Thanks @ecency
PeakD:
peakd.com
I also use the site peakd.com, although not very often. There are other advantages, of course, but it is very nice for those who prefer to have the reward.app option in the reward collection settings.
LeoFinance:
leofinance.io
You can share your finances on this platform. You can at least use the "leofinance" tag. Leo is one of the notable tokens in the hive universe. You can earn Leo by using Leofinance.
BroadHive:
broadhive.org
Broadhive is a new formation compared to the others. However, I think it is going well for the beginning phase. Shares with finance, technology and blockchain content are made. You can earn BHT by using this site or by using the "broadhive" tag in appropriate content.
SportsTalk:
sportstalk.social
If you are interested in sports and sports like me, you should use this site or the "sportstalk" tag. You can earn Sports by doing this.
Leodex:
leodex.io
As far as I know, there are 3-4 exchanges in the Hive universe for crypto trading. However, I prefer Leodex.
Dlease:
dlease.io
The site I use to rent Hive Power. There are other alternatives, but I think this is the most appropriate. If you are thinking of renting Hive Power, you can visit.
I made this post especially to be a guide for new users. There may be shortcomings. You can contribute all kinds of comments in the comments.
Note: The translation of the article from Turkish was made thanks to google translation.