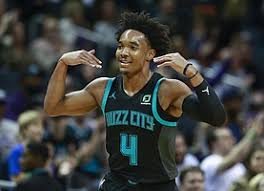 The NBA's Eastern Conference standings are currently what we expected when it comes to seeds 1-6 as it stands today:
Milwaukee
Boston
Miami
Toronto
Philadelphia
Indiana
One could argue Philly should be a top 3 seed and Boston and Miami are over-achieving by a few games, but other than that, nothing is surprising at the top. The Nets haven't had KD all year and both Kyrie & Levert have missed significant time with injuries. Chicago is working with a very young team and a coach that really isn't a match for the talent he has. The Hawks were without their 2nd best player for more than half of the season. That leaves us with my most surprising team: The Charlotte Hornets. While their record is far short of stellar at 15-24, the are currently the 9th seed, just one spot out of the playoff picture. I wouldn't be surprised if the casual NBA fan couldn't name a single player off of their roster after losing Kemba Walker to the Celtics over free-agency. Charlotte's last all star player prior to Kemba Walker was GERALD WALLACE back in the 2009-1010 season. That's right- in a notoriously weak conference, they didn't have a single player make the all star game besides Kemba in the past 10 years. Needless to say, everyone expected them to be towards the very bottom of the East this season.
What's different this year? To put it bluntly, THEY CHANGED EVERYTHING. All of the experienced starters who surrounded Kemba? If they're still on the roster, they're getting majorly reduced minutes. I'm looking at you, Nic Batum, Marvin Williams, and Michael Kidd Gilchrist. Other key role players from last year's team that are now gone: Jeremy Lamb, Tony Parker, and Frank Kaminsky. The only remaining players who are getting minutes are Cody Zeller, who is a consistent role player but not much more, and Malik Monk, who many would say has under-performed based on what was expected of him out of college. Coach James Borrego has done a great job in forcing players to earn their minutes, and their stud of a rookie Devonte Graham has not only nabbed minutes away from Monk, he's already shown to be their best player despite being a rookie picked in the 2nd round. On paper one wouldn't think that pairing Graham with Terry Rozier would work. Both are 6'1" and both love to shoot while only hovering around 40% from the field. This leaves them undersized on defense and light on ball movement, which typically causes teams to become disinterested as players go possession after possession without touching the ball. That clearly hasn't been a problem with the Hornets, as it's evident that Borrego has this team playing selflessly and with a whole lot of heart.
You could root for a sexy team like the Nets, who lured Kyrie and Kevin Durant in the offseason, but i'm far more interested in the gritty Hornets and their electric new point guard.