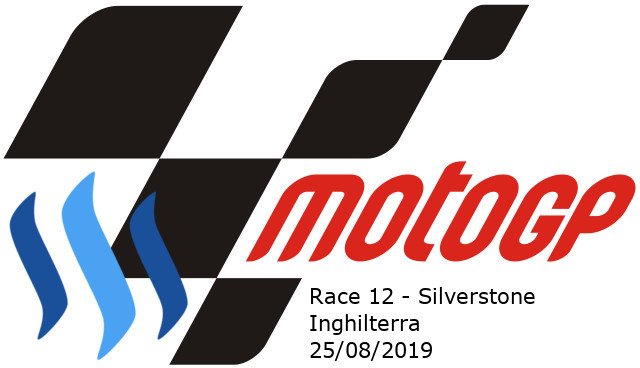 By Angelus (Own work) [Public domain], via Wikimedia Commons
By steemit.com (steemit.com) [Public domain], via Wikimedia Commons
Ritorno dopo le ferie con un nuovo episodio di SteeMotoGP
Ringrazio, innanzitutto, il mio socio @green77 che mi ha sostituito egregiamente negli ultimi 2 GP
Si ritorna in pista a Silverstone, dove l'anno scorso si onsumò una dei peggiori weekend, dal punto di vista organizzativo e di immagine, della stria moderna della motoGP
La corsa non venne, infatti, disputata a causa di lavori di asfaltatura vergognosi che a fronte di un fine settimana piovoso (ed in Inghilterra capita spesso...) rese la pista inutilizzabile per l'assenza di drenaggio.
Di fatto lo strato d'acqua presente sull'asfalto era un pericolo difficilmente tollerabile per i piloti.
Le immagini della safety car che faceva fatica a curvare mostravano i limiti del lavoro fatto.
Speriamo, quindi, che quest'anno tutto si svolga nel migliore dei modi, anche perchè, la pista si presta a gare estremamente veloci e divertenti con tante possibilità di sorpasso.
Per quel che riguarda il mondiale vediamo il solito Marquez comodamente in testa con un vantaggio di 58 punti su Dovizioso (dovrebbe fare 3 gare a 0 per riaprire un discorso campionato...) quasi 100 punti su Petrucci, ottimo terzo e quasi 130 su Rossi 5°
La gara vede sempre favorito Marquez ma le Yamaha qui vanno bene e potrebbero giocarsi il podio con le Ducati. Speriamo nel meteo
Per il nostro contest, invece, non ho ancora una classifica definitiva, mi impegnerò in questo weekend ad aggiungere le ultime gare disputate.
Tra poco iniziano le FP. Aspetto i vostri pronostici!
IMPORTANTE
Per tutti i giocatori ricordo le regole:
si accettano i pronostici entro la mezzanotte di Sabato (al giovedi pubblicheremo il post con la classifica al round precedente e la presentazione della nuova gara)
Per questa gara, eccezionalmente, si accettano fino a domenica ore 13
Per partecipare si upvota manualmente al 100% e il resteem è molto ben accetto per aumentare i partecipanti e i premi in palio
Premi, 3 categorie totali:
Vincitori singolo GP - 1, 2 e 3 classificato di tappa vincono rispettivamente il 30%, 20%, 10% degli STEEM netti del post (instant prize) al pagamento del post.
Vincitore Campionato - Primo assoluto in classifica a fine campionato il 20% del rimanente dalle gare.
Campione del mondo - scommessa sul pilota che vincerà il mondiale il 20% del rimanente dalle gare.
Il pronostico per il campione del mondo va fatto entro gara3 (quindi al massimo con i pronostici del GP degli Stati Uniti il 14 aprile)
Per qualsiasi informazione commentate e vi risponderò.
Call to all participants
@bubbolo21
@zipsardinia
@green77
@Ciuoto
@catgio
@miss-ste
@hollywood
@sarabelardo
@antorchajohnny
@dudithedoctor
@yocritico
@dolomitidreaming
@mad-runner
@cmoljoe
@franz54
@dianagomez
@lelluzzo
@sergioambro
@serialfiller
@bisec
@zakyrayyan
@neo-wiza
@raidford
@photo-moment
@hellenita
@dubydoo25
@shifaadi
@steemforez
@adimantong
@c3r34lk1ll3r
dedicated to my "friend" Cheetah:
This a long term contest:
you can find my previuos post HERE,HERE and HERE and more...!