Today I went to a city in Tokyo and carried Mikoshi. Mikoshi is a portable shrine and carrying the god to pray for the harvest.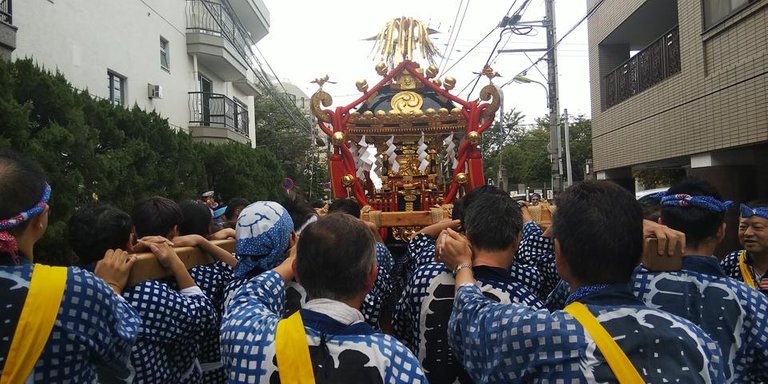 There are spots to take a rest during the walk of carrying Mikoshi and the neighbors of the town serves drinks and foods to entertain the Mikoshi carrying troops.
These foods and drinks are definitely one of the reason to join the event!


At this place, we were served beer, kara-age(Japanese style fried chicken) & sausage, chilled somen(Japanese noodle made with flour and is very thin).
Lighted-up Mikoshi in the dark is very beautiful. Don't you think?

At the end after the last round of Mikoshi carrying, the participants is again served some dishes to thank carrying the god of their town.

It depends on what festival you join if the foods/drinks are served, but you keep eating and drinking during the festival so you may gain weight even Mikoshi carrying is a tough thing to do like walking all the way and lifting up the vehicle like a sports! :P
I would update some movie of the Mikoshi carrying someday.
---
Japanese / 日本語
今日は東京の桜新町の久富稲荷神社例大祭でお神輿を担いできました。
ここは朝から夜まで神輿が出ていますが、私は昼過ぎに到着して神輿に合流しました。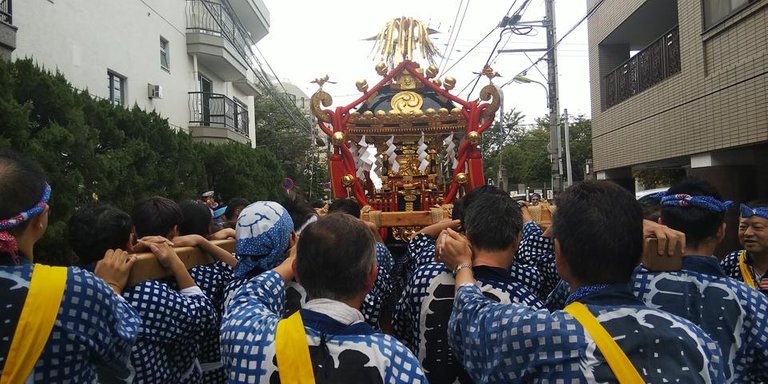 神輿の各所に休憩ポイントがあり、そこでいろいろな食事や飲み物が接待として出されます。
これが一つの楽しみになっているのは間違いありません。


ここではビール、からあげ&ウィンナー、そうめんが出てきました。
また、写真を撮るのを忘れましたが、桜新町では和菓子屋のおいしいみたらし団子が出てくる休憩所もあり、そこは毎回争奪戦ですぐになくなってしまいます。
夜のライトアップされた神輿もきれいだなぁと思います。

神輿のラストの宮入が終わると、「鉢洗い」というお疲れ様の食事が振舞われます。

祭りにもよりますが、こんな感じで食べて飲んでを祭礼中に繰り返すので運動しているかと思いきや体重はなかなか減らないのでした。