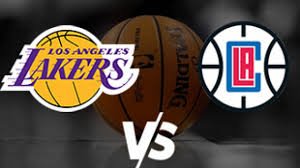 Lebron and Anthony Davis are an amazing 1-2 punch. Rob Pelinka has surrounded the stars with solid 3 and D guys like Danny Green, Avery Bradley, and Caldwell-Pope, as well as athletic big men like Dwight Howard and Javale McGee. Their third best player, Kyle Kuzma, is a very solid player but he is inconsistent and doesn't quite fit with the rest of the roster. If Lebron were three years younger, I'd say the Lakers best play is to be patient with Kuzma and let him work through his inconsistencies but the Lakers are hungry and want to win now.
Enter the Clippers. As much as I love Kawhi and Paul George, they are a step below the Lakers in terms of top 2 players on a team. Kawhi and PG both play similar positions, both are injury prone, and they quite simply don't complement each other as well as AD & Lebron. Where the Clippers make up for the similarities of their two best players is their depth. Montrezl Harrell and Lou Williams make up a better duo then half the league. Both average around 20 points per game and force other teams to reconsider their rotations, as second units can't hang with the two of them. Maybe the most important piece to the whole team is Pat Beverly. He sets the tone for this team. His passion and drive elevate the more talented players and will be the difference in the playoffs.
The #1 seeded Lakers are 4.5 games ahead of the #2 seed Clippers right now, but Kawhi has missed almost 25% of the season and Paul George has missed 40%. The Clippers are still sitting on an $11M contract of M. Harkless, $4.8M contract of R. MacGruder, and $4.8M contract of J. Green to trade. Add Zubac to those three and you may have enough to pry Steven Adams away from OKC. The Lakers don't really have any contracts that work to get them an upgrade. Kuzma is more talented than any of those players on the Clippers, but his contract is only $2M. Rob Pelinka would really have to work some magic to make a trade to put them over the top. As currently constructed, i'd take the Clippers. After taking into account ability to upgrade the team before the trade deadline? I'm even more confident in picking the Clippers over Lakers.