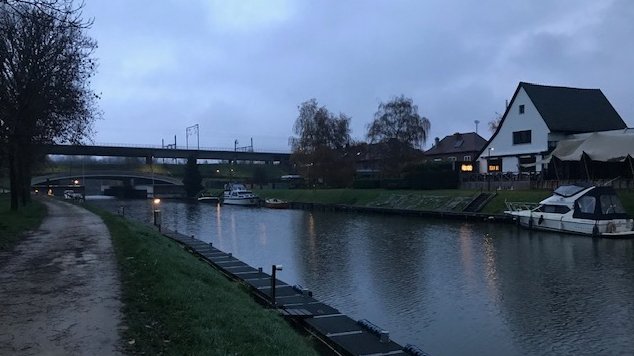 ---
I started a challenge of taking 100 days off to mainly focus on my health and overall personal development and used this account as a personal blog to keep track of all my activity. I enjoyed it and continued afterward trying to build better habits and find a good balance between health, fitness, work and my personal life....
---
Friday was one of those days where I just didn't feel like doing anything. I watched some youtube, played some Apex Legends and had big temptation to go get a bag of patato chips but managed to resist still going out for an enjoyable 2-hour walk in light rainy conditions. I stuck to eating healthy plant based, took my supplements and did drink enough water to make it an ok day overall. I wanted to watch the movie Full Metal Jacket in the evening but the subtitles were not synced so I started to watch the series Counterpart which was ok the first 2 episodes.
I went to bed quite early and am really feeling the difference in my sleep already after 2 days of healthy habits. I will continue this same pattern on Saturday complete the 10-day turnaround.
| Day | Bed Time | Awake | Out Bed | Day Score |
| --- | --- | --- | --- | --- |
| 01 Nov | 05:30 | 11:20 | 11:45 | 5 |
| 02 Nov | 01:00 | 09:00 | 10:00 | 7 |
| 03 Nov | 00:30 | 09:00 | 10:00 | 8 |
| 04 Nov | 01:00 | 08:00 | 09:00 | 4 |
| 05 Nov | 01:00 | 08:00 | 09:00 | 5 |
| 06 Nov | 00:40 | 08:40 | 09:50 | 6 |
| 07 Nov | 01:00 | 09:20 | 10:00 | 5 |
| 08 Nov | 01:00 | 08:20 | 09:10 | 5 |
| 09 Nov | 00:30 | 07:45 | 08:40 | 6 |
| 10 Nov | 01:00 | 09:00 | 09:45 | 7 |
| 11 Nov | 01:00 | 08:30 | 09:30 | 5 |
| 12 Nov | 23:30 | 07:30 | 08:20 | 6 |
| 13 Nov | 23:30 | 07:20 | 08:30 | 6 |
---
365-Day Rep Challenge
| Rep | Total | Achieved |
| --- | --- | --- |
| Push-Up | 10000 | 293 |
| Chin-Up | 3000 | 80 |
| Pull-Up | 3000 | 80 |
| Plank | 36500 Sec | 960 Sec |
| Side-Plank | 43800 Sec | 1180 Sec |
---
November Weight/Water/Expenses Tracking
| Day | Weight | Water | Expense |
| --- | --- | --- | --- |
| 01 Nov | 68.0 kg | 2.8L | 7€ |
| 02 Nov | 67.8 kg | 2.4L | 0€ |
| 03 Nov | 67.8 kg | 1.9L | 0€ |
| 04 Nov | 68.0 kg | 2.1L | 10€ |
| 05 Nov | 68.0 kg | 1.7L | 2.15€ |
| 06 Nov | 68.0 kg | 1.9L | 13.45€ |
| 07 Nov | 68.2 kg | 1.7L | 0€ |
| 08 Nov | 68.3kg | 1.9L | 4.24€ |
| 09 Nov | 68.2kg | 1.6L | 9€ |
| 10 Nov | 68.5 kg | 1L | 0€ |
| 11 Nov | 68.3 kg | 1.3L | 12€ |
| 12 Nov | 67.7kg | 2.1L | 0€ |
| 13 Nov | 67.6kg | 2.1L | 0€ |
---