Hey Jesspecialists
If you've ever read Malcolm Gladwell's bestseller Outliers, then you should be pretty familiar with the concept of 10 000 hours to gain mastery over a given skill. This is by no means gamification that once you hit that amount of hours some achievement unlocks over your head and you're now the black belt of your profession, but a study of how practice and repetition hardwire the brain and the rest begins to follow.
While some might debate the number of hours needed to become a master since some people do have the natural talent to push them along or a higher capacity to learn and adapt, the fundamental rules remain the same.
Practice makes perfect
Although we will never truly reach any perfection in anything we do, the saying still echoes true. Practice can lead to improvements if taken seriously. The issue I have, however, is one that people only associate this concept with sport or academic prowess and never other parts of their life.
Our brains learn in only one way and are it for physical, mental, spiritual or physiological improvements practice is needed for your mind and body to improve.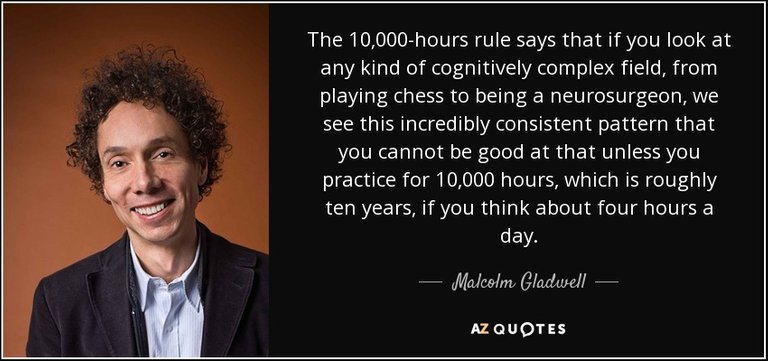 Image source: - azquotes.com
Taking skills for granted
In a world where we can outsource so many tasks like cooking food and chores, you would think it would give us more time to focus on a particular skill that we find valuable and have a passion for exploring but it seems not to be the case.
We glorify the lazy lifestyle and so many people have the aspiration to do nothing if asked what their ideal life would be like if given any choice in the world. They might say oh, sit around and have leisure time and be pampered.
We've started to glorify consumerism so much that it is even seen as a skill, the ability to shop, sit around, watch movies and do nothing is seen as the ultimate achievement that you somehow need to work towards, to me seems like insanity.
Don't get me wrong I do enjoy the occasional lay in, but I don't vacation well, and I'm at my most content when I've got something to focus my energy and attention on doing.
An overnight success takes days of hard work
I think we glorify the end product too much and there is not enough focus on how people get there. We look at titans of industry, we look at sporting figures or people who are the best in their industry, and we think wow I want that for myself.
But we never look into what they had to do, sacrifice and leave behind to reach that point and if we would be willing to do the same if faced with those same decisions.
Find out what you're passionate about and be excited about committing to it, I don't care what it is if it makes you happy and you improve in it, and it doesn't hurt anyone, I say, go for it. You never know to become the best at it might end up being a pretty lucrative pastime for yourself, mentally, spiritually, physically and even financially but you've got to put in those hours.
Let's connect
If you liked this post sprinkle it with an upvote or resteem and if you don't already, consider following me @chekohler


---
| Buy & sell STEEM | Donate LikeCoin For Free | Earn Interest On Crypto |
| --- | --- | --- |
| | | |