When I was a child I played field hockey and, was pretty darn good at it. I played most of my games on the left wing or inner as that position required being solid on the back stick and few others at that age were. The reason that I was so well skilled was because - I had no friends.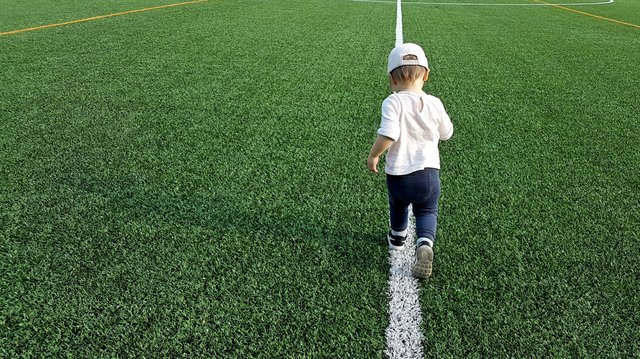 Life was hard for me in primary school so on the weekends and after school hours, I would spend my time alone hitting a ball against a set of concrete steps at my home that just happened to be about the same width as a field hockey goal. I would practice hitting and flicking the ball from step to step and left to right for hours at a time alone.
I didn't play at this point and the stick I used was @galenkp's old stick from a decade earlier. I was about 7 at this time, and it was then I decided to try out for the local team. I had never seen a game of hockey at this point, and never really had anyone to hit with and when I turned up to practice with my grey loaner stick, I noticed something strange. Everyone else had sticks of a different shape where the hook was smaller and thicker than the one I was using. They also had shinpads.
The coach of the team looked both amused and sorry for me at the same time, but let me warm up with a run around the oval - one I could barely complete.
Then we played.
While I couldn't run around the oval without struggle, put a hockey ball in front of me and I was able to run hard and fast hours and then, the coach started to pay attention because, I could also hit. You see, the steps that I used as my ball return system was at the top of a gradient in our front yard, meaning for me to be able to get the ball returned, I had to be able to hammer it hard up the slope first.
Remember that I was seven so, "hard" is a relative term but in comparison to the other kids in the group, many of whom were more experienced than myself, it would have seemed like I was smashing the ball like a pro. Not only that, like I said I was able to to play on the flip side.
For those who don't know field hockey, only the front face of the stick is allowed to hit the ball meaning that (I am right handed) to go to the left side requires "flipping the stick over" in the hands so the hook of the stick is the wrong way around. It is awkward and because the base of the stick is no longer in line with the hitting point, it is difficult to get power on the ball. Not many seven year old kids are capable of flipping the stick well, let alone hitting accurately with power on the back stick.
The coach swapped out my ancient stick with a modern version.
After a couple of mis-hits as I got accustomed to the shortened blade, Boom! the power I could get on the ball increased two-fold. I ran, and ran and outran and outplayed those on the field, including those who were older than myself.
I made the team.
For the few years I played field hockey, I played in the highest divisions and, when there was an injury or illness, I would play in the divisions up from me with the older kids.
I remember these days well as it was when I was confident in my abilities. Up until this point, being around people my own age was torture with incessant teasing, but on the field of play, we were forced to play as a team and they were forced to include me - if they wanted to win. One thing I always played on the field, was part of the team. I never aimed for the stars but, I supported those who did.
Hockey taught me a lot about life including, giving up what I loved.
I gave up around five years after starting because my parents had separated, my father had moved away to another area, my mother had other things to do in life and - I couldn't get to practices, let alone the games that were spread around the place. As a twelve year old who still didn't have any friends - I was isolated from being able to do the only thing that I felt I was good at - so, I quit. When I was asked why, I just told people that I wasn't interested in it anymore, but it was a lie.
Some of my team mates went on to play for Australia and while there is absolutely no guarantee I would have made it that far, I do feel that I would have been in with a pretty good shot if I had had the support needed to continue on.
The next time I picked up a stick was when I was around 17 and my high school girlfriend was competing for a position in the Queensland state team. She had two sticks in her bag and knew that once upon a time I played and asked if I could practice some drills with her. I didn't want to but she was stubborn.
She wanted to practice trying to get the ball from me so I took the stick and poked around at the ball in a half-assed attempt to put up a fight against her, and she realized I was holding back and insisted I put effort in. She chased me for an hour and a half - As I said, she was stubborn and this ended in tears. However, once she got over the fact that she was nowhere near as good as she had thought, we trained together in secret and she improved massively.
The last time I played was in an evening team she played in a few months later which was a mixed team in an off-season division with open age groups that housed a few up and coming and ex-Australian and professional players from time to time. Someone was ill and if they didn't have a replacement, they'd have to forfeit and my girlfriend looked at me pleadingly until I took a stick. Her teammates said to me; just try to stay out of the way.
Umm.. okay.
Yeah, I don't think so and once I was on the field of play again it felt so natural that I fell near immediately into a state of flow and the skills and team player mind took over. It felt good and after the game, I was asked by a player in the other team who coached if I was interested in trying out next season. Yes I was interested and now, I didn't have to rely on anyone to support me because I could support myself.
So I thought.
Two months later I was so ill with a chronic stomach disorder that I would barely be out of bed over the next 3 years and came close to death at 18 years of age. For the first time in my life, the thing that had never failed, my body, failed completely. It broke more than my body and for many years I thought that my life was as good as over.
Fuck that.
While I can reminisce about sporting glory days from childhood and remember the feel of the pain that it was to give up on what I love only to rediscover it and then be forced away again, life goes on. Over the years I have learned I am much more than my body, more than my mind, more than whatever talents I have had or have lost over time - the experiences of my life have shaped me into being something that is unique and valuable and even though the skills will come and go, who I am is always the same regardless - just me.
Life is a game of sliding doors, shoulda, coulda, woulda moments, opportunities taken and missed and taken away without the option to choose at all. It is wholly unfair in who gets a foot in the door, who gets injured, who has parents who support them or, who does not. While we like to think we have control over our experience, we are always at the mercy of random and perhaps the best we can ever do is understand enough that, shit happens and we need to deal with it the best we can.
Just because a love is lost, it doesn't mean one can never love again.
I have had, currently have and will have many loves in my life.
Taraz
[ a Steem original ]