How Well are you Inspired by the Testimony of Other People's Success? Congratulations @Dfacademy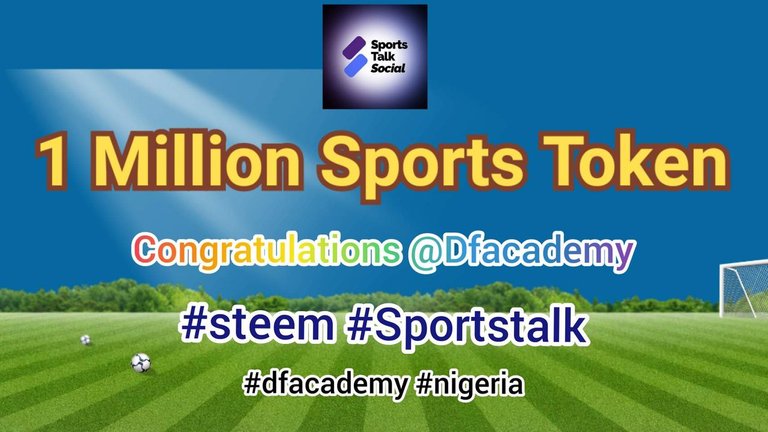 @Dfacademy is one steem project that I've seen dedication and consistency in the hearts of the people behind it. Right from when the SCOT Tribes were not here in steem till now that they've been so involved in building the @Sportstalksocial tribe.
In fact, @dfacademy remains one of the strong inspiration to invest in SPORTS and today is amazing that they celebrate their crossing the 1Million Sports Stake. In their words:
It's been a fantastic ride since we joined SportsTalkSocial. Sports are amazing and the sports tribe is proving it, being among the top 10 most used Dapps on the Steem blockchain for some months now. We can remember being contacted on Twitter to join the tribe by the creator @patrickulrich a few months ago, thank you, Patrick.
From the above, you see that the Academy joined the sportstalksocial tribe just few months ago probably when they never knew whether the project will grow or not. But in just about five months, they are already amassing a great stake of SPORTS which is a huge investment that is of great value on the near future.
I'm pretty sure that soon, we'll see the emergence of Dfacademy FC and they will be joining either the local or international league and will draw their finding typically from the blockchain. This is the power of vision especially when it is caught at the right time by the right people.
I'm one person that do not take testimonies for granted because I've been inspired to success many times and to me, it's the surest form of advertising.
I remember sometime when I was in the third year in the university, my Music Director in church came testifying how he trusted God to finish his university program within the 5 years that was allocated without an extra day. He explained how things went so tough that only two of them graduated in their class.
At this time of hearing this testimony, I was having several issues bothering relationships with students and lecturers and documentation issues that would have hampered my finishing within the 5 years that was stipulated for me.
Immediately I heard his testimony, I keyed my faith and made a declaration that I must also finish without a day extra. I backed up with a renewed mind and action. Certainly, I graduated at exact 5 years alongside 7 others out of 35 in the class. The miracle at the clearance point was a great one for me which was the biggest point of fear due to the beaurocracy that was involved in changing dates in my certificates which would have taken a longer time.
What is the point I'm trying to buttress?
Many times when our faith is weakend, God can bring a man who has gone through our situation to us so we can know that we are not alone.
To you who is still thinking whether or not to invest in steem, stop thinking, start acting at least for hearing the success story of another. Rise up and take a step.
Similarly, I did take a step of investing into steem and particularly the sports tribe. I'm not a sports freak, only that I loved to take the adventure. In about 4 months, I couldn't believe that am also closely approaching the 1million sports stake Mark. It's difficult when we refuse to Start something.
It is not too late until it is. Our biggest problem is not the problem starring at us, rather, it is our inability to dare a challenge.
I hope this post will motivate someone to rise to do something unusual today. If you start today, you will have a story to tell in a little time from now.
Stop the Wait, Dare a Step and Succeed!
Posted using Partiko Android
---
---