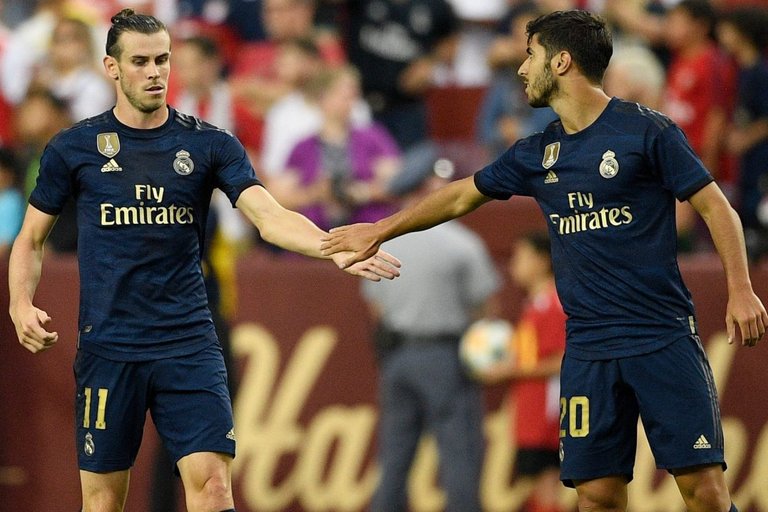 source
It was a devastating night for the young player Marco Asensio who suffers a serious knee injury in a pre-season match against arsenal football club.
Marco Asensio left the field of play in tears after sustaining an injuring which appears to be a serious knee injury.
Marco Asensio had just pulled back one goal for real Madrid and also teaming up with gareth bale to level up the goal before injuring himself in an attempt to track back to challenge Aubameyang, his foot catching in the turf as he attempt to make a sharp turn around the hour mark before falling to the ground clutching his left knee.
Asensio was seen banging the turf in frustration after the challenge with the arsenal strike before covering his face to his emotions he was quickly attended to by the medical team and later removed from the pitch in a stretcher.
Zinadine Zidane admitted that the injury could be serious and worrisome as he was taken directly to the hospital for check up its looks bad.
Both teams were reduced to 10 men for more than half the match, real Madrid defender Nacho was the first to be shown a straight red card for a handball in the nine minute while arsenal Sokratis seeing a second yellow shortly before half time but neither could break the dead lock in 90 minutes.
Real Madrid secure a win in a penalty shot out 4-2, bale missing first penalty for real while Nacho monreal, Xhaka and Robbie Burton all missing for arsenal.
Marcos Asensio injury has raised a serious concern for supporters and news men as both Asensio and gareth bale appears to be playing same position but weather the Spanish injury could affect bale transfer Zidane has maintained that nothing has changed.