When you feel that you have to learn something and you love that, you will find a way to start learning that. If you love martial arts and want to learn it, what can you do?
Let's talk about what you would do if there is no one who can advise you?
To learn martial arts, you want to get more information about that. You will buy a book about martial arts and start reading that. You will be happy to read the book and learn some basic things. Then you feel that it is not enough. And you do not know any martial art institution around you, so you will keep looking.
If you watch any martial art learning program on TV, you will start watching that. In this way, you keep learning and start practicing on your own. You will do all these if somehow the internet is not available.
Now we have the internet. So what would you do?
You will search on Google or YouTube. You will find a lot of information. You will start reading and keep watching videos. If you are wondering whether you can learn martial arts watching YouTube videos or not, you will search on Google whether you can learn martial arts watching YouTube videos or not.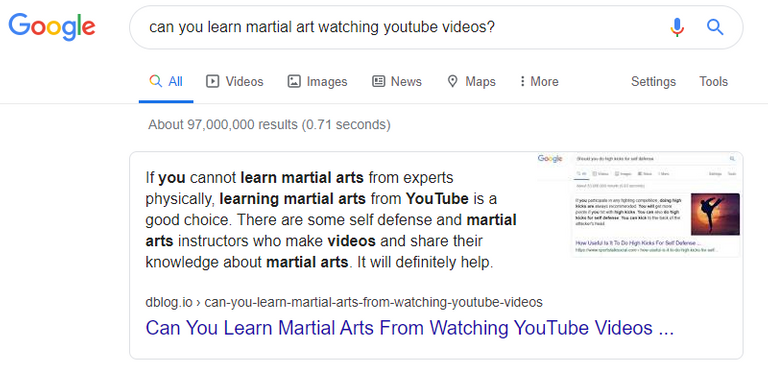 You will get the answer. If you find any marital arts institution or a martial arts instructor who teaches martial arts, you will learn martial art from that institution or person. Learning martial arts from martial arts experts is so important that you cannot skip that.
You think you are doing right, for example, punches or parry. But maybe you are not standing in the right position or you are not punching in the proper way or you parry and you do that passing your body that is not needed since you have to just cover your body.
So what would you do to learn martial arts or you did before in order to learn martial arts? Please feel free to share your thoughts and experience in the comments below. Thank you so much for taking the time to read this.
To learn more about self defense, you can join Self Defense View Community and check out some of my recent posts.
Stay safe. Always be happy!
Posted via neoxian.city | The City of Neoxian