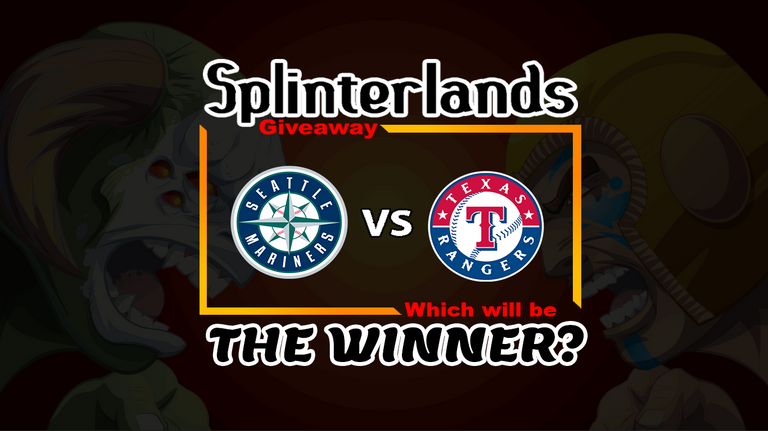 I like sports, I'm a fan of many of them, I also like Splinterlands, So I decided to combine the sports with Splinterlands to make giveaway.
In each giveaway I will ask which will be the winner of a specific match, whether it is of MLB, NBA, Soccer or another sport of my preference, generally will be games of those three sports.
Let's start with the giveaway...
---
Today's Match:
For today's giveaway, I chose an MLB match "Mariners vs Rangers", this game will be on 2019/7/30 at 20:05 [GMT-4]. Which will be the winner?
---
Giveaway - Winner Announcement
Check out the winners of the previous giveaway here.
---
Giveaway - 3 Winners
1º Prize: 35 Dark Energy Crystal (DEC)
2º Prize: Sea Genie (Common Splinterlands Card)
Bonus: 250 SPORTS
If you guess the winning team and the runs it scored, you will be participating for the bonus. I will give ± 2 runs advantage for MLB matches.
That means, if the winning team scores 6 runs and you said you would score 5, you will be participating for the bonus thanks to the ± 2 points advantage.
---
Rules:
Reply in the comments with the name of the team you think will be the winner.
Add the number of runs you believe the winning team will make to participate for the bonus.
The comment may not be edited, otherwise it will not be eligible for the giveaway.
Reply before 19:50 [GMT-4] of July 30, 2019, otherwise you will not be eligible for the giveaway.
The winners will be announced via a new post 1 or 2 days after the end of the match.
Upvote, Follow or Resteem are not necessary, but it would be helpful if you do.
Winners will be randomly selected from users who have chosen the winning team using a Random Name picker.
 
That has been all...
Thanks for your time and good luck in the giveaway
---