This is a weekly overview of my personal handicapping and live betting results on teams from the Belgian Jupiler League with some insights on my overall approach.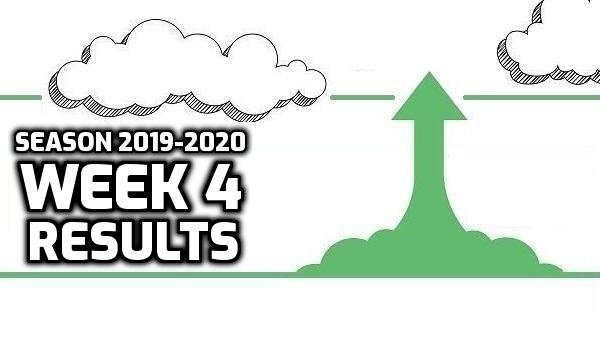 Week 4 of the Regular Season saw excellent results despite my biggest and most confident position on Club Brugge losing (-1.65 Units). I'm quite pleased with my handicapping overall and feel quite sharp also maintaining a healthy lifestyle which is something that has a far bigger impact on results than most imagine. Where I talked about unjustified losses last weeks I can now say I got a bit fortunate on the Standard Team Total Over 3.75 line @1.84 which was not my best bet but won half late in the match anyway. These things even out over the season but it's easy to be way more focused on the 'bad luck' side of things which often keeps Sports bettors in denial believing they are good despite the numbers which they ignore showing otherwise.
HALF TIME MARKETS
This week was an excellent example of how it is possible to exploit the Half Time market with the Asian bookmakers. The FT line and HT lines and odds are pretty much directly linked to each other. It's also usually much better in Live betting to bet on a dominating team on the 1H line knowing matches often turn around in the 2nd half with coaches being able to adjust and on top of this it allows for increased volume without getting overly exposed. 2 matches stood out this week where I managed to make very good use of it on teams that have clear 1st Half Patterns. Anderlecht systematically has played much better in the 1st half while for Kortrijk it was the other way around. Anderlecht was up 0-1 deserved at HT but lost the match with 4-2 FT. The +0 @ 1.77 I managed to get on showed to be huge value. A similar situation happened in AA Gent vs Oostende. Teams that played mid-week Europe matches often lack in the 1st half while Oostende vs Club Brugge was a big reference match and pretty much exactly the same happened. Oostende played a good 1st half while somewhat collapsed in the 2nd half making Oostende +0.5 @ 2.08 into a solid winner. I absolutely love the HT market and being able to pick up these patterns and play into them can potentially put you one step ahead of actually beating the bookmakers.
---
COPYTIP

I continue to enjoy using
Copytip
as a way to track my strongest plays (Pre-game BTC bets & Discord Live Bets). It's not always as easy to get bets accepted and quite some unplaced bets that I have to try again but overall the system works pretty well. These are all the bets I took / tried to take there. There is one early bet for next week on Zulte-Waregem +0.5 @ 1.90 which I also shared on twitter (
@costanzabets
) and is now trading on
Sportmarket Pro
at 1.680 odds. This is pretty much the beauty of the copytip system where it is possible to follow at the same odds automatically without having to be online or do anything. I still do believe the fees involved are a bit too high though especially for the ones that charge 40% to follow their tips on the platform.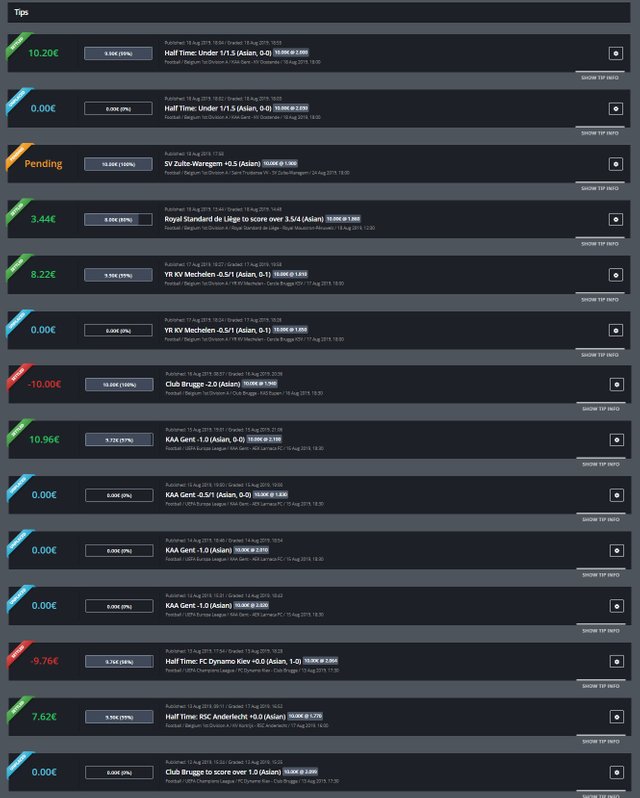 ---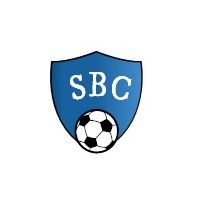 The
SBC Discord
Live-Betting channel continues to grow and it took me a lot longer today to scroll back to the bets I posted to copy-paste them to track them in this weekly post. A solid week means solid Live bets and the ones that were posted officially on Discord went 3.5W-1L-0.5P.
---
Discord Live-Bets Week 4
Dinamo Kiev 1H +0 @ 2.06 (25' 1-0) HT 1-1 LOST
AA Gent -1 @ 2.10 (29' 0-0) FT 3-0 WON
KV Mechelen -0.75 @ 1.85 (25' 0-1) FT 3-1 WON
Standard Team Total Over 3.75 @ 1.86 (59' 3-1) FT 4-1 HALF WON
AA Gent vs Oostende st Half Under 1.25 @ 2.00 (5' 0-0) HT 0-0 WON

I take all my Live bets with my Betting Broker Sportmarket Pro who always provide the best offers on the market with a 1 click solution and don't limit winning players offering high limits. For more info check my Sportmarket Pro Review
---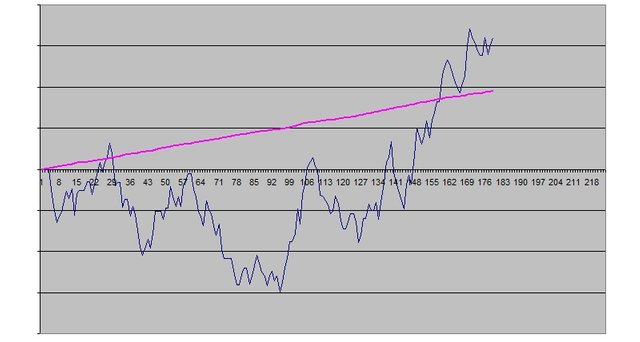 Keeping track of your record with a chart if anything really makes you understand variance much better showing how ~200 bets is nothing volume-wise. One good week can get you above the expected profit already making previous losing weeks look like nothing. The season is still long and as little that is needed to make things go up, as little is needed to make things go down again. This self-monitoring all the time is really important mainly to limit the downside. Right now I'm quite sharp and confident also having a pretty good read on all the teams so I'm hopefull on what the next couple weeks will bring.
---
Previous Personal Results 2019-2020

Week 04 Results 54 Bets | 28W-22L-04P | Staked 17.272u | +4.471u Profit
Week 03 Results 56 Bets | 24W-24L-08P | Staked 16.52u | +0.099u Profit
Week 02 Results 36 Bets | 13W-18L-07P | Staked 10.95u | -0.452u Loss..
Week 01 Results 32 Bets | 15W-10L-07P | Staked 09.82u | -0.923u Loss..
 Regular Season 2019-2020 Results
 178 Bets| 80W-74L-24P|54.161 Staked u|+3.195u Loss|+5.90% ROI

---
Let me know in the comments how your own betting week was !