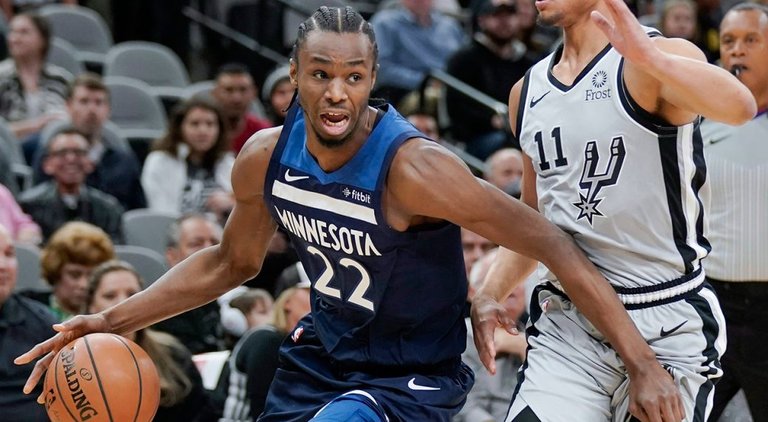 Source
What's up basketball fans! I am here again @dwin0603 to give you another exciting basketball discussion for another episode of NBA Talk, and today we will talk about the hottest and latest news around the NBA. Let's start!

Andrew Wiggins who was the number one pick in the 2014 draft class is playing the best basketball of his career in this early season after getting heavily criticized for his lack of desire and was viewed as a draft bust. But now, his game has improved and he's being called as one of the best clutch scorers. Wiggins took over in multiple games down the stretch this season. He's been very impressive when the game is on the line.
Wiggins is blaming his lack of progress on Tom Thibodeau. But with head coach Ryan Saunders, Wiggins has been way better more versatile averaging twenty-five and a half points, almost five rebounds, over three assists, career highs on over forty-seven percent shooting. He already had 17 games in his first 400 with five-plus rebounds and five-plus assists, three of his first ten this season, everything from his passing, handles, to his outside shooting has improved resulting in the sixth and fourth start, stepping up in big moments.
Many believe he had the worst contract and fans basically gave up on him. Now, he's looking much more like a true second option to Karl-Anthony Towns and some nights, Wiggins looks like the best player on the floor for either team despite the fact that he became the 11th youngest player to reach 8,000 career points. Wiggins is finally playing like the number one pick many envisioned him to become after being booed by Timberwolves fans last season, the cheers are slowly coming back. It'll be fascinating to see if Wiggins can keep this up for the remaining games this season and lead his team to the playoffs.
The Wolves are in a great position as of now. So, let's see if Wiggins can maintain this kind of performance for the whole season.


Click the link below to view the full article.
Scorum