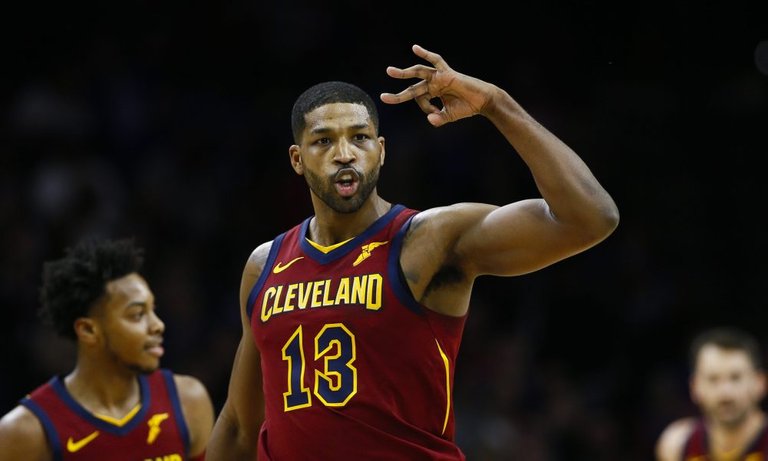 Source
What's up basketball fans! I am here again @dwin0603 to give you another exciting basketball discussion for another episode of NBA Talk, and today we will talk about the hottest and latest news around the NBA. Let's start!

Tristan Thompson of the Cleveland Cavaliers just two seasons ago was an absolute force whose career seemed to be going downhill after averaging a pathetic 5.3 points and 6.6 rebounds in just 53 games played in the 2017-2018 season. The 6-foot-9 Center has been in the headlines when he was linked to the Kardashians. And it wasn't until his impact in the Pacers series in the first round in 2018 that he started making basketball headlines again. In 2017, many careers were in serious jeopardy being another victim affected by the Kardashian curse.
Even today, he's in the news for non-basketball reasons. When you type his name up on Google after posting a picture on IG congratulating his ex, he's been getting ridiculed by non-basketball fans for it. Thompson is having the best season of his career so far. He's only 28 years old and already in the prime of his career averaging over 13 points and 10 rebounds with a Player Efficiency Rating of 19.60. He also has career highs playing thirty-three and a half minutes a game in the first ten games, looked upon as the leader for the young Cavs team after LeBron left Cleveland.
Thompson's contract seemed to be looking like a waste while he'll be a free agent after the season. During his performance, against the Philadelphia76ers Tristan calmly drained two threes. A shocking result after hitting zero three in his first eight seasons combined. He let the fans have it, being the best player on his team so far and looking like one of the best centers in the league. After playing just 43 games last season with an injury, Thompson's making a huge statement. He can become Cleveland's greatest trade asset if he continues his stellar play.
So, what should the Cleveland Cavaliers do? Should they trade Thompson for a much younger player before he walks away in free agency? Or should they keep them and try to convince him to stay? There is a big risk in it because Thompson might just walk away and go to a contender where he can contribute. So, the Cavs should make some moves now.


Click the link below to view the full article.
Scorum