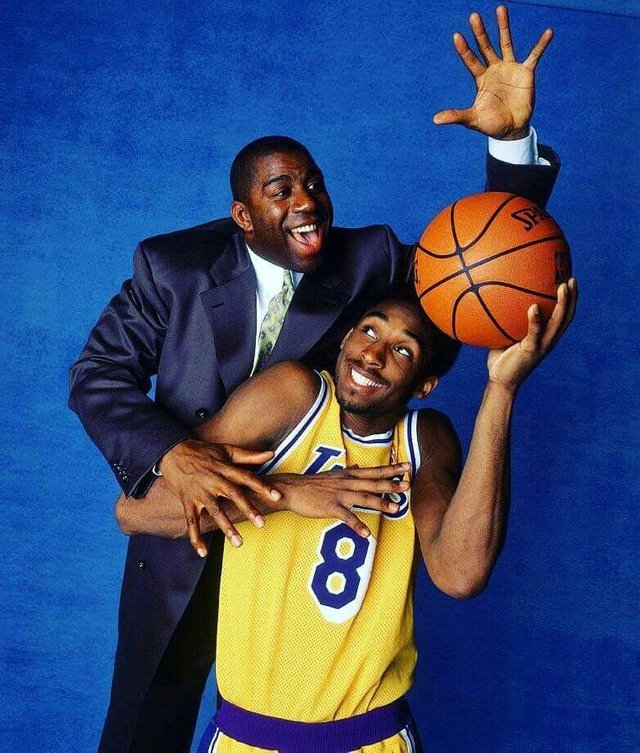 What is up here today in NBA EXPRESS, lets put an end to who was and who is the best Lakers to wear that purple and gold jersey in history. In my honest opinion both players are in the discussion in the top 5 of greatest players to ever play the game of basketball. Yeah, we are talking about Kobe and Magic, different kind of playing style, different generation, different physical stature, different mindset but had the same goal to win championships.
Now in this article let's take a look at their accomplishments and how they leave an indelible mark specially in the history of Los Angeles.
Magic Johnson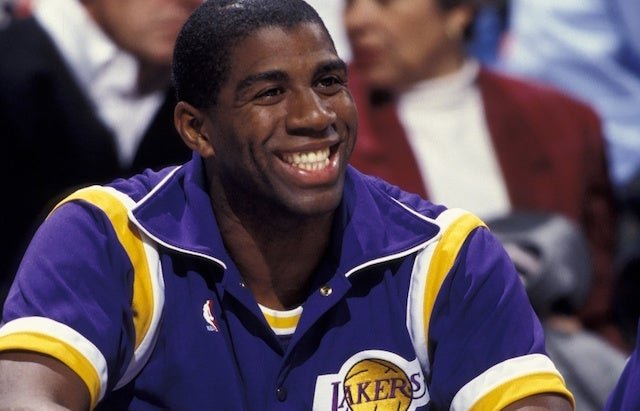 Image Source
Before tall point guard are popular in today's modern NBA, Magic was actually the one that paved the way to point forward heck even a point center during his rookie season that led them to a championship title. Magic was the only point guard who towers at 6 ft 9 during his era, not only a tall point guard but a super talented passer that even today he is still recognized as the best point guard of all time.
Magic's charisma is his smile that captured the attention of LA fans and also fans around the globe during his career in a single franchise. Magic's career cutshort because of his sickness if not for that he could probably elevate his career more considering he got sick while he is still in his prime years as an athlete.
Magic Johnson the first pick in the 1979 NBA draft instantly shine as the primary point guard for the Lakers that made them the Show Time, which they able to obtained 5 championships during Magic's 13 seasons with the purple and gold.
Johnson ended his career after 906 regular season games with regular season averages of 19.5 points, 7.2 boards and 11.2 assists. He won 3 regular season MVP, which in these years he and Larry Bird were neck and neck with each other all the time specially in the finals. Magic also appeared in 12 all-star games and was elected in the Hall of Fame in 2002.
Kobe Bryant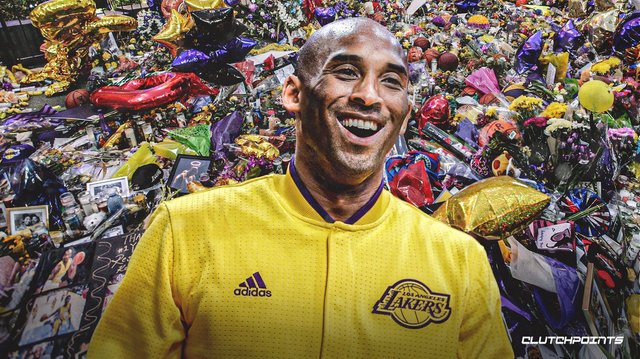 First and foremost rest in peace Kobe, Kobe Bryant is arguably one of the best players to play in the NBA and always in the conversation along with Jordan and Lebron. Kobe Bryant dominated the 2000s and for sure the best player during his time, he was able to win a three-peat in Lakers during 2000-2002 with his duo Shaq.
Many players and nba analysts and even coaches consider Kobe as the most skilled player in the history of the nba, this is partly due to his insane work ethic and his intelligence. The Black Mamba is his monicker and the reason why is that his mentality is to outwork fear, this mamba mentality influenced a lot of nba players of this generation and whenever they hit a clutch or buzzer beater the first thought that comes to mind is mamba mentality.
Kobe Bryant was drafted by the Charlotte Hornets as the 13th pick in the 1996 nba draft and immediately traded to the Lakers starting center and former All-star Vlade Divac. Kobe is the first non-big or guard that was drafted directly out of highschool. Kobe's career averages were 25 points, 5.2 rebounds and 4.7 assists in 1,346 regular season games where also selected to play in 18 All-star games.
Kobe was actually aloop at first and hated by most of the media and even fans because with how he remained in LA and Shaq got kicked out. But during his last couple of years in the NBA he was able to show his true self and became more transfarent in front of the public as both a father figure to his family and a mentor to young NBA players.
During Kobe's 20 illustrious years in the National Basketball Association he was able to accomplished 5 titles and won two finals MVP. Kobe also won a regular season MVP which many debates he should've gotten more as he is arguably the best player during his prime. Nevertheless he for sure leave an indelible mark in the history of sports as the one of the greatest winners of all time, rest in peace mamba.