Let me start by saying there will be a fly hanging this year NBA Championship forever. The good part of it, most people will forget about the bubble and life continues. As a fan of the game, I like to see fans at the premises to enjoy the match and make some noise. I guess I am accustomed to see that side of the game for too long and this was the way this year.
Due to social distancing and safety of the teams, it was not going to happen for the duration of the playoffs. Needless to say it was a success for many teams in the bubble. Some teams cannot take the confinement and collapse half way. I do not know what is the case of Clippers falling hard and lost their coach at the end. It looks like he got a job very quick. The bubble could be good for a well discipline group and chaos for others.
The venue is equal footing for all teams where no fans can intervene to help you win games. It is all skills and focus. This year NBA Finals resemble training camp behind close doors. It was available for all teams involved. Heat and Denver looked like the teams build for this environment. In a contest of team sport I should say with no clear super star in mind.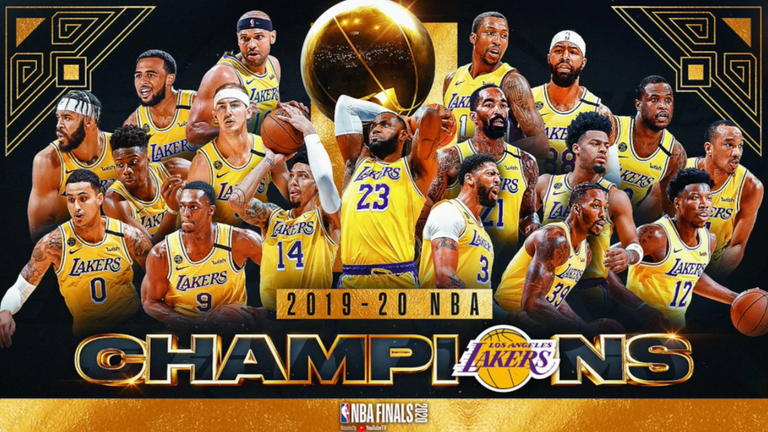 source
To a note Giannis got work to do since his little brother is a champion now.
Some players got a free ride. Dwight Howard finally can say I got a ring and I work for it. J.R.Smith is J.R.
I hope Kuzma can develop to be the threat and be the third guy. KCP and Carusso did play their game with Green. Glad to see AD shows his defensive stunt all over the game instead of being an offensive threat. It was a blow out from the second quarter. Heat were caught off guard with this train coming at all speed.
To an extent LeBron saw an opportunity to get it all with AD at his side. Do you recall when he tried to cancel the playoffs for the social causes? I guess too much on the lines so couple games were postponed. As a fan I see where many fans may not like how they got the ring. At least they played and entertain us for six games. Maybe a game 7 could have clear the way for everyone to agree. From what I heard LeBron was ready to crown by Friday. KDP and Morris could not convert so Sunday was D-day.
Lakers defense was suffocating Heat to score in the second quarter. All six games Lakers at some stretches were playing stellar defense and Heat could not score at will. I think they deserve the Championship cause adversity did not stop them for showing off. When you have two pillars in your team, you should win it every season. Hopefully next season we go back to regular field. Now I could start again about the viewers on TV. I guess as long the broadcasters can pay the NBA, there will be something for the foreseeable future to watch. SPORT equals LIVE TV equals big money.
Stay safe and Be safe.