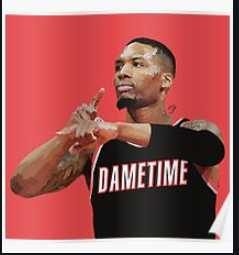 Damian Lillard has been an all star the past five seasons and is in the conversation for best point guard in the league. While the Blazers are 23-27 on the year and currently the 9th seed in the West, their struggles are in no way a reflection on Lillard. Their roster was completely transformed from last year's team that made it to the Western Conference finals and their team had the injury bug hit them hard this year. Rodney Hood is out for the year. Zach Collins has missed most of the season without a firm timetable to return. Nurkic has missed the entire season so far. Carmelo Anthony has only played 33/50 games this season. I could go on and on about all the obstacles Dame and the Blazers have faced this season, but Lillard not only remains constant, he's elevated his game to elite status this year.
Check out these ridiculous stats starting with Lillard's 61 point performance on January 20th:

I'm calling it right now: The Blazers are a LOCK to make the playoffs. Nurkic and Collins will both come back soon. Whiteside has been a monster who will either keep it up or attract a big haul as a trade chip. Ariza and his great 3 and D play will only improve as he build chemistry with the team. The way I see it, if the Blazers climb the standings to the 7th seed or better, Dame Dolla will pass up Doncic and Lebron in the MVP standings and take home the MVP trophy.