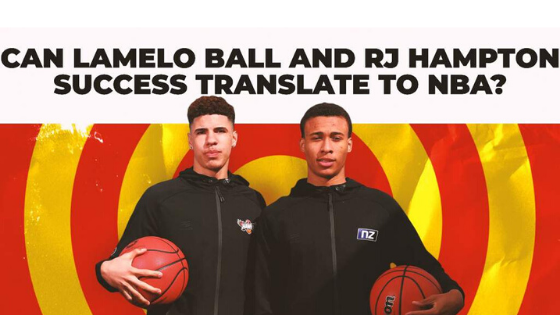 LaMelo Ball and RJ Hampton have completed their Australian apprenticeships after skipping college to partake in the National Basketball League's Next Stars program.
The program had the pair contracted directly to the league and they've reaped the benefits of receiving guidance in navigating the challenges of becoming a professional athlete.
It follows a growing trend of basketball stars skipping college to become instant professionals and get paid to ball.
Ball and Hampton's burgeoning success is continuing to be leveraged by the league to attract further talent. 
"LaMelo's draft stocks have significantly improved … He has shown his undoubted talent but also developed as a player and a person", NBL Commissioner Jeremy Loeliger when weighing in on Ball's season.
Loeliger also weighed in on Hampton's success: "RJ leaves the NBL as a projected top ten pick in the NBA Draft".
Can LaMelo and RJ translate their successful NBL seasons into the NBA as we look ahead to the June draft? 
Is LaMelo Ball ready?
LaMelo balled out for the Wollongong Hawks with GM Mat Campbell stating on his departure: "LaMelo has had a big impact on our club and the league and we thank him for everything he has done for the Hawks".
In a season ultimately cut short by injury, LaMelo put up significant numbers in only 12 games and ranked second on the team in scoring (17.0) as well as first in rebounds (7.5), assists (7), and steals (1.6).
In a team with an average age of 27 years and 9 months – including 39 year old David Andersen – the 18 year old proved he has got what it takes at a professional level to contribute immediately in the NBA.
Ball's ambidexterity, his handles and extremely high basketball IQ was on show in the NBL.
There is no better example than his triple-double against the Cairns Taipans where he exploded for 32 points, 11 rebounds and 13 assists. 
LaMelo ranked 30th (+0.26) in PIPM in the NBL using a small pool of 12 games, which isn't anything special.
But he was given all the ball he could handle with 31+ mins per game, a monumental task for an 18-year old playing for a team that ended up finishing with a league worst .179 record.
When putting the Hawk's record into perspective, his PIPM reflects quite well considering the Hawk's horrific record and it wasn't even close to second worst South East Melbourne Phoenix (.321).
Some will focus on the negative side of LaMelo's game, shooting at only 37% from the field and a miserly 24% from beyond the arc.
Or perhaps his questionable shot selection, but that should only develop as he matures in the NBA.
But it's what Ball can do with the ball that makes him a genuine contender for the #1 pick of the draft. 
Is RJ Hampton ready?
Hampton, like LaMelo, played for a team with an average age of just 27 years and 9 months at the New Zealand Breakers.
He too, had a season cut short by injury.
Hampton showed off his ability as a multi-positional guard and did his draft chances no harm.
In comparison to Ball his play hasn't been as spectacular but it has been consistent. 
Hampton wasn't given free reign like LaMelo had so his stat-line is bit more pedestrian.
Across 15-games he managed 8.8 points, 3.8 rebounds, and 2.4 assists per game.
He didn't have the same amount of time as LaMelo to make an impact on the court averaging 22.5 minutes a night, almost nine minutes less than Ball.
Hampton ranked 59th (-0.18) in PIPM in the NBL from 15 games, which isn't far off LaMelo territory. 
Offensively RJ was also more accurate than Ball, shooting at 45% percent from the floor and 34% from beyond the arc. 
The Breakers lower usage of RJ compared to that if LaMelo's limited his ability to make bigger in-roads in the NBL.
Hampton also lacks the bigger numbers and his volume and percentages could slightly limit his appeal in the draft.
He is however an extremely quick and explosive player and will create opportunities in transition. He appears the more NBA-ready player over LaMelo with better decision making on the court.
Despite some of the flaws of LaMelo and RJ, they've both set themselves up well for the NBA by playing professional seasons in Australia.
LaMelo is almost a lock for a top three-pick and RJ as a lottery-pick, and the pair have both proven in their time in the NBL that they can be key contributors wherever they may go in the NBA draft.
► Check out the original post at Wolfgang Sports
► If you liked it that much, become a sponsor and you can even dominate with your own headlines
► Join our newsletter, completely free, and be the first to discover new content
►About Me
I loves sports, but I ain't flexin'. I'm just an amateur sports writer inspired by US and UK sports culture across the NBA, NFL, world soccer, sports trading cards and more. I'm not a pretender, it's my hobby and if I sound like I'm half street/half corporate that's what I'm going for. Peace out fam.