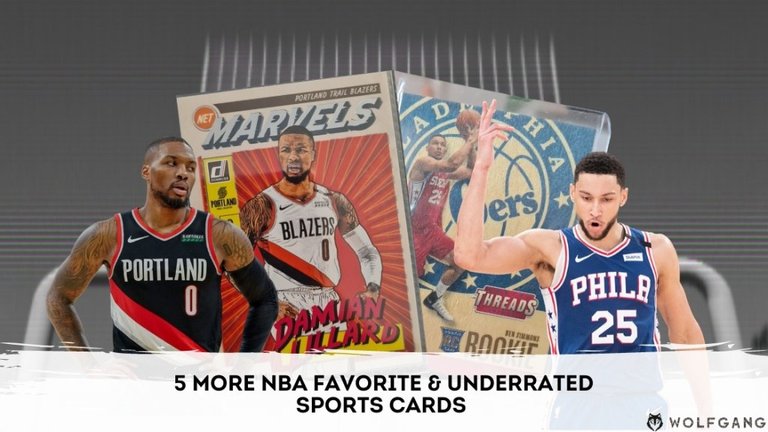 Sign up to the Wolfgang Sport Youtube Channel.
Keep up to date with the Wolfgang Sport podcast 
Now back in early June I showcased 5 cards from my PC in one of my earlier Wolfgang Sport youtube videos.
I showcased five of my favorite cards from my PC at the time, all of them rookie cards :-
• Collin Sexton Noir Spotlight Signatures numbers 84/99
• Luka Doncic base Prizm
• Rui Hachimura Prizm auto
• A quad auto of Aaron Fox, Johnathan Isaac, Lauri Markkanen and Frank Ntilikina and ;
• A Ja Morant rookie Net Marvel
Fast forward a month to July and I've still got all those cards but my collection has expanded to even more cards now in my PC.
I just can't stop buying cards!
Related: An Aussie beginner's sports card PC top 5 ; building an NBA sports cards collection
Check out the video below where I showcase 5 of my current favorite cards from my PC.
Headlined by Damian Lillard and Ben Simmons, these cards I believe are underrated and there's so much growth potential.
As an Aussie, Ben Simmons was one I had to have in my PC but just imagine the growth in his cards if he can become an MVP or if the 76ers can win a championship, which they're very capable of doing.
Related: Portland Trail Blazer's Damian Lillard was making history before the Coronavirus
With Lillard, I'm a big fan and he's just all culture.
He raps by the name of DAME DOLLA if you didn't know and he will be the cover athlete for 2k21 and will also feature in Space Jam 2 next year.
Anyway check out the video below and stay tuned for more videos as I expand my PC.
MATT IERIKO
My passion for sports led me to create Wolfgang Sports in 2017 as a way to connect American & British sports culture. My writing is driven by a fascination for sports culture focusing on popular culture, rookie players, data analytics and sports card collecting
Sign up to the Wolfgang Sport Youtube Channel.