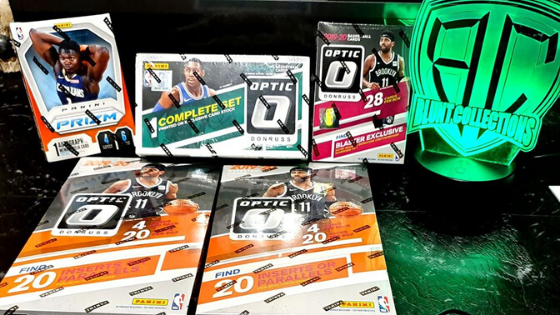 The culture of sports card collecting is exploding worldwide and it feels nowhere more so than here in Australia.
We're witnessing a meteoric rise of interest from collectors all around the country and it seems by the day, those numbers shoot up into the stratosphere. 
Collector communities and groups are growing at phenomenal rates fueled on by both the passing of Kobe Bryant and the outbreak of COVID-19, with people searching for new hobbies.
Related: Remembering Kobe and the 1996 NBA Draft
A growing subculture in the world of sports cards is the 'box break'. In simple terms, a box break is an event where a box or case of cards is divided up among collectors who have purchased rights to receive the cards as a part of the break.
Speaking with Jamie Grant of Blunt Collections: "Box breaking is a very good chance for people to not only get cards that they want, but to hit big cards so that they can either sell or trade to cards that they want."
"Three nights in a row we pulled Zion autographs. Maximum buy in for those breaks are $100 and they're walking away with $3000-$4000 cards.", he continued.
In an NBA break typically there are 30 spots open, one for each NBA team whereas an NFL break would typically have 32 spots.
Participant names are randomized to assign everybody what team cards they will receive and in some breaks there may be a trade period to trade with others. You can see how randomization works here.
Related: What's a Razz? Sports Cards Razzing/Raffling Culture Explained
One of the best break groups and sports card communities I've come across is without a doubt 'Blunt Breaks' by Blunt Collections created by Jamie Grant.
The camaraderie among the group is one of the best I've been apart of.
Their breaks are streamed live on Facebook and to get a spot you've got to comment on the post for a spot on the Blunt Collections Facebook page.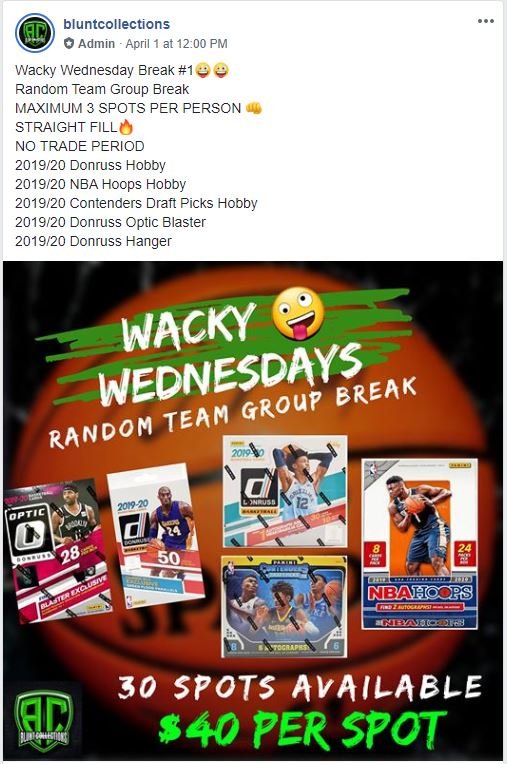 Testament to how popular breaks are becoming and how good Blunt Collections is, breaks can fill in a matter of seconds and they have doubled their followers in the space of one week!
You've got to be really fast and on the ball to get a break spot but there are multiple breaks across almost all days of the week so chances are you'll eventually get a spot.
The best part of it all is watching the break on live stream where you can chat with the fellow community who are also watching.
You can also check out the stream replays breaks at Blunt Collections so even if you don't catch it live you won't miss out on the fun.
When it comes to sports cards and packs, make sure to do your due diligence as there are those out there willing to scam the community.
Don't let that deter you from finding the right community. A community like Blunt Collections and their box breaks has taken my card collecting hobby to the next level. 
"More and more people get involved every single day. the demand for cards is going up", says Jamie of Blunt Collections.
"Still it's affordable, but prices are still going up and so are the prices of the single cards."
The explosion of sports card culture has got me, hook, line and sinker, and box breaks such as those at 'Blunt Breaks' has enabled a community of like-minded and passionate sports fans to express themselves and grow their personal collections.  
When I spoke with Jamie from Blunt Collections and getting to know him a bit more, I realised he is the epitome of exactly what the sports card collecting community is all about.
"It comes down to passion, fun and being able to connect with people on the other side of the camera."
"I know who people collect, I know what products they like but it's further than that. I knows their teams, they check in on me, I check in on them. It's a really cool thing to be apart of."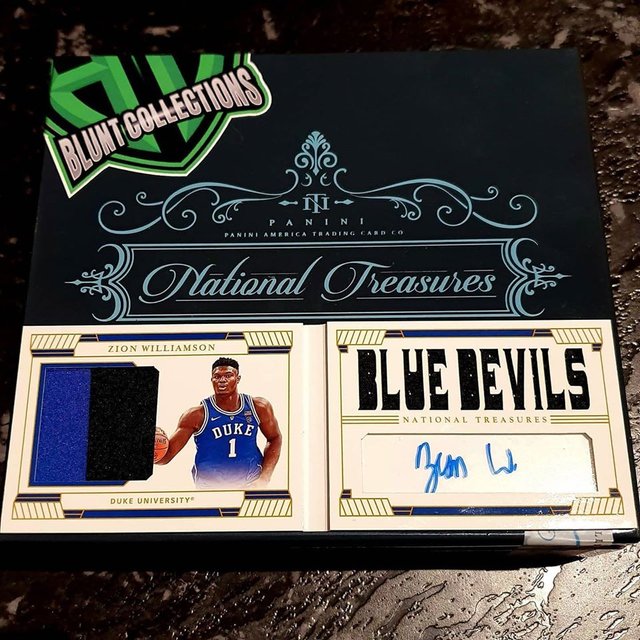 For the record I claimed a break spot second time lucky and after the randomization of all entrants and teams I drew the Philadelphia 76ers.

Aussies Ben Simmons, Matisse Thybulle and NBA icon Allen Iverson were all I could think about in the waiting hours until the break took place.
Following the anticipation and excitement of watching the break, I scored a sweet looking Matisse Thybulle Rated Rookie /49 rookie card which I was totally wrapped with.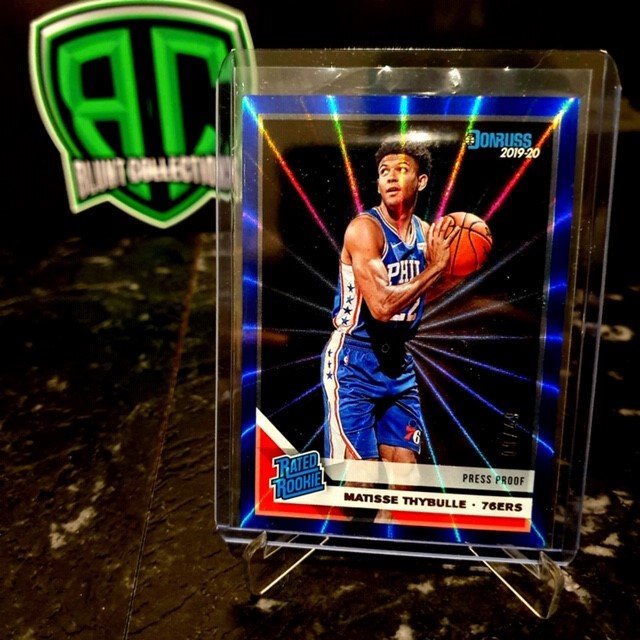 ► Check out the original post at Wolfgang Sports
► If you liked it that much, become a sponsor and you can even dominate with your own headlines
► Join our newsletter, completely free, and be the first to discover new content
►About Me
I loves sports, but I ain't flexin'. I'm just an amateur sports writer inspired by US and UK sports culture across the NBA, NFL, world soccer, sports trading cards and more. I'm not a pretender, it's my hobby and if I sound like I'm half street/half corporate that's what I'm going for. Peace out fam.