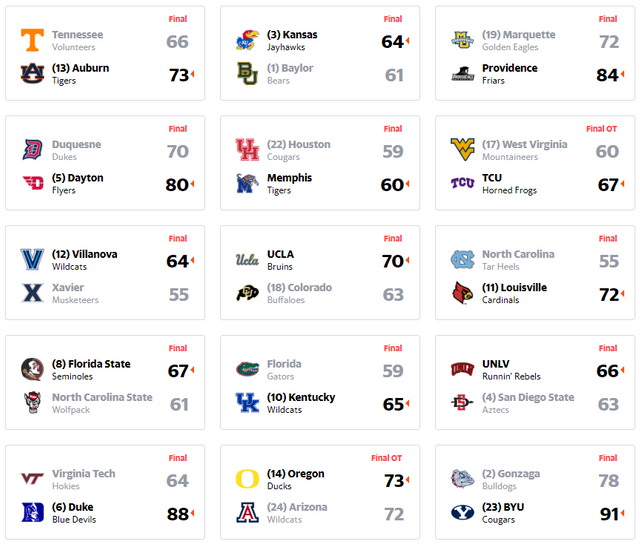 ---
I am a little speechless this morning. This was one of the most fantastic weekends of college basketball since the start of the season. That is saying a lot because this season has already been nothing short of fantastic.
Let's talk about the numbers... Nine upsets across 19 games this weekend. Two overtime games and quite possibly the largest shakeup we have seen at the top of the rankings since the beginning of the season.
#3 Kansas took down #1 Baylor! That is pretty awesome. Given the fact that #23 BYU also took down #2 Gonzaga, this should move Kansas into the top spot. I think by now we all know the rankings are a little biased, so Kansas may not end up at #1, but the reality is they should.
In other upset news, Providence took down #19 Marquette on Saturday, Memphis beat #22 Houston, TCU shocked #17 West Virginia in overtime, and UCLA upset #18 Colorado.
I had a feeling the Oregon/Arizona game would be pretty good and the Ducks narrowly pulled out a win on the road. It is always exciting when overtime comes right down to the wire. Far too often we see one team pulled ahead in overtime and the final score isn't an accurate representation of how close the game really was.
I had a complete whiff on the Villanova/Xavier game. I thought it was going to be a lot closer and much more interesting.
Oh, by the way, I forgot to mention, the second biggest holy cow of the weekend was UNLV beating #4 San Diego State in San Diego. They were the only unbeaten team in the top 25 and now they can't say that anymore. Well done UNLV for playing the spoiler on an otherwise fantastic season.

---
Sunday saw two more upsets with #25 Ohio State getting the home win against #7 Maryland. I am not an Ohio State fan, but I personally think Maryland has been over ranked most of this season. The Big 10 is so competitive this year that them being at the top doesn't necessarily merit their top ten ranking. Expect them to move down to something in the mid teens this week. I think that makes a lot more sense.
Indiana over #9 Penn State was another thrilling Big 10 game on Sunday. I am really excited to see how deep some of these Big 10 teams can go come tournament time.
Another miss for me, the Butler/Creighton game was also pretty un-interesting. It was a blowout win for the Bluejays and I apologize for encouraging you to tune into it.
Three top 25 games tonight. Louisville Florida State will probably be the one to watch. The other ones should go pretty automatic.