The weekend started out pretty lame on Friday with San Diego State easily winning the first game of their conference tournament.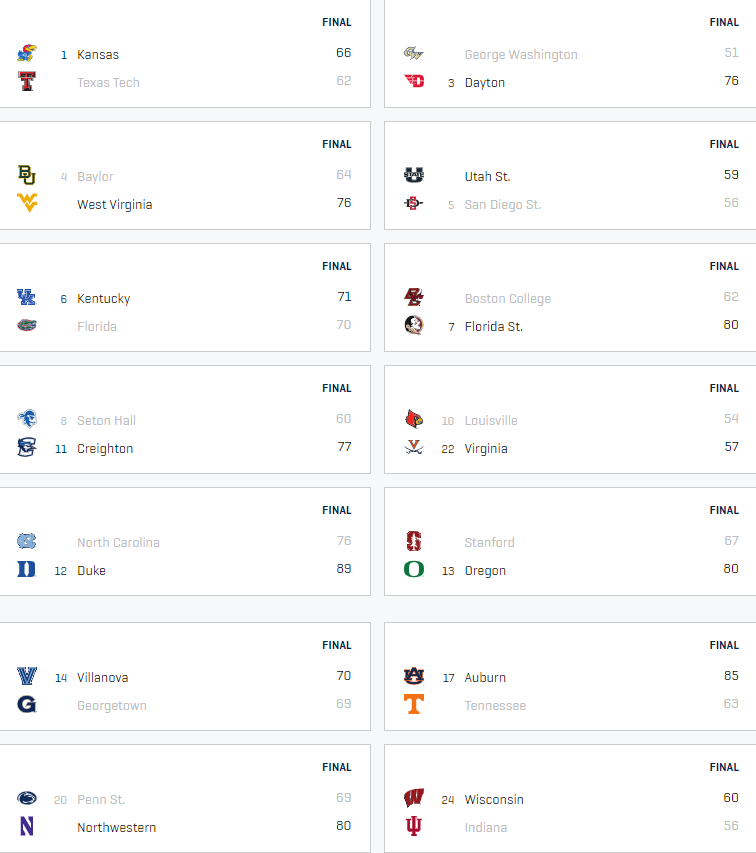 ---
Saturday things really started to heat up though with many teams playing their closing games of the regular season. There were 14 games and quite a few upsets.
First let's get San Diego State out of the way. They have already clinched a pretty high seed in the NCAA tournament. This conference tournament game they played on Saturday was their third game in as many days. With little rest and a spot already secured, it isn't surprising they dropped this one to Utah St.
Kansas has become a pretty big favorite for winning it all this year. Texas Tech kept it close and I wouldn't be shocked if a lot of people that are betting on Kansas have their brackets busted this year.
As good as Baylor was at the start of conference play, they have been hit or miss lately. I heard one analyst claiming Baylor would be a #1 seed. I personally don't see how they can with the losses they have taken this season. Including the huge upset by West Virginia.
Kentucky just escaped their match-up against Florida.
Once again, I should have totally put some money on that Seton Hall/Creighton game. I watched a good part of the game and it was really fantastic.
Virginia over Louisville also wasn't much of a shocker for me. I don't remember if I called that one, but something tells me I might have.
Everything else on Saturday was pretty standard with the exception of Georgetown giving Villanova a run for their money.
One thing I totally screwed up on last week was the fact that Wisconsin had a shot to share the Big 10 regular season title. With their win over Indiana, they clinched a spot. It was just up to Maryland and Michigan State to see if they would share that honor on Sunday.

---
Sure enough, Maryland ran away with a victory over U of M to ensure their spot along side Wisconsin. I was really worried about Michigan State as they have been hit or miss through the season. As usual, they seem to be peaking right when they need to for hopefully a deep run in the tournament. They had little problem taking care of Ohio State despite their continued struggle with turn overs.
That means there is a three way tie for the regular season champion of the Big 10. That means there are going to be a lot of bragging rights at stake as the Big 10 tournament starts this week.
Illinois had an impressive upset victory over Iowa which should cement their spot in the NCAA tournament. This could be the first year ever that 10 teams from the Big 10 have made it to the big dance.
Two games on the slate for today. Neither of them should be that exciting. These early round conference games could be a snooze fest for the first part of the week.
source