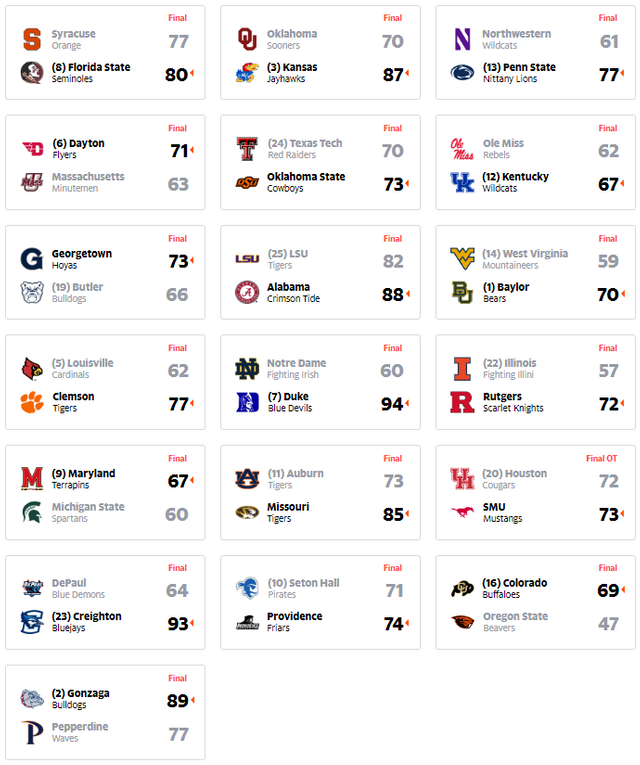 Saturday was once again a complete waste of time for me. If you browse through the scores, you will see that Michigan State lost at home to #9 Maryland. Sure, being ranked 9th is nothing to scoff at, but this should have been a win for the Spartans. Instead their sloppy lazy play came back to bite them.
Quite honestly, at this point, I don't even want them to make it to the NCAA tournament. I would rather they sit at home than show up and play like trash. It isn't even on the radar of something they deserve at this point. I hope they do a lot of soul searching in the coming weeks to decide if they really want this.
Okay, now that I am done with that rant, lets talk about the other teams.
No games on Friday, Florida State had a close win over Syracuse and Oklahoma State came away with the upset victory over #24 Texas Tech. Kentucky had a close game against Ole Miss, but they were able to come away with the five point win.
In other upests, Georgetown took down #19 Butler on the road and Alabama was able to take the win from #25 LSU. I can't say I am surprised by that outcome and I think if I were to go back to my Friday post, I might have called that one.
Probably the biggest upset of the weekend was Clemson beating #5 Louisville, not just by a little either, they had a pretty convincing victory. Rutgers was able to take down #22 Illinois in other Big 10 action. That isn't too surprising given the Scarlet Knights were playing at home.
Finally, two more upsets for Saturday. Missouri over Auburn probably could have rated up there with the Clemson win over Louisville and just goes to show that anything can happen when two teams with the same mascot face off.
Providence over #10 Seton hall was another close upset victory, but probably the most exciting game would have been SMU over #20 Houston in overtime by one point. Talk about playing from the first buzzer to the last one!
Zero upsets on Sunday, but San Diego State retains their undefeated record. Minnesota almost had the upset win over Iowa and all of the other games were commanding victories by the ranked team being decided by close to a twenty point margin.
source