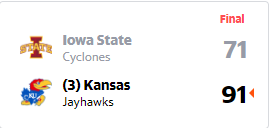 ---
I really think there were more games last night than just this matchup between Iowa State and Kansas. It must have been teams that were knocked out of the top 25 once the new rankings were published.
So there you go. That is the recap from last night. Pretty lame right? Kansas had a blow out win over Iowa State at home. To say I was shocked would be a lie. Let's move on to what is happening tonight in NCAA play.
Notable games that you should keep an eye on this Tuesday night inlcude: Creighton at Marquette is an upset in the making. I would put money down on Marquette in this one if I had a bookie and the money to spare.
I am also sorry to say it, but the way they have been playing, LSU could have an upset at home over Kentucky tonight. I a not saying it is sure thing, but it wouldn't shock me. Sorry @patrickulrich!
I don't see Oklahoma taking down Baylor, but it would be really awesome if they did. Everything else should go pretty much the way you would expect it. Oklahoma State has a slight chance against West Virginia, but they will have to really work for it to pull it off. I am probably going with the Mountaineers on this one.
source