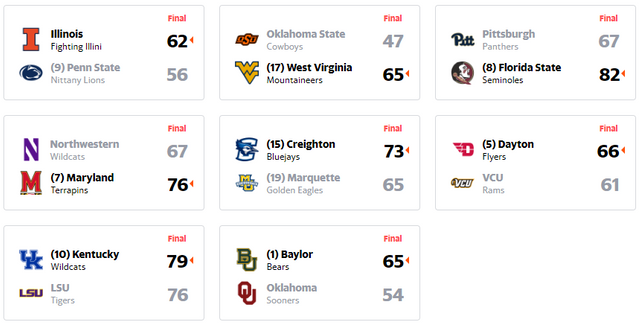 ---
I really thought there was going to be some more upsets last night than we actually saw. The most notable (and only) one that happened was Illinois over #9 Penn State. I didn't even predict that one!
Oklahoma State started off strong against West Virginia. They just couldn't hang in the second half. I was watching the first half of this game and it was pretty good. It is too bad the Cowboys couldn't pull off the win.
I am not too surprised about the Pittsburgh/Florida State game. Additionally, the Northwestern/Maryland game, the Dayton/VCU, and Baylor/Oklahoma games all went pretty much the way I expected. It would have been cool if Baylor could have gotten upset.
I would be lying if I said I wasn't surprised by the Creighton/Marquette outcome. I was really expecting a different result on that game. It would have been a prime opportunity for The Golden Eagles take down the Bluejays.
Finally, let's talk about Kentucky. I predicted that this could be a potential upset by LSU and if you look at the score, you can see that it almost was. Congrats to the Wildcats for pulling out the win and better luck next time to the Tigers. I don't know their schedule, but they probably won't play again until the SEC tournament if they even see each other then.
If you are looking for a good game to watch tonight, Butler and Seton Hall should be a good game. After that if you still need some more college basketball tune in for Tulsa at Houston. That could be another close match-up. Everything else should fall in favor of the ranked team, but don't be surprised if we are talking about a Syracuse upset of Louisville tomorrow.