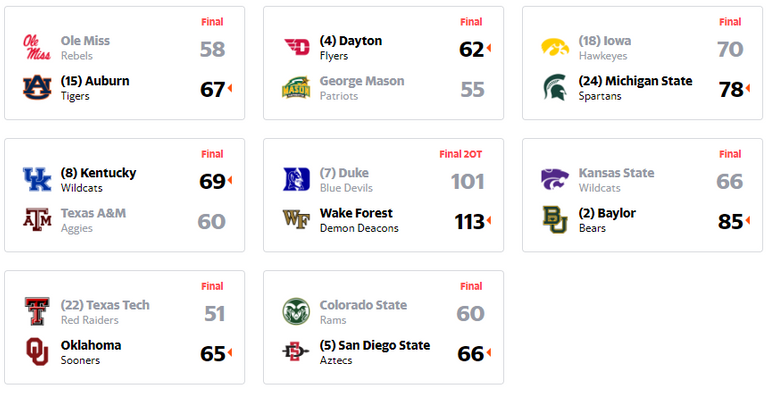 ---
It's a pretty amazing day today folks. Probably not so much for the Duke, Iowa, or Texas Tech fans, but I am having a great morning so far!
Michigan State could be back on track with their win over #18 Iowa last night. I watched the first half of the game and I am going to be honest, I am a little surprised that they ended up winning. The first half was more of the sloppy play that I have come to expect from the Spartans.
Yes, they had some awesome plays, but a there were still a lot of turnovers and just laziness that I am getting a little sick of. I saw a graphic last night that predicted State could be a number 5 seed come tournament time. Personally, I think they have a ways to go before they earn that honor.
What else can I say, once again I should have put some money down on that Texas Tech/Oklahoma game. It may have not been one of those down to the wire thrilling victories but for me, there is always something special about an underdog dominating a ranked team.
How about that Duke/Wake Forest game! Talk about an awesome way to start my morning. Two overtimes and the upset victory of one of the most loved and hated teams in the NCAA. Either the Demon Deacons were ready to be done after the first overtime and decided to finish it or the Blue Devils just don't have the stamina to hang that long.
In my opinion it is always a good day when Duke loses.
San Diego State continues to bounce back from their sole loss of the season. I am happy to see that their momentary lapse didn't lead to a downhill slide like it can sometimes.
Three games on the schedule for tonight. If I had to pick I would probably tune in for the Rutgers/Penn State game. That could end up being a home loss for the Nittany Lions.
source