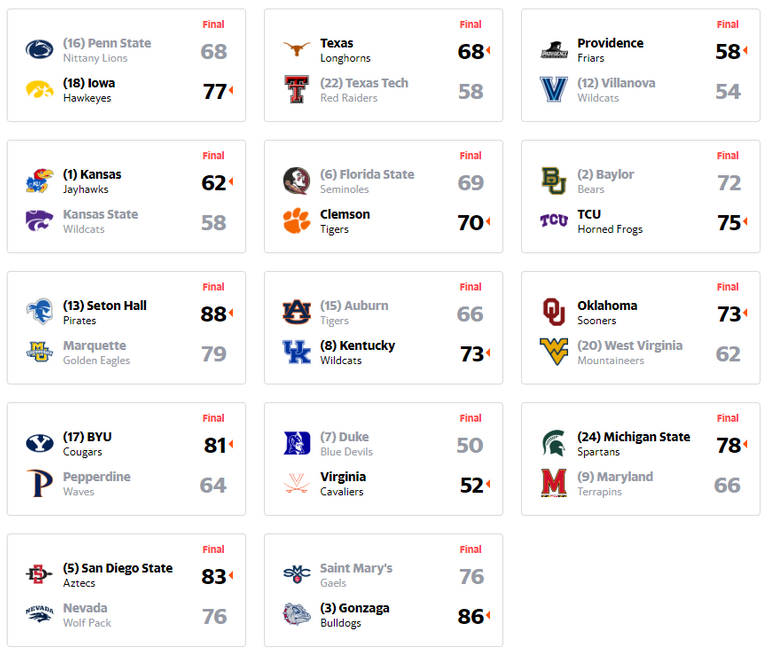 ---
Friday night was a pretty boring night in college basketball. There was only one top 25 game and it was a virtual route by Dayton of Davidson. That actually isn't a bad thing. It gave us time to catch our breath for what ended up being an amazing Saturday of college hoops.
Fourteen games total on Saturday and a whopping eight of them ended up being uspets!
Way to go Iowa for taking down Penn State. I knew this was going to be a close came and the fact that Iowa was playing at home had my odds in their favor. It was a really exciting game. Well done Texas for the road win over #22 Texas Tech. I was just about on the floor Saturday when all of the scores started coming across and I saw all of these upsets.
Providence over #12 Villanova. That was a nice road win for the Friars as well. Moving on, you can see that Kansas State didn't make it easy for Kansas. Will the Jayhawks be able to hold onto the #1 spot through the end of the regular season?
What a fantastic contest the Florida State/Clemson game was. There is something really special about getting an upset of this caliber on your home court. With a virtual buzzer beater no less. Talk about awesome. The students rushing the court at the end was just the icing on the cake.
Who knew TCU had it in them? Baylor has been on a bit of a slide lately, but that should not take away from the awesome showing by the Horned Frogs. Well done TCU!
Even though the Auburn/Kentucky game wasn't an upset, it was still a really good game. Actually a lot closer than the final score indicates. It was a tough contest for the Wildcats, but they proved they might just have what it takes to go deep in the tournament this year.
Oklahoma over #20 West Virginia is not too much of a surprise. I feel like Oklahoma has had some strong wins this season in games that really count. They might have a good chance of making the first round of the tournament.
Next is the game that started the beginning of my awesome weekend. I didn't watch the whole game, but while we were waiting for the beginning of the Michigan State/Maryland game my wife and I were watching the end of the Duke/Virginia game.
Have I mentioned I hate Duke and I love it when they lose. This game was so fantastic! Right down to the wire and a well deserved victory for the Cavaliers. Talk about college basketball at its finest!
Finally, my Saturday ended with another amazing game. Michigan State taking down Maryland was something I wasn't even anticipating. Especially on the road. I thought they might be able to keep it close, but the Spartans practically dominated the whole game. I hope they can keep that going into the tournament!
---
Sunday brought us even more upsets. The best for me being Ohio State over Michigan. There isn't much I like about either of these teams, but since the Buckeyes were the underdog I was secretly cheering for them.
The most surprising upset was probably the smackdown of #10 Creighton by St. John's. You are seeing it right, that is a twenty point margin.
Finally, Sunday also brought us the upset of Colorado by Stanford. Way to protect your home court Cardinals!
Tonight sees two top 25 games. Will Duke and Baylor be able to bounce back? My gut says yes.
source