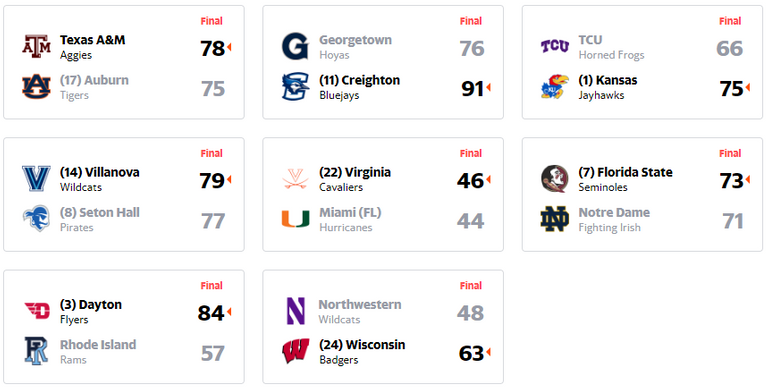 ---
What another great night of college basketball! There were only two upsets, but a couple of the other games almost went that way. There is one upset I am kind of surprised about. The other one, not so much. If you look back at my post from yesterday, you will see that I kind of called that one.
The one that really threw me was Texas A&M over Auburn. At #17 I wouldn't call Auburn an elite team, but given they were playing at home I felt they had the definite advantage over an Aggies team that was sitting at a solid 50% win/loss ratio.
Congrats to them on pulling out an epic upset which shouldn't help Auburn any moving into the SEC tournament.
The upset I wasn't too surprised about was the Villanova/Seton Hall game. I feel like the Big East has been pretty crazy this year and there could be quite a few bracket busters coming out of that conference. Only time will tell I guess.
I was going to suggest the Florida State/Notre Dame game yesterday as a possible must watch. I guess I had more faith in the Seminoles than they deserved. The Fighting Irish tried really hard to snag the upset and the home win, but they just couldn't do it. Nice try!
Everything else was pretty pedestrian. The one other thing I would like to point out is the score of the Virginia/Miami game. Holy horrible offense or amazing defense. That is a pretty low scoring game even for college basketball.
Must view tonight would probably be the Illinios/Ohio State game. They share a similar record and are fighting to add some legitimacy to their bid for a tournament spot. You might also want to check out the Air Force/San Diego State game. I am not sure where the Falcons came from, but suddenly they are in the top ten. I don't feel like I have written a single thing about them all season.
Talk about being off the radar! Nice stealth technology you have there Air Force!
I could also see UConn upsetting Houston tonight. Don't quote me on that one though!
source