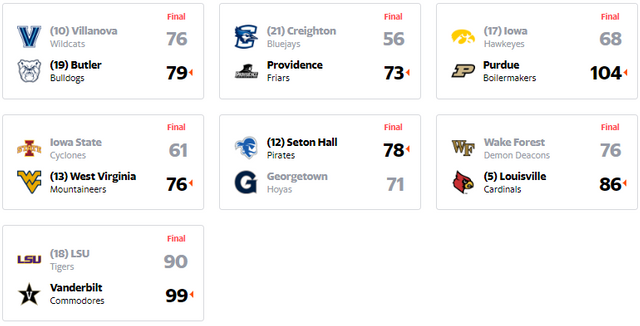 ---
Another day, another upset (or two).
It is a good thing that sports betting is legal outside of Vegas now, because I really need to get in on some of this action. If I had put just a little money down on some of these upsets I predicted lately, I might be able to buy a whole bunch of SPORTS tokens!
Check out that Villanova/Bulter score. I called that one right? I'd actually have to go back to my post yesterday to verify, but I am pretty sure I called that one. Providence over Creighton I had a feeling about, but I was too much of a chicken to vocalize it yesterday.
Check out that Purdue score over Iowa. I had that one down pat. The Boilermakers have an explosive offense, especially at home. They proved that without question against Michigan State. They reinforced it last night. Now they just need to bring it all together and they might be able to hit the top 25.
My one mistake if anything was the Seton Hall/Georgetown game. I really though the Hoyas were going to pull out the upset at home on that one.
I had a bit of confidence in Louisville even though Wake Forest has had some notable wins this season. Check out Vandy though! If you read my posts you know that besides Michigan State, I have an affinity for all things Tennessee. It's pretty cool to see that Nashville based school achieve the upset win over #18 LSU.
If I had to pick an upset tonight it would be the USC/Arizona game. I think that the Trojans have a decent shot of taking down the Wildcats. Other than that I think most of the games should pretty much go the way you would expect.