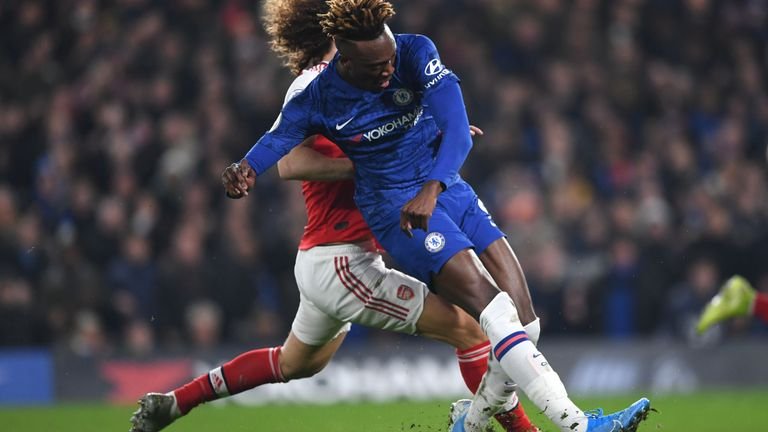 David Luiz was sent off just 26 minutes into the London derby that ended 2-2 on Tuesday night. Many fans questioned the red card call and we thought it was a wrong since no rash contact was made.
Dermot Gallagher says Luiz was correctly sent off. He claims the ref action and that of the VAR were in accordance to what the rule of the game says.
Dermot Gallagher is a retired referee who refereed in the English Premier League before he retired May 2007.
Dermot says it's not easy to deny the penalty call considering Luiz took the challenge running before falling down.
He noted that the keeper's box is a tricky place to be for any player and especially defender. This is because if you push or lean on anybody, you run the risk of committing a foul.
He also noted that going with the foot is more helpful and easier to judge wither it is foul or not. in Luiz case, it was easier for the ref and VAR agreed with him.
If Mustafi was very closer to Luiz, he might have been able to save the day but immediately he lose the ball, he finds it hard to run.
Luiz action out rightly stopped a goal chance because Tammy was already through on goal. If Luiz had not made the challenge, he would have scored.
But the question is, why make such challenge to stop a player on goal when you know such contact will lead to penalty and possibly red card. If he had let him score, perhaps we would have had another result, different from the draw we played.
Whichever way you look at it, we were in that situation because of Mustafi. If he had timed his ball well and played a good back pass, perhaps we would have secured the much needed three points.
It is important to note that the lads showed class and played a very good football to deny Chelsea from getting all the three points at Stamford Bridge.
Kudos lads! COYG!!!
Posted via neoxian.city | The City of Neoxian