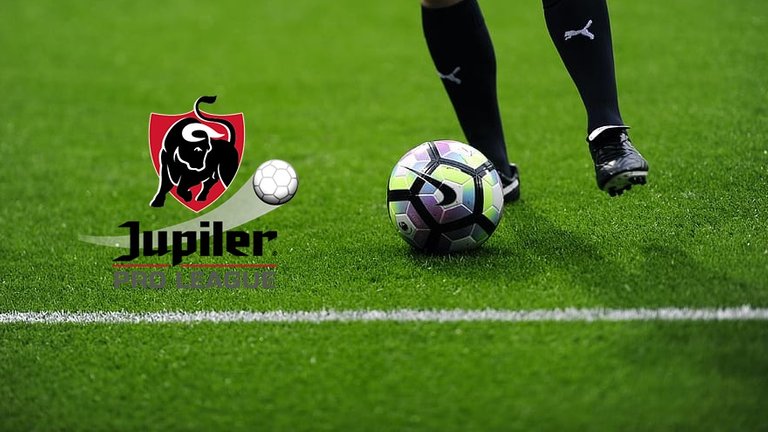 These are previews from matches involving Belgian Teams with all the latest on team news, player form, injuries along with my personal betting angles, ...

---
January started pretty well making some profit in the first match last Wednesday and things really kick off today with only a couple of days without matches before the end of the month. I'm highly looking forward to this busy period and feel up for it as I have been taking good care of my physical and mental health as of late. The intention is to make previews on every single match while also covering them live on the SBC Discord Channel starting today with 4 matches...
Zulte-Waregem vs Moeskroen
My notes I take during each match on Zulte-Waregem nearly always say not to trust this team despite the fact that they are 3W-1L-1D in their last 5 matches. They got 2-0 against away vs Eupen in their last match but managed to make a comeback winning 2-3 in the end as Eupen was not ready yet. Moeskroen is back in last place but very much within range after losing their last match against Mechelen. They aren't in a good form but at the same time also not without a chance. Betting Zulte-Waregem as a favorite is no option for me and I'm too late to consider Moeskroen as odds dropped a lot overnight. The total line is also tricky since Moeskroen is rather an under team and Zulte-Waregem also doesn't score all too easily. Both teams are quite high on 2nd half and late goals though, especially Zulte-Waregem if they are behind. My lean remains on the visitors as Zulte-Waregem can't be trusted and has been a poor home side. Overall the current odds simply don't offer much opportunity so I'm staying on the sidelines waiting for an opportunity in-game.
No Pre-Game Bets
---
Cercle Brugge vs Eupen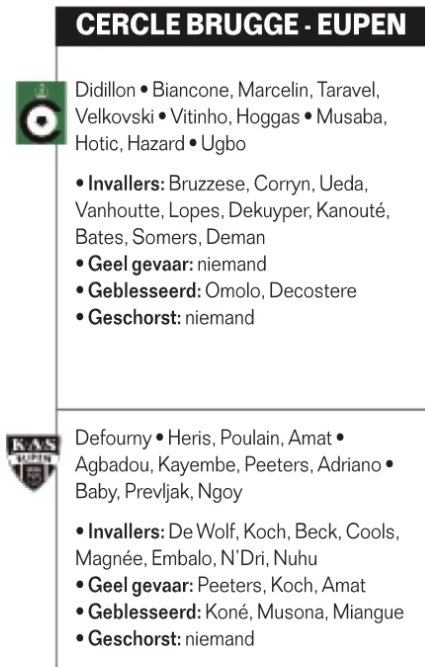 Cercle Brugge is in a negative spiral having lost their last 6 matches now being in the danger zone just 1 point clear of the last place. They lost their last match against Zulte-Waregem against play but overall haven't been good enough. Eupen had a lot of issues with Covid cases and suffered from it as they were not ready yet when returning and lost their last 3 matches. They already played a match last Wednesday against Genk showing that they were willing to take the initiative but again looking tired near the end which left them without a chance. I can see this being a match where both teams want to move forward but it remains the question if it will also result in goals as both tend to have a rather hard time scoring. I do lean on the home side +0 as they have the home advantage while Eupen also is still searching and looked tired at the end of their match last Wednesday. I don't see this being a problem from the start though and Eupen does have a better 1H track record so I will be waiting in-game.
No pre-Game Bets
---
Kortrijk vs Genk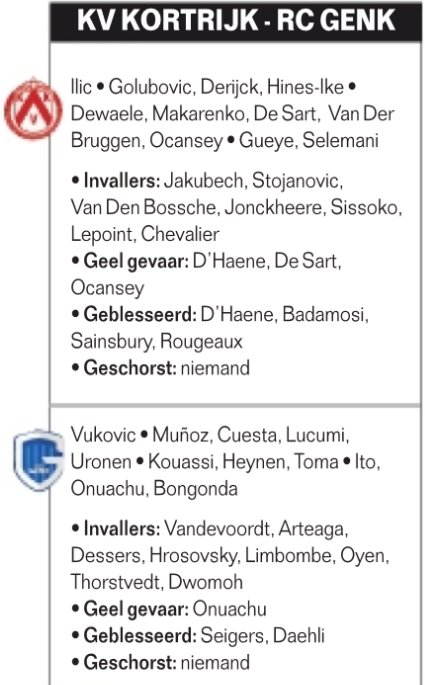 The home team lost their best striker Mboyo to stvv during the winter break so it will be interesting to see how this will influence this match. Chevalier was brought in to replace him but will likely start on the bench. The main tend week after week after week is that they have high scoring home matches and low scoring away matches which provides/provided some good betting opportunities as the lines are more based on the overall goals total. Racing Genk played a mature match against Eupen but mostly laid back being efficient on the counters. There was some drama during the match on who was going to take the penalty which doesn't help the overall team spirit. If anything Kortrijk has played with a lot of grinta and I expect a match of high-intensity today. My lean goes out to the visitors who should have more quality and are in a good flow. The bet I had to take a small position on is
Over 2.75 @ 2.00
given the history even though Mobyo is gone and the pitch won't be the best. The reverse match was played a couple of weeks back and it was a small miracle that it only was 1-0 at Half Time, that match was also under in corners.
---
Oostende vs Charleroi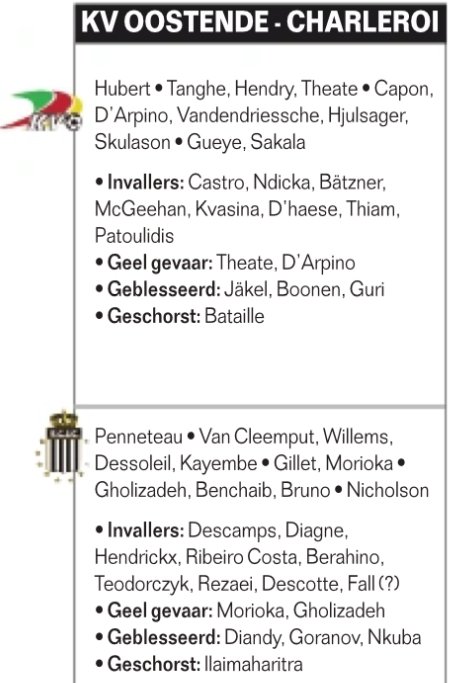 Both teams have found back their form after a period of regression to the mean with Oostende winning 3 of their last 4 and Charleroi winning 4 of their last 5 games. I expect them to play this match true to their own style with a lot of pressing and intensity from Oostende and a good defense while luring on the counter from Charleroi. I do expect Oostende to be the better team in the 1st half for the energy they will be putting in while Charleroi is one of the lowest in the 1H standings never having taken an away 1H win. I took a small initial bet on
Oostende 1st Half +0 @ 1.895
. The home team is also more overish at home (3.25 goals) compared to away (2.0 goals) while for Charleroi it is the complete opposite (3.5 gaols away vs 1.88 goals at home). I want to see the initial intentions before possibly taking an over bet though. Oostende remains an over corners team and Charleroi also had at least 9 corners in their last 6 away matches. I got a tiny bet in on
Over 10 Corners @ 2.00
and I'm hoping to be able to get more in case the line would reach Over 9. I do expect Oostende to be the team moving forward as they should be the one more likely to win the corners at the end.
Oostende -0.5 Corners @ 2.00
is something I took a small bet on also adding a tiny bit on
Oostende 1H CK -0.25 @ 1.97
. Should be an interesting match despite the fact that it's Charleroi who is playing.
---
Late info might change my view on what is written in these previews. I will cover these matches live in our SBC Discord Channel. All my bigger pre-game & Live bets can automatically be followed on Copytip
---
Pre-Game Preview Bets
I continue to share many of my pre-game bets in all my preview posts. Most of them are smaller bets or trading positions and some of them I took early in the week and might not have the exact same odds available. These bets should just be seen as info and not as something to blindly follow. Record on them so far this season is 154 Bets | +16.91% ROI on Flat Unit bets (See Results) Bigger pre-game bets which are rare these days I also tend to take extra on those in BTC.
Season 2020-2021 BTC Bets
| Date | Bet | mBTC | Odds | Result | Betslip |
| --- | --- | --- | --- | --- | --- |
| 01/11/2020 | Antwerp -0.5 | 10 | 3.50 | -10 | sportbet.one |
| 03/10/2020 | OHL vs Zulte 1H Under 1.25 | 10 | 2.010 | +5.005 | sportbet.one |
---
Bookies, Projects & Platforms I use...

Info

Info

Info

Info

Info
| Month | Bets | Won | Lost | Push | Staked | Profit BTC | ROI |
| --- | --- | --- | --- | --- | --- | --- | --- |
| Jan 2020 | 1 | 1 | 0 | 0 | 0.0100 | +0.01271 | +127% |
| Dec 2019 | 2 | 0 | 2 | 0 | 0.0200 | -0.002000 | -100% |
| Nov 2019 | 2 | 1 | 1 | 0 | 0.0200 | -0.001800 | -9.00% |
| Oct 2019 | 4 | 1 | 3 | 0 | 0.0400 | -0.020800 | -52.00% |
| Sep 2019 | 4 | 3 | 0 | 1 | 0.0400 | +0.028890 | +72.22% |
| Aug 2019 | 10 | 7 | 3 | 0 | 0.1000 | +0.033860 | +33.86% |
| July 2019 | 2 | 2 | 0 | 0 | 0.0200 | +0.018000 | +90.0% |
| Jun 2019 | 0 | 0 | 0 | 0 | 0.0000 | +0.000000 | +0.00% |
| May 2019 | 7 | 0 | 5 | 2 | 0.0700 | -0.050000 | -71.43% |
| Apr 2019 | 5 | 3 | 2 | 0 | 0.0500 | +0.024170 | +48.34% |
| Mar 2019 | 7 | 3 | 3 | 1 | 0.0700 | +0.004120 | +5.89% |
| Feb 2019 | 6 | 4 | 2 | 0 | 0.060 | +0.023210 | +23.21% |
| Jan 2019 | 10 | 0 | 9 | 1 | 0.100 | -0.079640 | -79.64% |
| Dec 2018 | 15 | 4 | 10 | 1 | 0.150 | -0.058880 | -39.25% |
| Nov 2018 | 17 | 7 | 10 | 0 | 0.170 | -0.032170 | -18.92% |
| Oct 2018 | 15 | 6 | 9 | 0 | 0.150 | -0.028290 | -18.86% |
| Sep 2018 | 14 | 13 | 0 | 1 | 0.140 | +0.141820 | +101,3% |
| Aug 2018 | 8 | 5 | 1 | 2 | 0.080 | +0.045470 | +56.84% |
| Jul 2018 | 17 | 8 | 9 | 0 | 0.135 | +0.033590 | +24.88% |
| Jun 2018 | 15 | 7 | 7 | 1 | 0.150 | +0.018200 | +12.13% |
| May 2018 | 2 | 2 | 0 | 0 | 0.020 | +0.023440 | +117% |
| Feb 2018 | 12 | 3 | 8 | 1 | 0.091 | -0.036293 | -39,88% |
| Jan 2018 | 21 | 10 | 10 | 1 | 0.147 | +0.005800 | +3.95% |
| Dec 2017 | 19 | 9 | 8 | 2 | 0.148 | +0.010422 | +7.04% |
| Nov 2017 | 21 | 11 | 10 | 0 | 0.210 | -0.008030 | -3.82% |
| Oct 2017 | 21 | 10 | 10 | 1 | 0.210 | +0.003080 | +1.46% |
| Sep 2017 | 9 | 4 | 4 | 1 | 0.090 | +0.001440 | +1.60% |
| Total | 266 | 124 | 126 | 16 | 2.491 | +0.092319 | +3.71% |