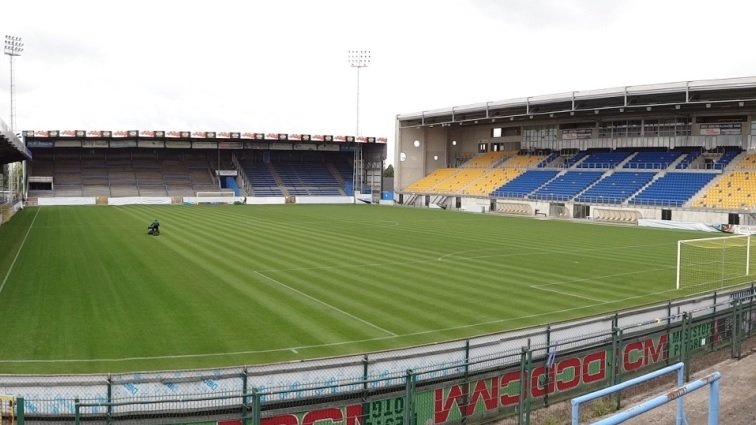 These are previews from matches involving Belgian Teams with all the latest on team news, player form, injuries along with my personal betting angles, ...

Really frustrating match yesterday as I feel I was on the right side with some live bets but a red card and 2 late goals got me to drop just shy of 1 unit to start week 21. There are still plenty of matches to go and the season results so far are still pretty good so it's just a small bump on the road. 4 matches again today, none of them are all too exciting from a betting perspective. The weather is quite cold and there is snow which might have an impact. Here are the previews...
---
Oostende vs Kortrijk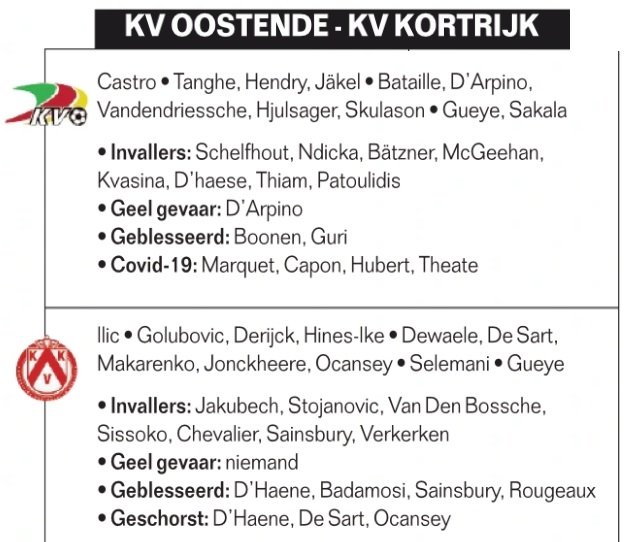 Oostende had an off-day against Eupen not getting further than a 1-1 despite the visitors getting a red card early on in that match. They were without Theate who showed to be quite important and he once again is missing today. Kortrijk has been in a good streak climbing in the rankings winning 3 of their last 4 matches (all at home). They didn't play a good 1st half last week making the 1-0 against play vs Genk but were actually better in the 2nd half taking a deserved win. I write this pretty much each week that they are over at home and under away which combined this season is at a ridiculous 14W-2L-4P against the Asian total closing lines this season. Looking at the overall number they are 9W-8L-4P on the over and the lines are not enough adjusted on the home/away difference. Oostende is a good home team (6.5W-3L vs Asian Line) while Kortrijk is a good away team (5W-1.5L vs Asian Line). Oostende pretty much cancels the over/under angle as they are the compete opposite. Overall I don't see all too big of a gap between these 2 teams at the moment and the recent form made me take a small pre-game position on
Kv Kortrijk +0.5 @ 1.854
. I don't expect a boring match and the corners look interesting. Kortrijk is 5 on 5 of having at least 12 corners away against non-to-teams while Oostende had 5 of 7 home games see at least 12 corners against non-top teams. I took
Over 11 Corners @ 2.72
as it looks overpriced based on the numbers and expectations and will look to get in more in-game.
---
Pitch Oostende: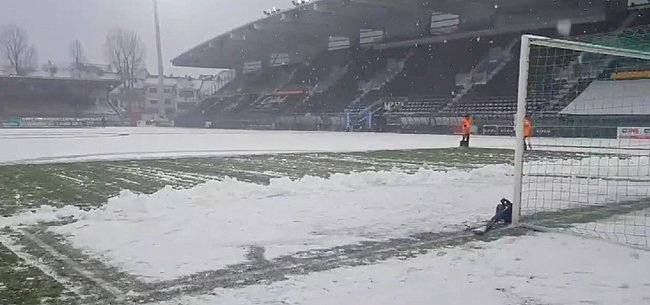 ---
Waasland vs Zulte-Waregem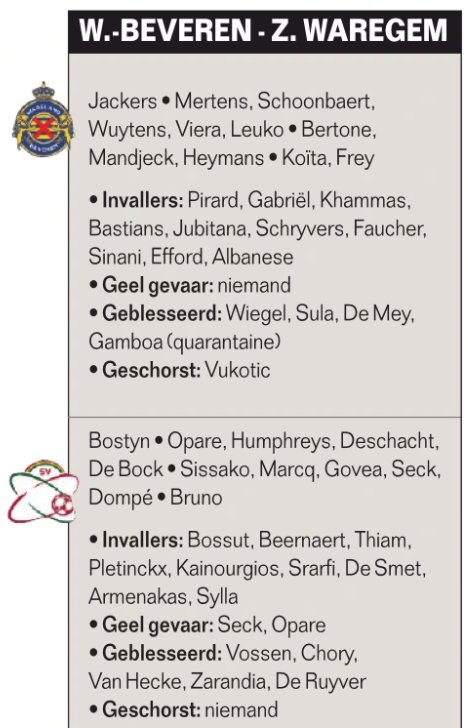 Waasland has shown multiple times that they are an ok team but it can't be ignored that they are in a bad streak only taking 1 on 12 in their last 4. A note needs to be made that all these matches were against bigger name teams (Standard/Antwerp/Genk/Gent and they only had 1 home match. Zulte-Waregem is on a 3-game win streak not so much because they played great but more because luck was on their side and my notes show it's a team not to trust. They are however a good away team (6W-2L) as their home pitch is horrible not suiting their style. Waasland is a poor home team ( 2W-6.5L). The gap in statistics that stands out in 1st half where Waasland at home is last only taking 4 points never winning the 1st half while Zulte-Waregem is 3rd away regularly taking wins. Both are also heavy on 2nd half and late goals especially Zulte-Waregem if they are behind. I still opt to wait it out and see what the in-game picture shows keeping all of this in mind.
No pre-Game Bets
---
Moeskroen vs Racing Genk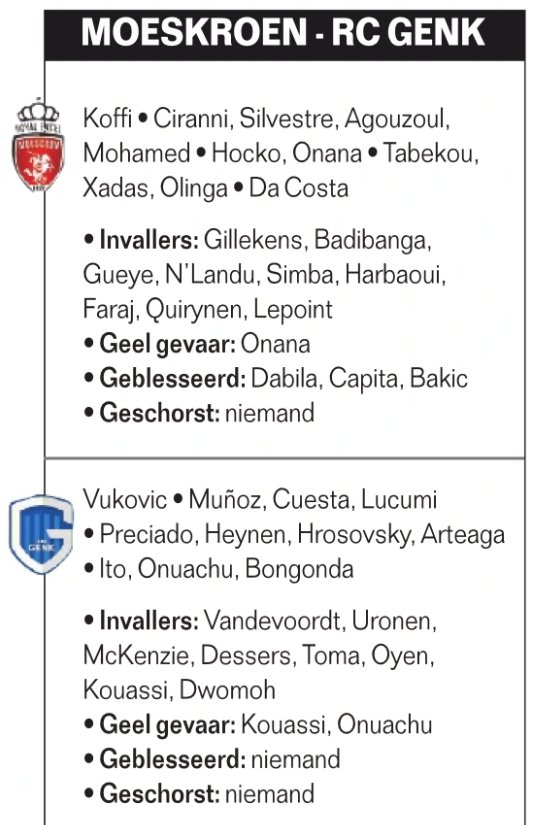 Moeskroen played an ok match against Zulte last week but failed to create all too much losing in the end remaining at the bottom of the standings. Racing Genk played an efficient match, winning against Eupen followed by a match where they played a really good first half against Kortrijk to be nowhere in the 2nd still losing the match. They pretty much are capable of both the best and the worst and it remains to be seen what it will be today. A repeat of them playing a good 1st half is certainly possible since they only lost 1 HT away this season while Moeskroen is ranked at the bottom of the home 1H standings. It certainly is tempting to take Genk as the obvious away favorite but I tend to dislike these types of bets by default. I have to see them confirm first before I'm ready to actually put money on it.
No Pre-Game Bets
---
Charleroi vs KV Mechelen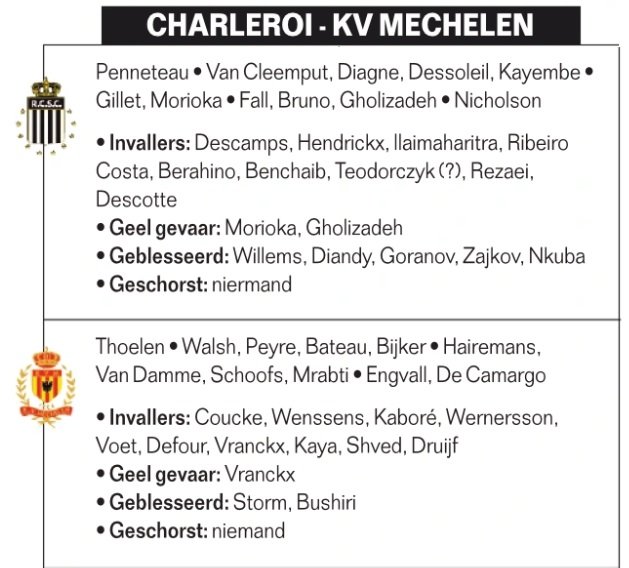 KV Mechelen has gotten themselves in a good streak getting out of the danger zone taking 9 on 9 in their most recent 3 matches. They did not only win but also played good and have had money on the betting markets coming in on their side. I considered taking the +0.25 line on them yesterday but didn't pull the trigger to see it now being at a +0 line. Charleroi lost their last 2 matches but didn't play all too bad. They are 3rd in the league and remain difficult and most of all annoying team to be matched up against. Mechelen has had good results away from home going 5W-1.5L vs the asian line and are in good form. Public perception might be on the away underdog here and I'm starting to like Charleroi at a DNB line at home. Overall it's not really a spot I want to get into without seeing the match in-play.
No pre-Game Bets
---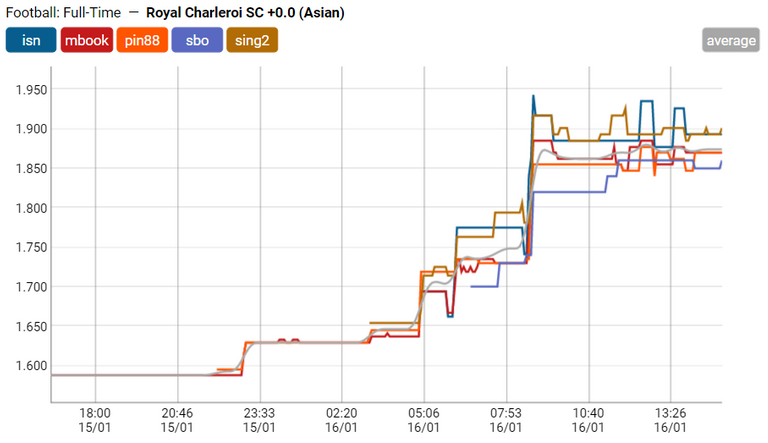 ---
Late info might change my view on what is written in these previews. I will cover these matches live in our SBC Discord Channel. All my bigger pre-game & Live bets can automatically be followed on Copytip
---
Pre-Game Preview Bets
I continue to share many of my pre-game bets in all my preview posts. Most of them are smaller bets or trading positions and some of them I took early in the week and might not have the exact same odds available. These bets should just be seen as info and not as something to blindly follow. Record on them so far this season is 160 Bets | +18.27% ROI on Flat Unit bets (See Results) Bigger pre-game bets which are rare these days I also tend to take extra on those in BTC.
Season 2020-2021 BTC Bets
| Date | Bet | mBTC | Odds | Result | Betslip |
| --- | --- | --- | --- | --- | --- |
| 11/01/2021 | Standard vs Waasland BTS | 2.5 | 1.86 | +2.15 | sportbet.one |
| 01/11/2020 | Antwerp -0.5 | 10 | 3.50 | -10 | sportbet.one |
| 03/10/2020 | OHL vs Zulte 1H Under 1.25 | 10 | 2.010 | +5.005 | sportbet.one |
---
Bookies, Projects & Platforms I use...

Info

Info

Info

Info

Info
| Month | Bets | Won | Lost | Push | Staked | Profit BTC | ROI |
| --- | --- | --- | --- | --- | --- | --- | --- |
| Jan 2020 | 1 | 1 | 0 | 0 | 0.0100 | +0.01271 | +127% |
| Dec 2019 | 2 | 0 | 2 | 0 | 0.0200 | -0.002000 | -100% |
| Nov 2019 | 2 | 1 | 1 | 0 | 0.0200 | -0.001800 | -9.00% |
| Oct 2019 | 4 | 1 | 3 | 0 | 0.0400 | -0.020800 | -52.00% |
| Sep 2019 | 4 | 3 | 0 | 1 | 0.0400 | +0.028890 | +72.22% |
| Aug 2019 | 10 | 7 | 3 | 0 | 0.1000 | +0.033860 | +33.86% |
| July 2019 | 2 | 2 | 0 | 0 | 0.0200 | +0.018000 | +90.0% |
| Jun 2019 | 0 | 0 | 0 | 0 | 0.0000 | +0.000000 | +0.00% |
| May 2019 | 7 | 0 | 5 | 2 | 0.0700 | -0.050000 | -71.43% |
| Apr 2019 | 5 | 3 | 2 | 0 | 0.0500 | +0.024170 | +48.34% |
| Mar 2019 | 7 | 3 | 3 | 1 | 0.0700 | +0.004120 | +5.89% |
| Feb 2019 | 6 | 4 | 2 | 0 | 0.060 | +0.023210 | +23.21% |
| Jan 2019 | 10 | 0 | 9 | 1 | 0.100 | -0.079640 | -79.64% |
| Dec 2018 | 15 | 4 | 10 | 1 | 0.150 | -0.058880 | -39.25% |
| Nov 2018 | 17 | 7 | 10 | 0 | 0.170 | -0.032170 | -18.92% |
| Oct 2018 | 15 | 6 | 9 | 0 | 0.150 | -0.028290 | -18.86% |
| Sep 2018 | 14 | 13 | 0 | 1 | 0.140 | +0.141820 | +101,3% |
| Aug 2018 | 8 | 5 | 1 | 2 | 0.080 | +0.045470 | +56.84% |
| Jul 2018 | 17 | 8 | 9 | 0 | 0.135 | +0.033590 | +24.88% |
| Jun 2018 | 15 | 7 | 7 | 1 | 0.150 | +0.018200 | +12.13% |
| May 2018 | 2 | 2 | 0 | 0 | 0.020 | +0.023440 | +117% |
| Feb 2018 | 12 | 3 | 8 | 1 | 0.091 | -0.036293 | -39,88% |
| Jan 2018 | 21 | 10 | 10 | 1 | 0.147 | +0.005800 | +3.95% |
| Dec 2017 | 19 | 9 | 8 | 2 | 0.148 | +0.010422 | +7.04% |
| Nov 2017 | 21 | 11 | 10 | 0 | 0.210 | -0.008030 | -3.82% |
| Oct 2017 | 21 | 10 | 10 | 1 | 0.210 | +0.003080 | +1.46% |
| Sep 2017 | 9 | 4 | 4 | 1 | 0.090 | +0.001440 | +1.60% |
| Total | 266 | 124 | 126 | 16 | 2.491 | +0.092319 | +3.71% |