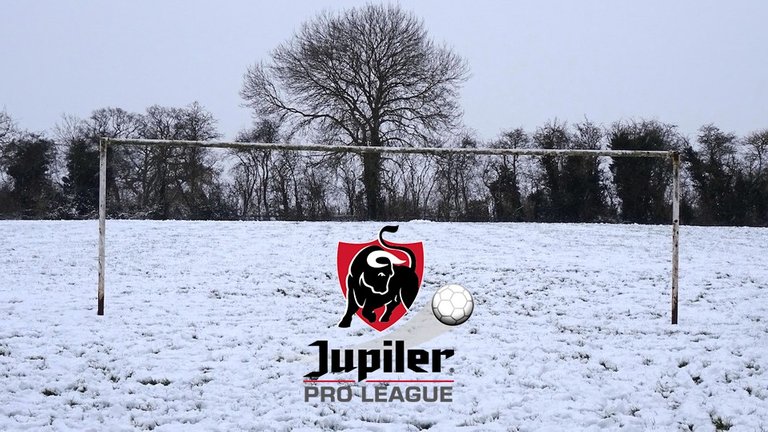 These are previews from matches involving Belgian Teams with all the latest on team news, player form, injuries along with my personal betting angles, ...

Pretty strange Saturday with multiple matches being played un pitches covered with snow, making it all have nothing to do with football anymore making everything really random. Matches should have been delayed but since the schedule is already too busy they couldn't afford to. Betting was quite frustrating as my main position was the under in the match with the worst conditions where the only chance to score was a free-kick, penalty, or comedy capers which somehow happened all in that match. Overall damage was limited but I'm certainly down on the week so far. Hopefully, better conditions in the 4 matches on Sunday where I'm keeping nearly all my betting action for in-game.
---
AA Gent vs Antwerp
AA Gent didn't get further than a 1-1 draw last week despite being the dominant team even though the actual chances they created were limited. Today, Yaremchuk will be back which should make a big difference in their scoring potential. Antwerp missed their strikers last week but will have those back today. Refaelov won the golden boot this week which in the past has often come along with a form dip. I do see AA Gent as the better team right now even though they are without Odidja, I'm not willing to take a shot at the -0.25 line yet before seeing the actual in-game picture. Both teams have a high 1H goal ratio with 1.6 goals on average. The New Antwerp coach is more defensive so previous stats might not be all too relevant.
No Pre-Game Bets
---
Cercle Brugge vs Standard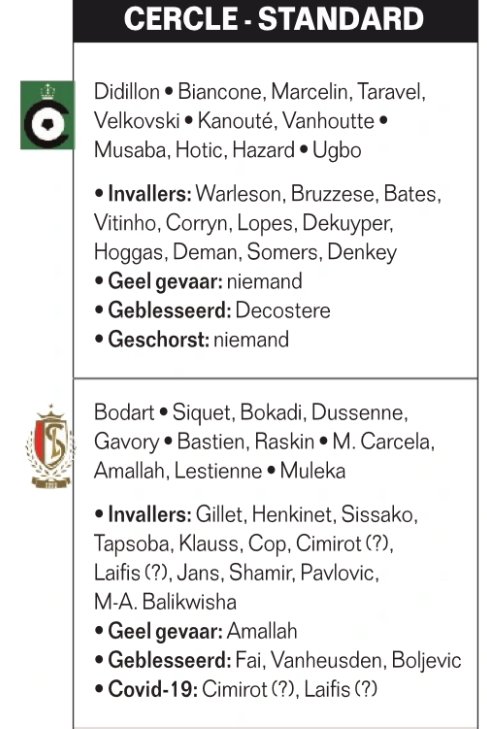 Cercle Brugge played a good match against a poor Beerschot and broke their losing streak going home with a deserved draw. They managed to create quite some chances but the ball just didn't want to go in. Standard was extremely efficient last week winning 3-1 against Waasland without getting in trouble in the first match with their new coach. The focus was on just taking the 3 points without it needing to look nice. I guess the visitors being the small -0.25 favorite in this match makes sense. Form of the day will be key and it is hard to predict so
No Pre-Game Bets
---
Beerschot vs Club Brugge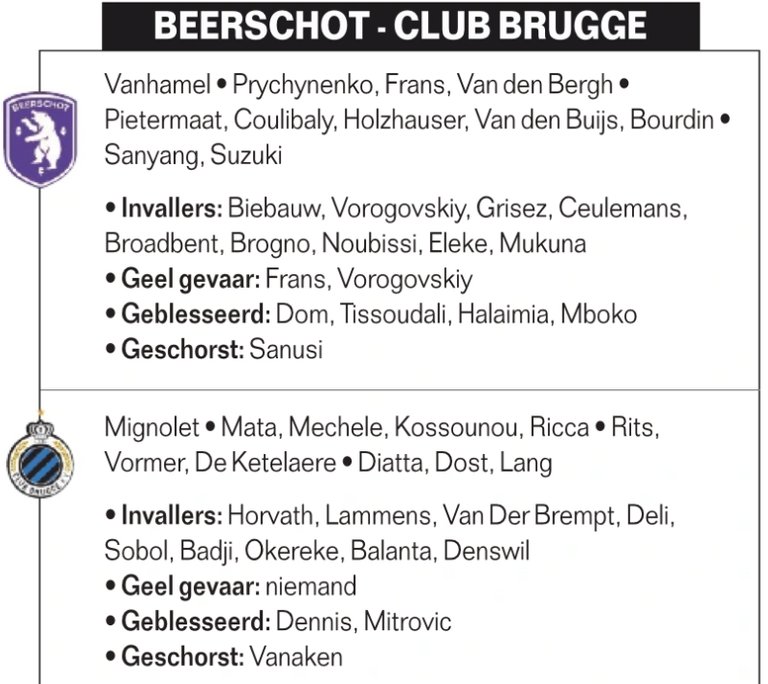 Beerschot is in a bad streak and they only focused on defense the last match being quite lucky to get away with a 1-1 against Cercle in the mid-week and a 1-1 against AA Gent last week. They are quite high on my teams to fade list at the moment. Club Brugge on the other hand played an excellent 1st half against stvv leading 0-2 to play a poor 2nd half nearly giving it away. I do expect Club Brugge to be the team in control trying to break a tight Beerschot defense succeeding in it eventually. My eye is on the corners market as Beerchot got 11 against last week and 7 in the 2 matches before (-20 corner difference in last 3 matches), while Club Brugge scored 34 corners in their last 3 matches getting 7 against.
Club Brugge 1st Half -1 Corners @ 1.805
is my main pre-game bet in this match with good-sized stakes. I had a lean on the visitors as the big favorite but the line drifted even more so I will just skip and see what the in-game match picture brings.
---
Sint-Truiden vs Oud-Heverlee Leuven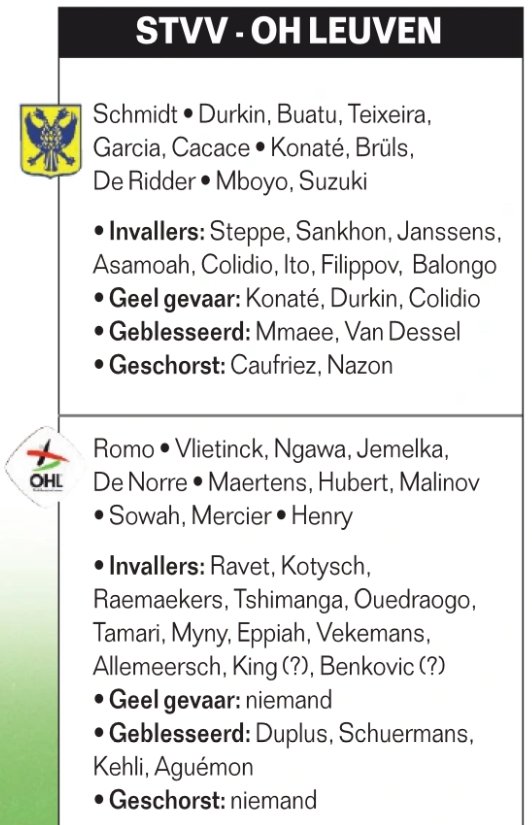 Leuven took a flattering hold-up win against Anderlecht last weekend and have been in somewhat of a regression to the mean still being in 4th place at the moment. Sint-Truiden showed a lot of heart against Club Brugge last week in the 2nd half and are in a good flow since their new coach was assigned. The odds in this match pretty much suggest the current form with the home team being a -0.5 favorite despite their standing against the 4th in the league. Not really the match I'm willing to get involved before seeing the in-game picture.
No Pre-Game Bets
---
---
Late info might change my view on what is written in these previews. I will cover these matches live in our SBC Discord Channel. All my bigger pre-game & Live bets can automatically be followed on Copytip
---
Pre-Game Preview Bets
I continue to share many of my pre-game bets in all my preview posts. Most of them are smaller bets or trading positions and some of them I took early in the week and might not have the exact same odds available. These bets should just be seen as info and not as something to blindly follow. Record on them so far this season is 160 Bets | +18.27% ROI on Flat Unit bets (See Results) Bigger pre-game bets which are rare these days I also tend to take extra on those in BTC.
Season 2020-2021 BTC Bets
| Date | Bet | mBTC | Odds | Result | Betslip |
| --- | --- | --- | --- | --- | --- |
| 11/01/2021 | Standard vs Waasland BTS | 2.5 | 1.86 | +2.15 | sportbet.one |
| 01/11/2020 | Antwerp -0.5 | 10 | 3.50 | -10 | sportbet.one |
| 03/10/2020 | OHL vs Zulte 1H Under 1.25 | 10 | 2.010 | +5.005 | sportbet.one |
---
Bookies, Projects & Platforms I use...

Info

Info

Info

Info

Info
| Month | Bets | Won | Lost | Push | Staked | Profit BTC | ROI |
| --- | --- | --- | --- | --- | --- | --- | --- |
| Jan 2020 | 1 | 1 | 0 | 0 | 0.0100 | +0.01271 | +127% |
| Dec 2019 | 2 | 0 | 2 | 0 | 0.0200 | -0.002000 | -100% |
| Nov 2019 | 2 | 1 | 1 | 0 | 0.0200 | -0.001800 | -9.00% |
| Oct 2019 | 4 | 1 | 3 | 0 | 0.0400 | -0.020800 | -52.00% |
| Sep 2019 | 4 | 3 | 0 | 1 | 0.0400 | +0.028890 | +72.22% |
| Aug 2019 | 10 | 7 | 3 | 0 | 0.1000 | +0.033860 | +33.86% |
| July 2019 | 2 | 2 | 0 | 0 | 0.0200 | +0.018000 | +90.0% |
| Jun 2019 | 0 | 0 | 0 | 0 | 0.0000 | +0.000000 | +0.00% |
| May 2019 | 7 | 0 | 5 | 2 | 0.0700 | -0.050000 | -71.43% |
| Apr 2019 | 5 | 3 | 2 | 0 | 0.0500 | +0.024170 | +48.34% |
| Mar 2019 | 7 | 3 | 3 | 1 | 0.0700 | +0.004120 | +5.89% |
| Feb 2019 | 6 | 4 | 2 | 0 | 0.060 | +0.023210 | +23.21% |
| Jan 2019 | 10 | 0 | 9 | 1 | 0.100 | -0.079640 | -79.64% |
| Dec 2018 | 15 | 4 | 10 | 1 | 0.150 | -0.058880 | -39.25% |
| Nov 2018 | 17 | 7 | 10 | 0 | 0.170 | -0.032170 | -18.92% |
| Oct 2018 | 15 | 6 | 9 | 0 | 0.150 | -0.028290 | -18.86% |
| Sep 2018 | 14 | 13 | 0 | 1 | 0.140 | +0.141820 | +101,3% |
| Aug 2018 | 8 | 5 | 1 | 2 | 0.080 | +0.045470 | +56.84% |
| Jul 2018 | 17 | 8 | 9 | 0 | 0.135 | +0.033590 | +24.88% |
| Jun 2018 | 15 | 7 | 7 | 1 | 0.150 | +0.018200 | +12.13% |
| May 2018 | 2 | 2 | 0 | 0 | 0.020 | +0.023440 | +117% |
| Feb 2018 | 12 | 3 | 8 | 1 | 0.091 | -0.036293 | -39,88% |
| Jan 2018 | 21 | 10 | 10 | 1 | 0.147 | +0.005800 | +3.95% |
| Dec 2017 | 19 | 9 | 8 | 2 | 0.148 | +0.010422 | +7.04% |
| Nov 2017 | 21 | 11 | 10 | 0 | 0.210 | -0.008030 | -3.82% |
| Oct 2017 | 21 | 10 | 10 | 1 | 0.210 | +0.003080 | +1.46% |
| Sep 2017 | 9 | 4 | 4 | 1 | 0.090 | +0.001440 | +1.60% |
| Total | 266 | 124 | 126 | 16 | 2.491 | +0.092319 | +3.71% |