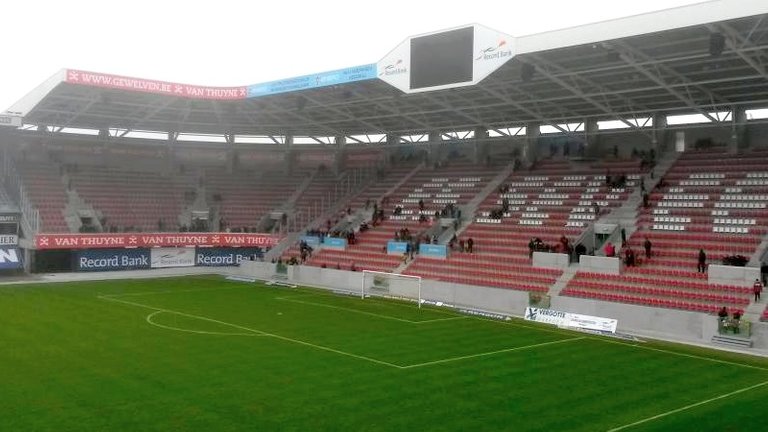 These are previews from matches involving Belgian Teams with all the latest on team news, player form, injuries along with my personal betting angles, ...

Wednesday turned out to be break-even at the end but it could have been a lot worse as some in-game under positions came close to failing. I continue a rather cautious approach for the 2 remaining matches today. These are my views and pre-game bets on them...
---
Zulte-Waregem vs Oud-Heverlee Leuven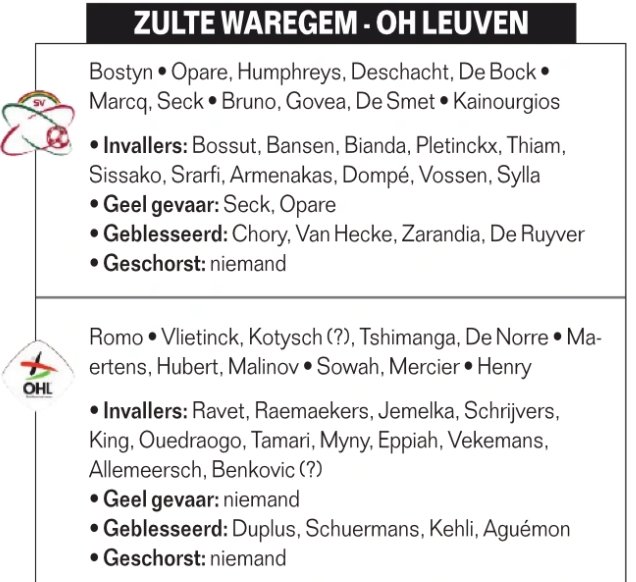 Zulte-Waregem managed to take 4 wins in a row now getting away from the danger zone. A note needs to be made that the 4 wins came against Waasland, Moeskroen, Eupen, and Cercle which aren't exactly top teams. They showed to have a good form on the frozen pitch against a poor Waasland and were very efficient in their finishing. One of the main factors in their home matches is the awful pitch they need to play on which has not yet been replaced since there is no money for it. This reflects in their home results where they went 4W-6L-1P vs the Asian line and 4W-5.5L-1.5P on the Over. During their last home match the players were afraid to take a pass or get injured which resulted in a lot of balls just being kicked away with the most focus just on defense. This resulted in their last 2 home matches finishing with a 1-0 victory and I expect more of the same today. OHL has seen some regression to the mean but remains a deadly counter team. The pitch probably also won't help Sowah, Mercier, Henry in the offense even though they can be considered an over team. Based on the most recent results (wwww for Zulte | LWLL OHL), the +0 line of the home team seems to be way too generous. Given of what I have seen from Zulte-Waregem during their winning streak, I still have a hard time trusting them to win though so I get why OHL is valued the way they are on the betting market. I am forced to go with the under however given how previous home matches of Zulte played out due to the horrible pitch which seems to be a factor that is neglected in the line. I took pre-game betting and trading positions on
1st Half Under 1.25 @ 2.001
(Small) |
1st Half Under 1 @ 2.69
(Tiny Trading Position) |
Under 3 @ 2.227
(Small Trading). Matches of both these teams have the potential to go wild though and I will likely cut my exposure at one time if possible.
---
Racing Genk vs AA Gent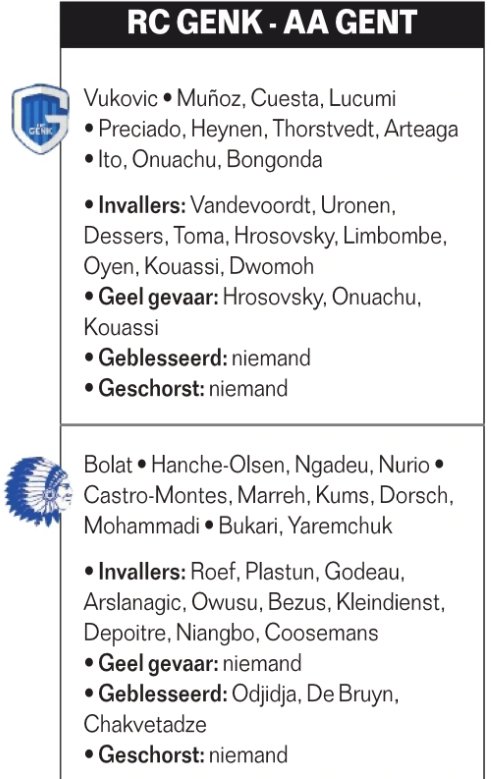 Racing Genk is in 2nd position but are coming of 2 losing matches and bad pitches (especially during the mid-week when the pitch was full of snow) had a lot to do with that. In the away match against Kortrijk, they played an excellent 1st half to drop away in the 2nd. If anything, they have shown their potential these last months but at the same time also some inconsistencies. AA Gent played against a really defensive Antwerp last week and against Beershot who left the ball to them the week before and it showed that they have quite a hard time creating a lot in situations like this since they are missing Vadis. They however don't have much chance but to win since they are far away from a playoff spot. on paper, this should between 2 teams who want to play but for all I know, both might play it more tactical being afraid of deadly counters. I do expect a fairly even match and I can see how Genk is only a minor favorite at home. If there are indications of it turning in a wide-open match, I might get in on the over in-game probably at a bigger handicap line with higher odds.
No Pre-Game Bets
---
Late info might change my view on what is written in these previews. I will cover these matches live in our SBC Discord Channel. All my bigger pre-game & Live bets can automatically be followed on Copytip
---
Pre-Game Preview Bets
I continue to share many of my pre-game bets in all my preview posts. Most of them are smaller bets or trading positions and some of them I took early in the week and might not have the exact same odds available. These bets should just be seen as info and not as something to blindly follow. Record on them so far this season is 163 Bets | +16.09% ROI on Flat Unit bets (See Results) Bigger pre-game bets which are rare these days I also tend to take extra on those in BTC.
Season 2020-2021 BTC Bets
| Date | Bet | mBTC | Odds | Result | Betslip |
| --- | --- | --- | --- | --- | --- |
| 11/01/2021 | Standard vs Waasland BTS | 2.5 | 1.86 | +2.15 | sportbet.one |
| 01/11/2020 | Antwerp -0.5 | 10 | 3.50 | -10 | sportbet.one |
| 03/10/2020 | OHL vs Zulte 1H Under 1.25 | 10 | 2.010 | +5.005 | sportbet.one |
---
Bookies, Projects & Platforms I use...

Info

Info

Info

Info

Info
| Month | Bets | Won | Lost | Push | Staked | Profit BTC | ROI |
| --- | --- | --- | --- | --- | --- | --- | --- |
| Jan 2020 | 1 | 1 | 0 | 0 | 0.0100 | +0.01271 | +127% |
| Dec 2019 | 2 | 0 | 2 | 0 | 0.0200 | -0.002000 | -100% |
| Nov 2019 | 2 | 1 | 1 | 0 | 0.0200 | -0.001800 | -9.00% |
| Oct 2019 | 4 | 1 | 3 | 0 | 0.0400 | -0.020800 | -52.00% |
| Sep 2019 | 4 | 3 | 0 | 1 | 0.0400 | +0.028890 | +72.22% |
| Aug 2019 | 10 | 7 | 3 | 0 | 0.1000 | +0.033860 | +33.86% |
| July 2019 | 2 | 2 | 0 | 0 | 0.0200 | +0.018000 | +90.0% |
| Jun 2019 | 0 | 0 | 0 | 0 | 0.0000 | +0.000000 | +0.00% |
| May 2019 | 7 | 0 | 5 | 2 | 0.0700 | -0.050000 | -71.43% |
| Apr 2019 | 5 | 3 | 2 | 0 | 0.0500 | +0.024170 | +48.34% |
| Mar 2019 | 7 | 3 | 3 | 1 | 0.0700 | +0.004120 | +5.89% |
| Feb 2019 | 6 | 4 | 2 | 0 | 0.060 | +0.023210 | +23.21% |
| Jan 2019 | 10 | 0 | 9 | 1 | 0.100 | -0.079640 | -79.64% |
| Dec 2018 | 15 | 4 | 10 | 1 | 0.150 | -0.058880 | -39.25% |
| Nov 2018 | 17 | 7 | 10 | 0 | 0.170 | -0.032170 | -18.92% |
| Oct 2018 | 15 | 6 | 9 | 0 | 0.150 | -0.028290 | -18.86% |
| Sep 2018 | 14 | 13 | 0 | 1 | 0.140 | +0.141820 | +101,3% |
| Aug 2018 | 8 | 5 | 1 | 2 | 0.080 | +0.045470 | +56.84% |
| Jul 2018 | 17 | 8 | 9 | 0 | 0.135 | +0.033590 | +24.88% |
| Jun 2018 | 15 | 7 | 7 | 1 | 0.150 | +0.018200 | +12.13% |
| May 2018 | 2 | 2 | 0 | 0 | 0.020 | +0.023440 | +117% |
| Feb 2018 | 12 | 3 | 8 | 1 | 0.091 | -0.036293 | -39,88% |
| Jan 2018 | 21 | 10 | 10 | 1 | 0.147 | +0.005800 | +3.95% |
| Dec 2017 | 19 | 9 | 8 | 2 | 0.148 | +0.010422 | +7.04% |
| Nov 2017 | 21 | 11 | 10 | 0 | 0.210 | -0.008030 | -3.82% |
| Oct 2017 | 21 | 10 | 10 | 1 | 0.210 | +0.003080 | +1.46% |
| Sep 2017 | 9 | 4 | 4 | 1 | 0.090 | +0.001440 | +1.60% |
| Total | 266 | 124 | 126 | 16 | 2.491 | +0.092319 | +3.71% |