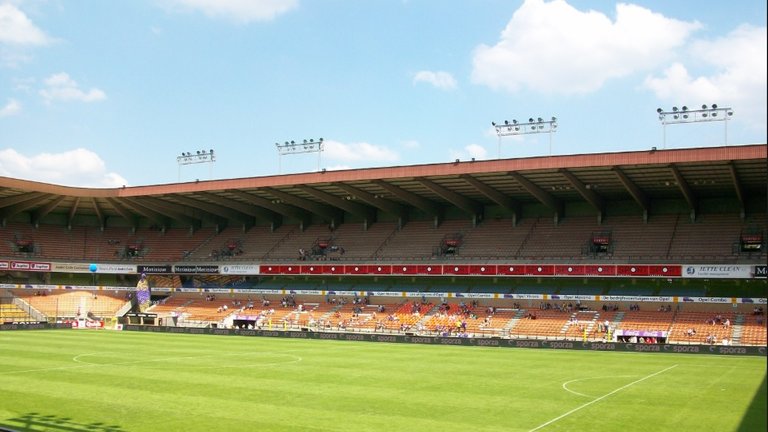 These are previews from matches involving Belgian Teams with all the latest on team news, player form, injuries along with my personal betting angles, ...

I'm back at it today with 2 matches tonight from week 22 which will bring 9 matches split between Tuesday-Wednesday-Thursday. After 3 (small) losing weeks in a row, I want to turn things around again doing the best I can to get into profitable situations starting tonight having a deep look in both of the matches getting an accurate grip on how they will play out...
---
Moeskroen vs Waasland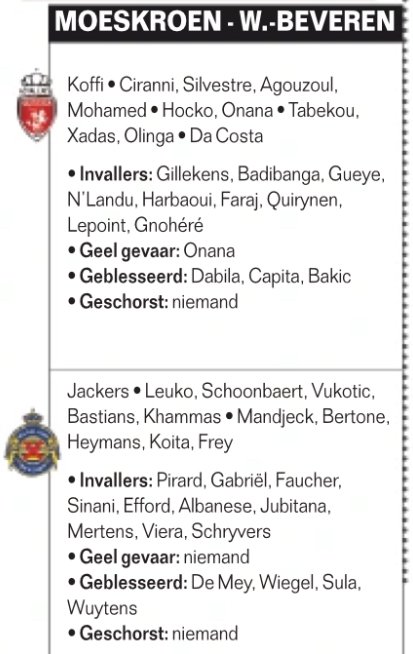 Moeskroen won 2-0 last weekend at home against Genk but I don't put all that much weight on it as it was played under really bad conditions with the pitch being covered in snow while Genk (who have players less suited for these situations) got a red card in the 1st half already. In the match before away against Zulte-Waregem it also was a bad pitch but they played ok despite losing. They once again had a hard time creating chances. The match before against Mechelen away, they were played away and lost deserved. Waasland had a good run but is now back to losing ways taking 1 on 15. most of these matches were played against Good opponents without Waasland being totally outplayed. The main difference between the winning streak is that their strikers Koita & Heymans are no longer in top form. I expect the pitch to be horrible today and Moeskroen having the disadvantage of having played a match in the snow but the advantage of having taken the win. Despite the fact that these teams are 16th and 18th in the league with 20 & 19 points, Moeskroen has been a solid home team vs the Asian handicap (5.5W-3.5L-1P) and Waasland has been a solid team away (6W-4L-0P). The only real option for me in this match is Waasland as the underdog. I am however not forced to take it and will stay away given the bad steak and seemingly out of form strikers. I'll see if something comes up in-play.
No Pre-Game Bets
---
Anderlecht vs Charleroi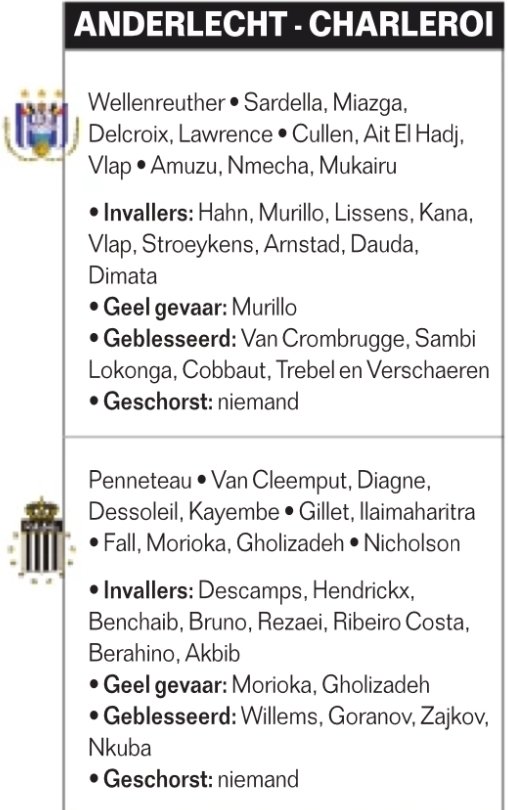 So Anderlecht actually played an excellent 1st half against Eupen away without being able to capitalize on it and even taking a red card at the end of it which made them switch to a counter-style play in the 2nd half. They didn't manage to keep their sheets clean however with a big goalkeeper mistake to bring the 1-0. Eupen went all defense and scored the 2-0 late in the match when Anderlecht left more space. I'm not a fan of Anderlecht right now but I have to give it out to this team as what they bring is actually not that bad (despite giving it away late in matches often). their defense is solid but they haven't been all too effective in the offense despite having a solid striker with Nmencha. Basically, they are the better team but have a hard time to score and get punished eventually. Charleroi tends to either have winning streaks or losing streaks now being with 0 on 9. Last weekend they lost on the snow against Mechelen who simply had the better mindset. They have remarkable stats as an overish away team going 7.5W-3L-0.5P. The only stats that really stand out in this match are the 2H goal ratios which are at 71.4% for Anderlecht at home and 62.5% for Charleroi away. In the end, this is another match where taking anything pre-game would feel like forcing bets for me so I rather just stay patient and wait for in-game opportunities.
No Pre-Game Bets
---
---
Late info might change my view on what is written in these previews. I will cover these matches live in our SBC Discord Channel. All my bigger pre-game & Live bets can automatically be followed on Copytip
---
Pre-Game Preview Bets
I continue to share many of my pre-game bets in all my preview posts. Most of them are smaller bets or trading positions and some of them I took early in the week and might not have the exact same odds available. These bets should just be seen as info and not as something to blindly follow. Record on them so far this season is 163 Bets | +16.09% ROI on Flat Unit bets (See Results) Bigger pre-game bets which are rare these days I also tend to take extra on those in BTC.
Season 2020-2021 BTC Bets
| Date | Bet | mBTC | Odds | Result | Betslip |
| --- | --- | --- | --- | --- | --- |
| 11/01/2021 | Standard vs Waasland BTS | 2.5 | 1.86 | +2.15 | sportbet.one |
| 01/11/2020 | Antwerp -0.5 | 10 | 3.50 | -10 | sportbet.one |
| 03/10/2020 | OHL vs Zulte 1H Under 1.25 | 10 | 2.010 | +5.005 | sportbet.one |
---
Bookies, Projects & Platforms I use...

Info

Info

Info

Info

Info
| Month | Bets | Won | Lost | Push | Staked | Profit BTC | ROI |
| --- | --- | --- | --- | --- | --- | --- | --- |
| Jan 2020 | 1 | 1 | 0 | 0 | 0.0100 | +0.01271 | +127% |
| Dec 2019 | 2 | 0 | 2 | 0 | 0.0200 | -0.002000 | -100% |
| Nov 2019 | 2 | 1 | 1 | 0 | 0.0200 | -0.001800 | -9.00% |
| Oct 2019 | 4 | 1 | 3 | 0 | 0.0400 | -0.020800 | -52.00% |
| Sep 2019 | 4 | 3 | 0 | 1 | 0.0400 | +0.028890 | +72.22% |
| Aug 2019 | 10 | 7 | 3 | 0 | 0.1000 | +0.033860 | +33.86% |
| July 2019 | 2 | 2 | 0 | 0 | 0.0200 | +0.018000 | +90.0% |
| Jun 2019 | 0 | 0 | 0 | 0 | 0.0000 | +0.000000 | +0.00% |
| May 2019 | 7 | 0 | 5 | 2 | 0.0700 | -0.050000 | -71.43% |
| Apr 2019 | 5 | 3 | 2 | 0 | 0.0500 | +0.024170 | +48.34% |
| Mar 2019 | 7 | 3 | 3 | 1 | 0.0700 | +0.004120 | +5.89% |
| Feb 2019 | 6 | 4 | 2 | 0 | 0.060 | +0.023210 | +23.21% |
| Jan 2019 | 10 | 0 | 9 | 1 | 0.100 | -0.079640 | -79.64% |
| Dec 2018 | 15 | 4 | 10 | 1 | 0.150 | -0.058880 | -39.25% |
| Nov 2018 | 17 | 7 | 10 | 0 | 0.170 | -0.032170 | -18.92% |
| Oct 2018 | 15 | 6 | 9 | 0 | 0.150 | -0.028290 | -18.86% |
| Sep 2018 | 14 | 13 | 0 | 1 | 0.140 | +0.141820 | +101,3% |
| Aug 2018 | 8 | 5 | 1 | 2 | 0.080 | +0.045470 | +56.84% |
| Jul 2018 | 17 | 8 | 9 | 0 | 0.135 | +0.033590 | +24.88% |
| Jun 2018 | 15 | 7 | 7 | 1 | 0.150 | +0.018200 | +12.13% |
| May 2018 | 2 | 2 | 0 | 0 | 0.020 | +0.023440 | +117% |
| Feb 2018 | 12 | 3 | 8 | 1 | 0.091 | -0.036293 | -39,88% |
| Jan 2018 | 21 | 10 | 10 | 1 | 0.147 | +0.005800 | +3.95% |
| Dec 2017 | 19 | 9 | 8 | 2 | 0.148 | +0.010422 | +7.04% |
| Nov 2017 | 21 | 11 | 10 | 0 | 0.210 | -0.008030 | -3.82% |
| Oct 2017 | 21 | 10 | 10 | 1 | 0.210 | +0.003080 | +1.46% |
| Sep 2017 | 9 | 4 | 4 | 1 | 0.090 | +0.001440 | +1.60% |
| Total | 266 | 124 | 126 | 16 | 2.491 | +0.092319 | +3.71% |