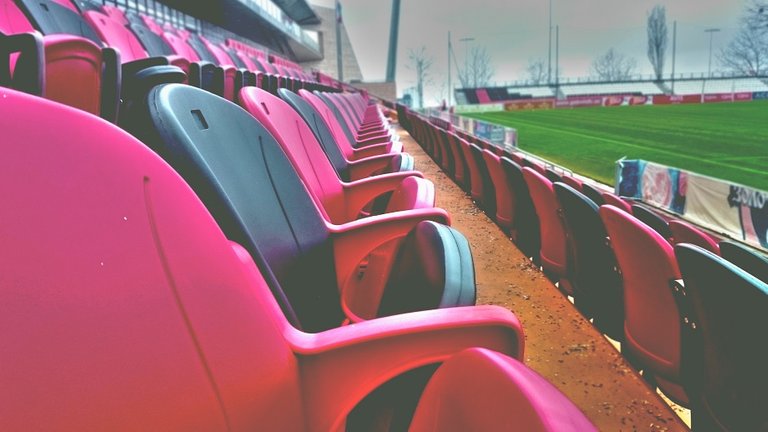 These are previews from matches involving Belgian Teams with all the latest on team news, player form, injuries along with my personal betting angles, ...

Very little betting action yesterday as I am keeping a rather conservative approach since the market seems to be well on top of how teams should be estimated at the moment. Only 9 minutes left until the first match on Tuesday and still all 5 of them I have to take a closer look at so I better get going at it to be done in time...
---
Kortrijk vs Stvv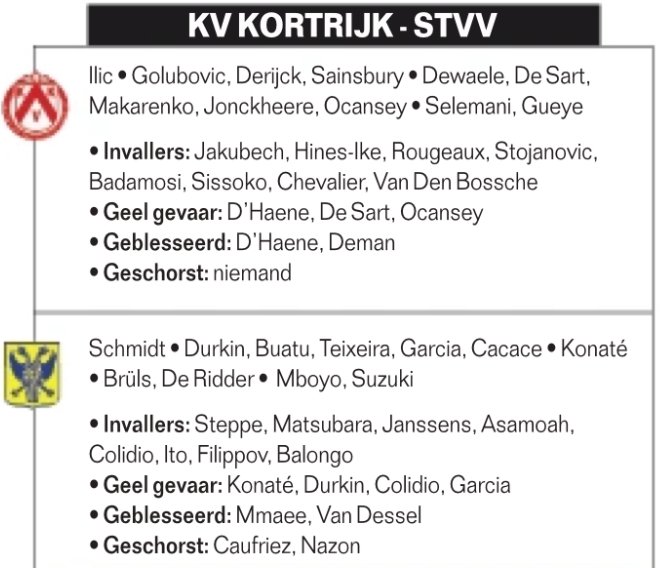 Kortrijk seems to have broken their Home Over / Away under pattern when looking at the most recent results the matches themselves still kind of confirmed the trend. They are in an ok streak winning 3 of their last 5 matches. Stvv is in a hot streak since they have their new coach. They won 4 of their last 5 matches played with the losing match coming against Club Brugge who they did score against. I do see the trends continuing and expect an open match with both teams being able to score. The question remains how much the heavy snow match had an influence on the home team. I'm kind of spooked to see only a 2.5 total line which feels very low. I did get in a small position already on
Over 2.5 @ 1.975
yesterday and I am looking to add more in-game if the match shows to be open and the pitch is ok enough. Kortrijk average 3.5 goals at home (67% in 2nd half), Stvv averages 3.5 goals away (47.1% in 2nd half). Should be an interesting match.
---
Eupen vs Beerschot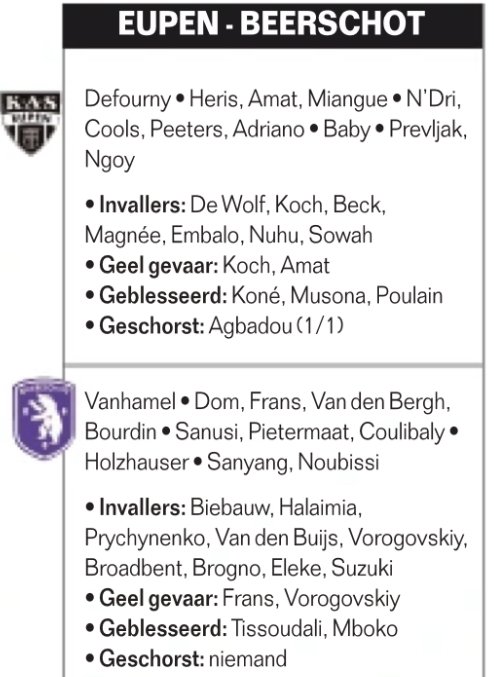 Beerschot had a great start of the season but are now in a big regression to the mean taking 2 on 21 and their coach has opted to leave after getting a big offer from the MLS. I guess one of the reasons is because he knew he overperformed with this team so far grabbing the opportunity while it presented itself. Eupen is unbeaten in their last 3 matches getting a bit lucky against Anderlecht and facing Oostende who had an off-day. Striker Prevljak played a big part in their victories. they are now coming into their 6th match in 14 days which might be a factor. I basically don't trust Eupen enough to back them as the -0.5 favorite which goes the same for Beerschot as the +0.5 favorite. Interim coach will take over so that remains a hard to predict factor along with the possible Eupen fatigue.
No Pre-Game bets
---
Mechelen vs Standard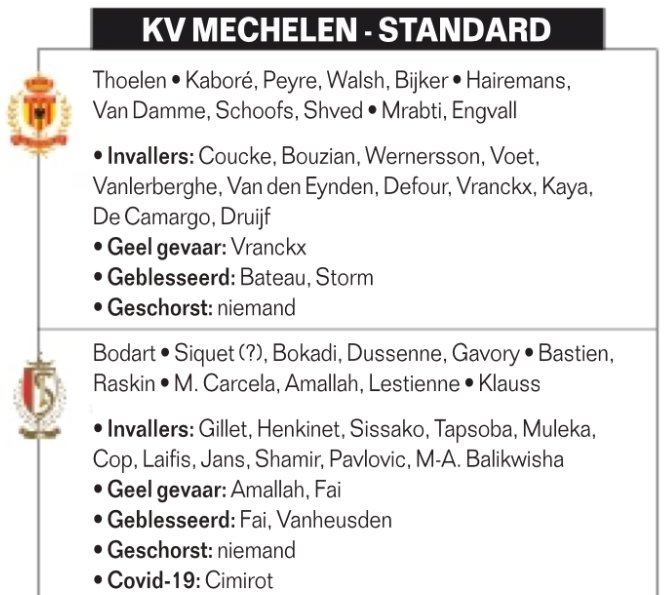 Mechelen is a hot team right now having played quite well all season but only recently starting to also take the wins now being with a 12 on 12. Standard has a new coach taking 6 on 6 without overly being convincing in these matches. The most remarkable statistic is that Mechelen ranks #1 on the 1H home tables not having lost a single 1st half. Both are rather heavy on 2nd half goals 74% & 62% so that might be something to look out for. I took 2 small bet going in to this match on
KV Mechelen 1st Half +0 @ 1.740
and
KV Mechelen Corners +0 @ 1.990
also adding a tiny bit on
KV Mechelen 1st half Corners +0 @ 1.96
. They did win their last 4 home corners matchup while Standard lost their last 2 corner matchups. The over is also high on my radar but I will be waiting in-game for that.
---
Club Brugge vs Oostende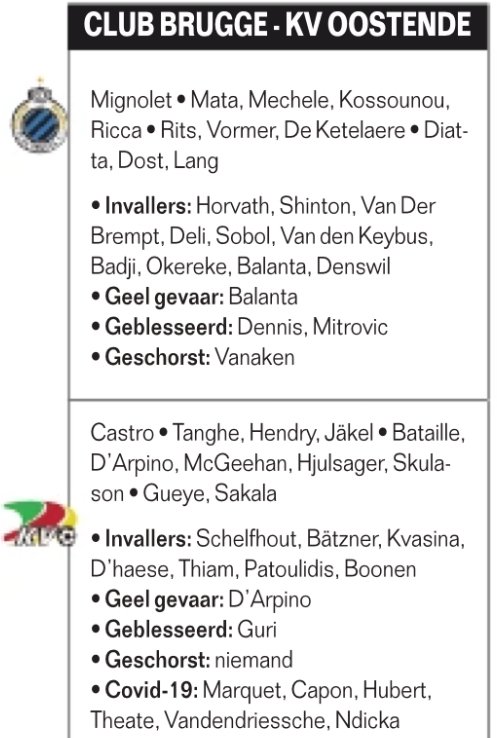 Club Brugge seems to be in excellent form again despite Vanaken being suspended still. They won 4 of their last 5 matches and barely give anything away in defense. Today, they are facing Oostende who are also doing quite well having climbed up to 6th place deserved with 3 wins and a draw in their last 4 matches. In the weekend match on the snow, they showed a willingness to work for it doing what needed to be done to take the win. It remains to be seen how the difficult conditions will have an effect on the team today as they are also being hit with some extra covid cases just below the number needed to be able to postpone the match. Theate who looked important is still out and also Vandendriessche also was added to the covid player list. I looked at possibly taking the home team yesterday but skipped as I wasn't sold on the line. ever since the odds on Club Brugge even moved up from -1.5 to -1.25 which both is starting to make it tempting and scary at the same time. I'm expecting a hard-working Oostende mostly annoying Club Brugge at the start who will keep patience knowing Oostende will at some point run out of fuel. This might bring a nice in-game opportunity. For now,
No Pre-Game Bets
---
Antwerp vs Cercle Brugge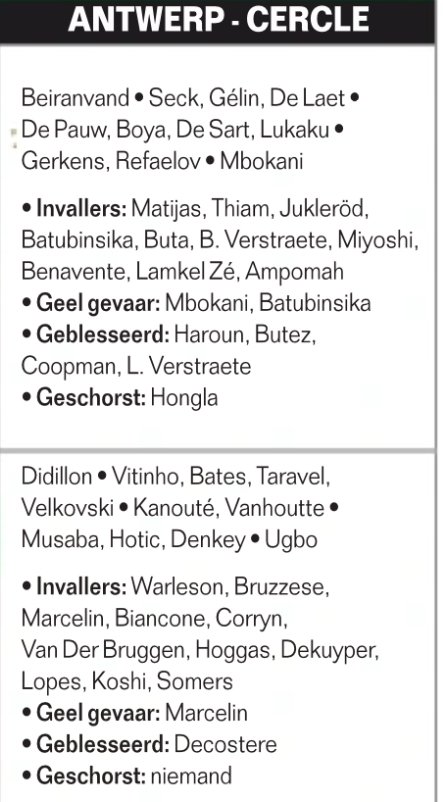 Cercle Brugge is in the last place but haven't played all that bad lately creating enough chances but the ball simply not willing to go in. They play against Antwerp today who since their new coach Vercauteren started playing really defensively contrary to Leko who played really attacking. The question will be if they maintain this approach also at home against the last in the league. Haroun who is important for the Antwerp midfield is suspended while Hongla is injured. Cercle is complete aside from Hazard who was put in the B-Squad. Antwerp should have just more quality in the team overall to win this one. The coach change and their more defensive approach along with the that that cercle has been getting a lot of good chances in their recent matches and are only slightly behind on a safer spot in the standings keep me away though.
No Pre-Game Bets
---
---
Late info might change my view on what is written in these previews. I will cover these matches live in our SBC Discord Channel. All my bigger pre-game & Live bets can automatically be followed on Copytip
---
Pre-Game Preview Bets
I continue to share many of my pre-game bets in all my preview posts. Most of them are smaller bets or trading positions and some of them I took early in the week and might not have the exact same odds available. These bets should just be seen as info and not as something to blindly follow. Record on them so far this season is 163 Bets | +16.09% ROI on Flat Unit bets (See Results) Bigger pre-game bets which are rare these days I also tend to take extra on those in BTC.
Season 2020-2021 BTC Bets
| Date | Bet | mBTC | Odds | Result | Betslip |
| --- | --- | --- | --- | --- | --- |
| 11/01/2021 | Standard vs Waasland BTS | 2.5 | 1.86 | +2.15 | sportbet.one |
| 01/11/2020 | Antwerp -0.5 | 10 | 3.50 | -10 | sportbet.one |
| 03/10/2020 | OHL vs Zulte 1H Under 1.25 | 10 | 2.010 | +5.005 | sportbet.one |
---
Bookies, Projects & Platforms I use...

Info

Info

Info

Info

Info
| Month | Bets | Won | Lost | Push | Staked | Profit BTC | ROI |
| --- | --- | --- | --- | --- | --- | --- | --- |
| Jan 2020 | 1 | 1 | 0 | 0 | 0.0100 | +0.01271 | +127% |
| Dec 2019 | 2 | 0 | 2 | 0 | 0.0200 | -0.002000 | -100% |
| Nov 2019 | 2 | 1 | 1 | 0 | 0.0200 | -0.001800 | -9.00% |
| Oct 2019 | 4 | 1 | 3 | 0 | 0.0400 | -0.020800 | -52.00% |
| Sep 2019 | 4 | 3 | 0 | 1 | 0.0400 | +0.028890 | +72.22% |
| Aug 2019 | 10 | 7 | 3 | 0 | 0.1000 | +0.033860 | +33.86% |
| July 2019 | 2 | 2 | 0 | 0 | 0.0200 | +0.018000 | +90.0% |
| Jun 2019 | 0 | 0 | 0 | 0 | 0.0000 | +0.000000 | +0.00% |
| May 2019 | 7 | 0 | 5 | 2 | 0.0700 | -0.050000 | -71.43% |
| Apr 2019 | 5 | 3 | 2 | 0 | 0.0500 | +0.024170 | +48.34% |
| Mar 2019 | 7 | 3 | 3 | 1 | 0.0700 | +0.004120 | +5.89% |
| Feb 2019 | 6 | 4 | 2 | 0 | 0.060 | +0.023210 | +23.21% |
| Jan 2019 | 10 | 0 | 9 | 1 | 0.100 | -0.079640 | -79.64% |
| Dec 2018 | 15 | 4 | 10 | 1 | 0.150 | -0.058880 | -39.25% |
| Nov 2018 | 17 | 7 | 10 | 0 | 0.170 | -0.032170 | -18.92% |
| Oct 2018 | 15 | 6 | 9 | 0 | 0.150 | -0.028290 | -18.86% |
| Sep 2018 | 14 | 13 | 0 | 1 | 0.140 | +0.141820 | +101,3% |
| Aug 2018 | 8 | 5 | 1 | 2 | 0.080 | +0.045470 | +56.84% |
| Jul 2018 | 17 | 8 | 9 | 0 | 0.135 | +0.033590 | +24.88% |
| Jun 2018 | 15 | 7 | 7 | 1 | 0.150 | +0.018200 | +12.13% |
| May 2018 | 2 | 2 | 0 | 0 | 0.020 | +0.023440 | +117% |
| Feb 2018 | 12 | 3 | 8 | 1 | 0.091 | -0.036293 | -39,88% |
| Jan 2018 | 21 | 10 | 10 | 1 | 0.147 | +0.005800 | +3.95% |
| Dec 2017 | 19 | 9 | 8 | 2 | 0.148 | +0.010422 | +7.04% |
| Nov 2017 | 21 | 11 | 10 | 0 | 0.210 | -0.008030 | -3.82% |
| Oct 2017 | 21 | 10 | 10 | 1 | 0.210 | +0.003080 | +1.46% |
| Sep 2017 | 9 | 4 | 4 | 1 | 0.090 | +0.001440 | +1.60% |
| Total | 266 | 124 | 126 | 16 | 2.491 | +0.092319 | +3.71% |