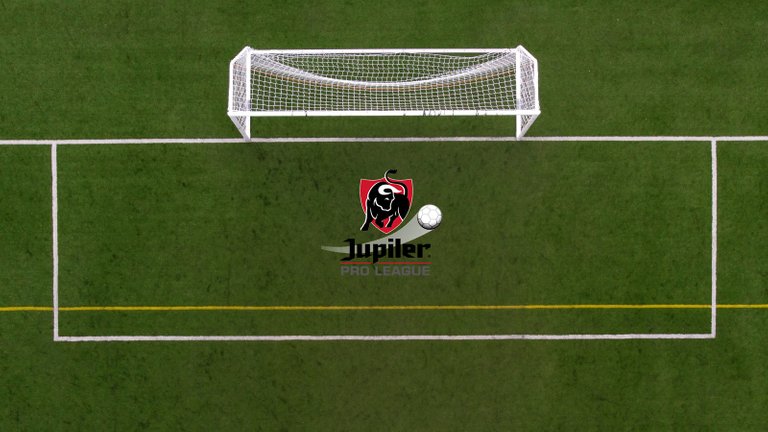 These are previews from matches involving Belgian Teams with all the latest on team news, player form, injuries along with my personal betting angles, ...

The Oostende vs Anderlecht match yesterday was very low on actual chances but still somehow managed to have 4 goals in it ending in a 2-2 draw. I wrote "Based on what both teams have shown so far there is nothing that justifies Anderlecht winning this match by 2 goals" This pretty much showed and I managed to make a bit of profit from the pre-game position trade. My confidence continues to grow even though I remain quite cautious, 4 matches on Saturday...
---
Eupen vs Sint-truiden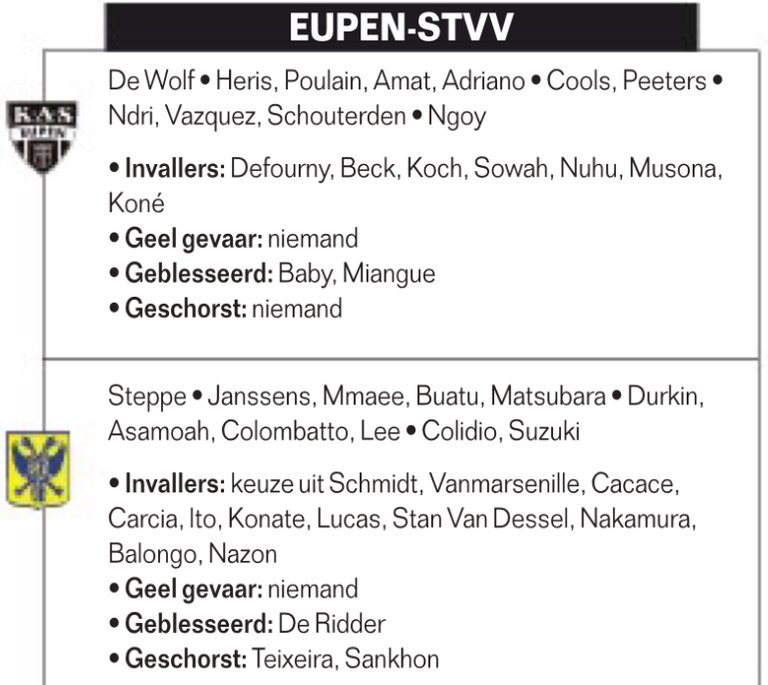 Eupen is a team that so far has very high stats on attempts on Goal (45 in 3 matches), 13 of them were on target with only 1 goal as a result. They did a couple big transfers with Vasquez & Adriano who are set to play today. Overall their approach has been playing a positive forward game despite the score in the match. My main notes on them say to bet on Eupen to get goals against. Sint-Truiden played with forward intentions last week but failed to actually create much. They are high on the table of teams who got most chances against though. De Ridder is still injured which is quite a big blow. The opening line was Eupen +0/-0.25 which I was close to taking but somehow I was in no rush and it came crashing down. I haven't taken anything yet but I will closely be watching the Over line along with the Sint-Truiden Team total Over Live. If there is a quick increase, I might have a go at them. the main factor that is keeping me back is the lack of finishing power that was shown so far by these teams.
No Pre-Game Bets
---
Cercle Brugge vs Kortrijk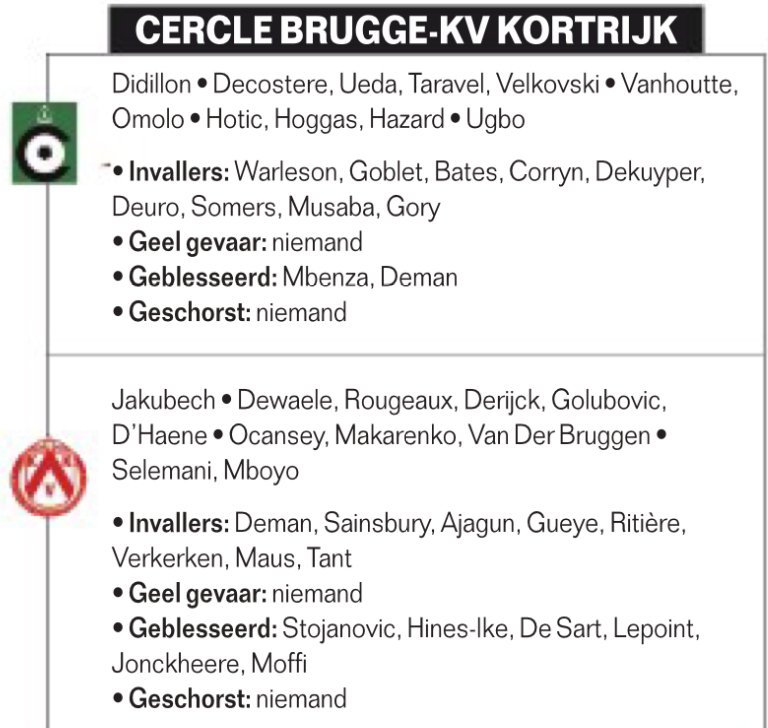 Cercle Brugge is a team that is willing to play forward and I have them marked as a potential Over team as they will have a hard time to keep clean sheets. They did finish their chances at near 100% last week though taking the 2-3 away win against Mechelen. Kortrijk as a team has been a big disappointment so for this season despite the fact that they managed to take 4 points and they are on my list of possible teams to oppose. They traditionally play more open in home games and more defensive in away matches. I am keeping this match for Live Betting.
No Pre-Game Bets
---
Waasland vs Oud-Heverlee Leuven
Waasland took a surprise win in the first week but were put back with their feet on the ground after a 1-2 loss against Standard and a 4-1 loss against Zulte-Waregem. my notes say that they are simply not good enough against ok teams. OHL had a lot of injury problems and started the match last week without a striker. last week they showed to be not good enough at home against Charleroi; in the away match against Genk, they started the match with very defensive intentions because of the circumstances. They still suffer a lot of injuries so I expect something similar as it kind of worked in previous matches for them. I don't expect a wide-open start of the match or an early goal and took a small position on
1st Half Under 1 @ 2.12
---
Moeskroen vs Zulte-Waregem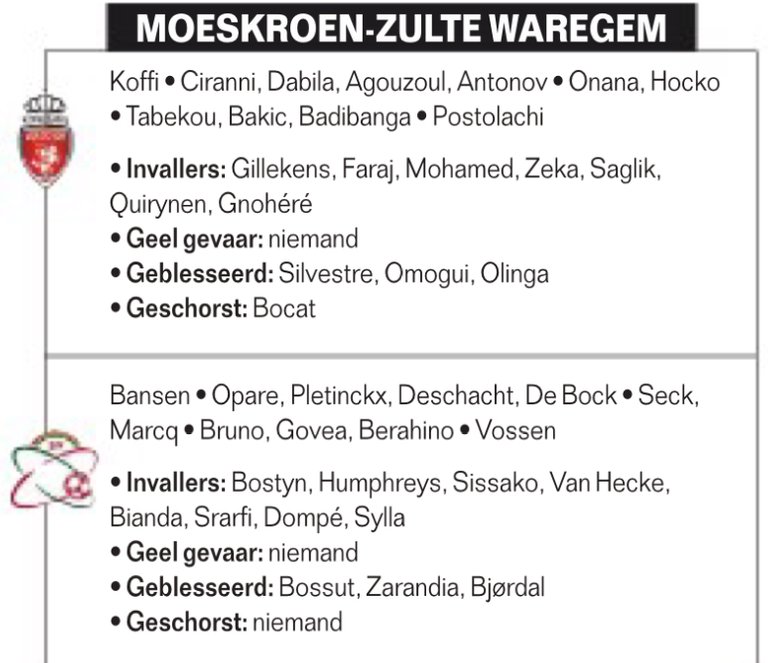 Moeskroen has been a team that has shown excellent defensive form as they got 3 goals against in the first 3 matches which all had to come from a penalty which left them with 1 on 9 as they only succeeded to score once. Even at home against Mechelen in Week 2 they took a very defensive start in the match. Zulte-Waregem has been a disappointment so far this season. They did take a 4-1 win against Waasland last week despite not playing all too good which might have given them a boost. Overall right now, they are on my list of teams to avoid until they debunk this with an excellent performance. So far this season in the league 74.2% of the goals has come in the 2nd half. I'm also expecting a cautious start from both teams in this match (Zulte-Waregem matches tend to get more crazy late in the match) and I took a small pre-game position on
1st Half under 1 @ 2.16
and a bit on
Under 2.75 @ 1.934
my aim will be to at least set the stake safe in-play if possible or if match picture indicated toward doing so. Zulte-Waregem last weason was 8W-4L-2P on the away under vs the asian handicap last season.
---
Late info might change my view on what is written in these previews. I will cover these matches live in our SBC Discord Channel. All my bigger pre-game & Live bets can automatically be followed on Copytip
---
Season 2020-2021 BTC Bets
| Date | Bet | mBTC | Odds | Result | Betslip |
| --- | --- | --- | --- | --- | --- |
| -/08/2020 | Soon | 10 | - | - | - |
---
Bookies, Projects & Platforms I use...

Info

Info

Info

Info

Info
| Month | Bets | Won | Lost | Push | Staked | Profit BTC | ROI |
| --- | --- | --- | --- | --- | --- | --- | --- |
| Jan 2020 | 1 | 1 | 0 | 0 | 0.0100 | +0.01271 | +127% |
| Dec 2019 | 2 | 0 | 2 | 0 | 0.0200 | -0.002000 | -100% |
| Nov 2019 | 2 | 1 | 1 | 0 | 0.0200 | -0.001800 | -9.00% |
| Oct 2019 | 4 | 1 | 3 | 0 | 0.0400 | -0.020800 | -52.00% |
| Sep 2019 | 4 | 3 | 0 | 1 | 0.0400 | +0.028890 | +72.22% |
| Aug 2019 | 10 | 7 | 3 | 0 | 0.1000 | +0.033860 | +33.86% |
| July 2019 | 2 | 2 | 0 | 0 | 0.0200 | +0.018000 | +90.0% |
| Jun 2019 | 0 | 0 | 0 | 0 | 0.0000 | +0.000000 | +0.00% |
| May 2019 | 7 | 0 | 5 | 2 | 0.0700 | -0.050000 | -71.43% |
| Apr 2019 | 5 | 3 | 2 | 0 | 0.0500 | +0.024170 | +48.34% |
| Mar 2019 | 7 | 3 | 3 | 1 | 0.0700 | +0.004120 | +5.89% |
| Feb 2019 | 6 | 4 | 2 | 0 | 0.060 | +0.023210 | +23.21% |
| Jan 2019 | 10 | 0 | 9 | 1 | 0.100 | -0.079640 | -79.64% |
| Dec 2018 | 15 | 4 | 10 | 1 | 0.150 | -0.058880 | -39.25% |
| Nov 2018 | 17 | 7 | 10 | 0 | 0.170 | -0.032170 | -18.92% |
| Oct 2018 | 15 | 6 | 9 | 0 | 0.150 | -0.028290 | -18.86% |
| Sep 2018 | 14 | 13 | 0 | 1 | 0.140 | +0.141820 | +101,3% |
| Aug 2018 | 8 | 5 | 1 | 2 | 0.080 | +0.045470 | +56.84% |
| Jul 2018 | 17 | 8 | 9 | 0 | 0.135 | +0.033590 | +24.88% |
| Jun 2018 | 15 | 7 | 7 | 1 | 0.150 | +0.018200 | +12.13% |
| May 2018 | 2 | 2 | 0 | 0 | 0.020 | +0.023440 | +117% |
| Feb 2018 | 12 | 3 | 8 | 1 | 0.091 | -0.036293 | -39,88% |
| Jan 2018 | 21 | 10 | 10 | 1 | 0.147 | +0.005800 | +3.95% |
| Dec 2017 | 19 | 9 | 8 | 2 | 0.148 | +0.010422 | +7.04% |
| Nov 2017 | 21 | 11 | 10 | 0 | 0.210 | -0.008030 | -3.82% |
| Oct 2017 | 21 | 10 | 10 | 1 | 0.210 | +0.003080 | +1.46% |
| Sep 2017 | 9 | 4 | 4 | 1 | 0.090 | +0.001440 | +1.60% |
| Total | 266 | 124 | 126 | 16 | 2.491 | +0.092319 | +3.71% |