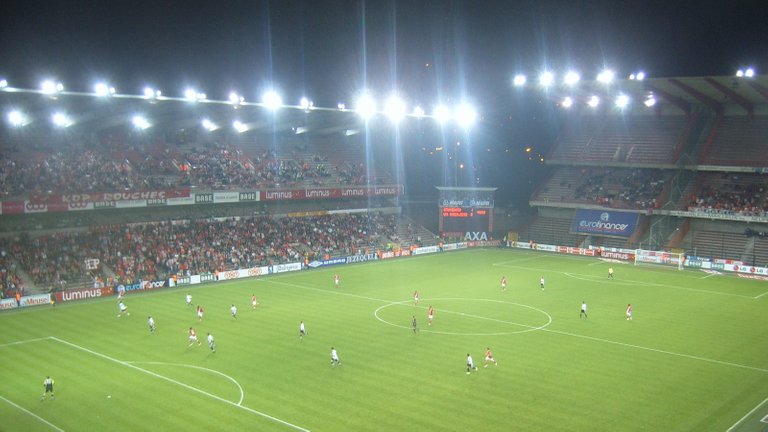 These are previews from matches involving Belgian Teams with all the latest on team news, player form, injuries along with my personal betting angles, ...

The Belgian League is back after the International break. There are still fans allowed in the stadiums this week which is a good thing. Both the break and the fact that many players of the top teams were away to play international matches make it likely to have an influence on the results and team forms, so its always a bit starting from zero again. I will be on the cautious side again when it comes down to the pre-game bets I take. 4 Matches today to look forward to!
---
Cercle Brugge vs AA Gent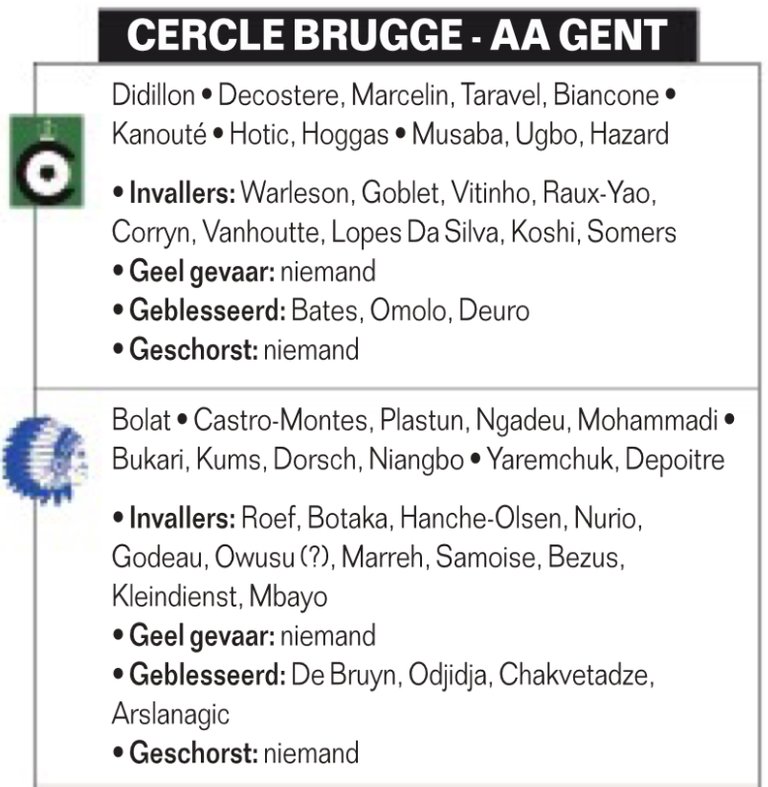 I sided with Cercle Brugge @ 4.44 in week 8 because the extra emotional motivation they had as their goalkeeper again got diagnosed with Cancer. They ended up winning that match with a 1-2 score and I do expect this to have released the emotions around the events making then no longer as an edge. AA Gent started the season really bad with multiple coach changes and many players out of form but seem to have made a switch now taking a convincing 5-1 win against Beerschot in a match where they played good. Odidja (who also didn't play against Beerschot) is still out. AA Gent so far is -38.05% ROI against the Asian closing line while Cercle is 30.13% which normally indicates Cercle is the underrated team and AA Gent the overrated team. I do see AA Gent as a way better team compared to their performance so far and expect a regression to the mean with them going on a good winning streak at some point. Cercle on the other hand I see having a bit of a drop back after their away win in week 8. Both are also teams with forward intentions so it should be an entertaining match. I took small bets in this match on
AA Gent -0.25 @ 1.900
and AA Gent Team Total Over 1.5 @ 1.869 with an eye to take more in-play. I also got in a tiny bet (due to small limits) on
Cercle Brugge +0.5 corners @ 1.877
since they are a team that goes forward and are doing ok on corners created. Yaremchuk to score @ 2.50 is also an option for a beer bet.
---
Beerschot vs Sint-Truiden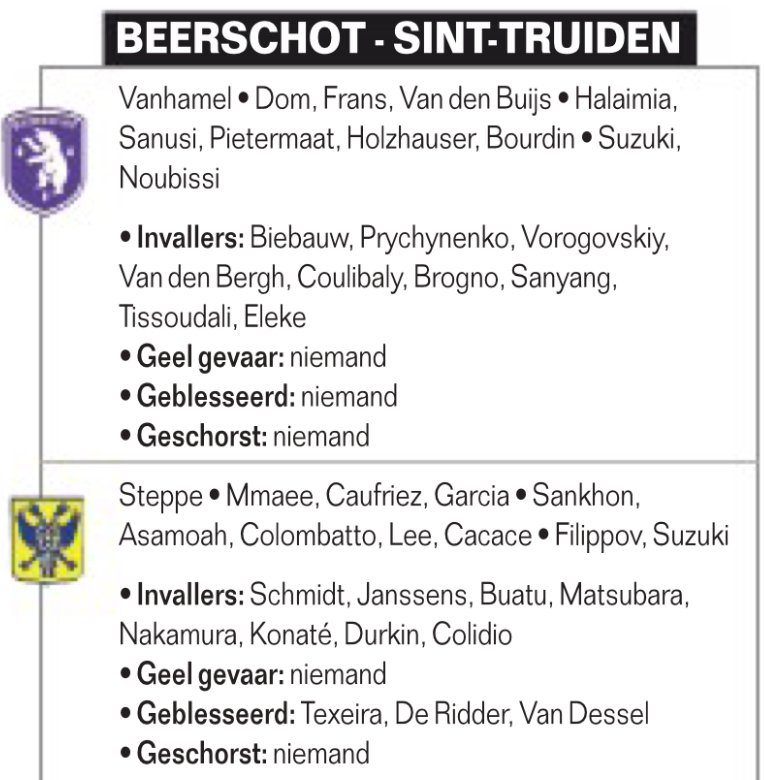 Beerschot has been a tricky team at times playing excellent while other days being nowhere. They lost deserved 5-1 to a better AA Gent away in week 8 and are now facing Sint-Truiden who mostly have the problem that they are unable to create a lot of chances. Beerschot has been a good home team (+10% ROI) and bad away team (-10% ROI) while Sint-Truiden has been a bad away team (-49% ROI) and a good home team(+14% ROI). Stvv also is the worst 1H team away taking 3 losses and 1 draw. I expect a reaction from Beerschot after the 5-1 away loss and for this one the end in a home win. I took small bet on both
Beerschot -0.5 @ 1.819
&
Beerchot Team Total Over 1.75 @ 1.97
again with an eye to take more in-play. Stvv is also 7-0 on Under 9.5 corners this season. The moment Beerschot takes the lead, I will likely hit the under in corners.
---
KV Mechelen vs KV Kortrijk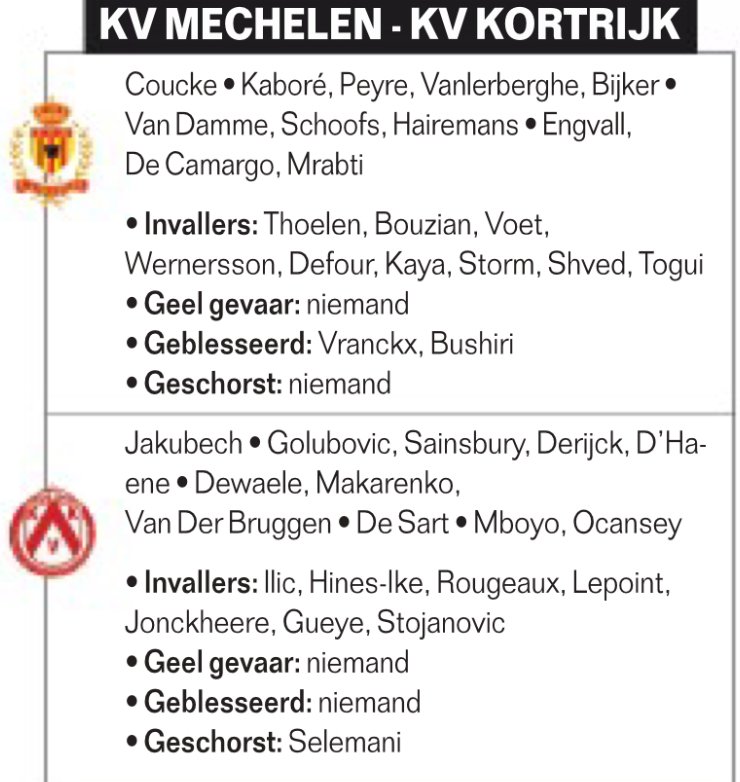 Interesting setup for KV Mechelen as Defour has signed for them in quite an inspirational story since it was his youth team while he promised his dad who died a couple of years ago to one day play for Mechelen. It's one of the rare cases of players really wanting to play for a certain team without money being an issue. He will be allowed to play and already played 90+ minutes in a friendly match. The question remains if he will start. Overall I expect this to give a very positive drive for the entire team resulting in extra motivation. Mechelen so far has not really impressed despite having many solid players in their team. Kortrijk has been a good away team (+31% ROI) with a defensive approach (+33.5% ROI on Under) but a bad home team (-51% ROI) with a more offensive approach (+50.5% ROI on Over). I'm liking the motivational factor for the home team in this match but have missed the boat as the odds dropped from 1.81 to 1.65 on the -0.25 line. I'm just waiting for this match live with an eye on the 1st Half Mechelen -0.25 line depending on the circumstances and of Defour will start or not. Vranckx is also injured which is quite a big blow for Mechelen.
No Pre-Game Bets
---
Standard vs Club Brugge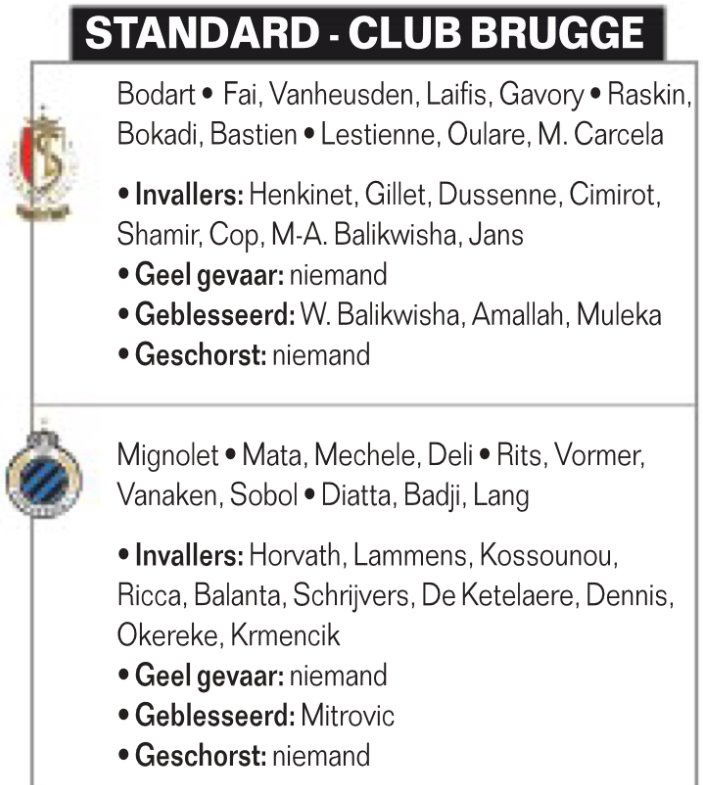 The match away against Standard the last couple of years has always been difficult for Club Brugge (0-0 | 2-0 | 3-1 | 1-1 | 1-1). Right now when playing at 70% of their potential, they have been head and shoulders above all the other teams. This makes me have my eye on backing them the next time they fall behind in a match as they should be capable to increase the pressure by a lot when it's needed. Standard has been quite solid as a team but has not faced an opponent like Club Brugge yet. The gap between Anderlecht and Club Brugge in week 8 was huge and I would not be surprised to see something to a lesser extent today between Club Brugge and Standard. I got in on a medium stake position taking
Club Brugge -0.25 @ 1.86
. In case they fall behind, I will most likely take more on them.
---
Late info might change my view on what is written in these previews. I will cover these matches live in our SBC Discord Channel. All my bigger pre-game & Live bets can automatically be followed on Copytip
---
Pre-Game Preview Bets
I continue to share many of my pre-game bets in all my preview posts. Most of them are smaller bets or trading positions and some of them I took early in the week and might not have the exact same odds available. These bets should just be seen as info and not as something to blindly follow. Record on them so far this season is 77 Bets | +14.61% on Flat Unit bets (See Results) Bigger pre-game bets which are rare these days I also tend to take extra on in BTC.
Season 2020-2021 BTC Bets
| Date | Bet | mBTC | Odds | Result | Betslip |
| --- | --- | --- | --- | --- | --- |
| 03/10/2020 | OHL vs Zulte 1H Under 1.25 | 10 | 2.010 | +5.005 | sportbet.one |
---
Bookies, Projects & Platforms I use...

Info

Info

Info

Info

Info
| Month | Bets | Won | Lost | Push | Staked | Profit BTC | ROI |
| --- | --- | --- | --- | --- | --- | --- | --- |
| Jan 2020 | 1 | 1 | 0 | 0 | 0.0100 | +0.01271 | +127% |
| Dec 2019 | 2 | 0 | 2 | 0 | 0.0200 | -0.002000 | -100% |
| Nov 2019 | 2 | 1 | 1 | 0 | 0.0200 | -0.001800 | -9.00% |
| Oct 2019 | 4 | 1 | 3 | 0 | 0.0400 | -0.020800 | -52.00% |
| Sep 2019 | 4 | 3 | 0 | 1 | 0.0400 | +0.028890 | +72.22% |
| Aug 2019 | 10 | 7 | 3 | 0 | 0.1000 | +0.033860 | +33.86% |
| July 2019 | 2 | 2 | 0 | 0 | 0.0200 | +0.018000 | +90.0% |
| Jun 2019 | 0 | 0 | 0 | 0 | 0.0000 | +0.000000 | +0.00% |
| May 2019 | 7 | 0 | 5 | 2 | 0.0700 | -0.050000 | -71.43% |
| Apr 2019 | 5 | 3 | 2 | 0 | 0.0500 | +0.024170 | +48.34% |
| Mar 2019 | 7 | 3 | 3 | 1 | 0.0700 | +0.004120 | +5.89% |
| Feb 2019 | 6 | 4 | 2 | 0 | 0.060 | +0.023210 | +23.21% |
| Jan 2019 | 10 | 0 | 9 | 1 | 0.100 | -0.079640 | -79.64% |
| Dec 2018 | 15 | 4 | 10 | 1 | 0.150 | -0.058880 | -39.25% |
| Nov 2018 | 17 | 7 | 10 | 0 | 0.170 | -0.032170 | -18.92% |
| Oct 2018 | 15 | 6 | 9 | 0 | 0.150 | -0.028290 | -18.86% |
| Sep 2018 | 14 | 13 | 0 | 1 | 0.140 | +0.141820 | +101,3% |
| Aug 2018 | 8 | 5 | 1 | 2 | 0.080 | +0.045470 | +56.84% |
| Jul 2018 | 17 | 8 | 9 | 0 | 0.135 | +0.033590 | +24.88% |
| Jun 2018 | 15 | 7 | 7 | 1 | 0.150 | +0.018200 | +12.13% |
| May 2018 | 2 | 2 | 0 | 0 | 0.020 | +0.023440 | +117% |
| Feb 2018 | 12 | 3 | 8 | 1 | 0.091 | -0.036293 | -39,88% |
| Jan 2018 | 21 | 10 | 10 | 1 | 0.147 | +0.005800 | +3.95% |
| Dec 2017 | 19 | 9 | 8 | 2 | 0.148 | +0.010422 | +7.04% |
| Nov 2017 | 21 | 11 | 10 | 0 | 0.210 | -0.008030 | -3.82% |
| Oct 2017 | 21 | 10 | 10 | 1 | 0.210 | +0.003080 | +1.46% |
| Sep 2017 | 9 | 4 | 4 | 1 | 0.090 | +0.001440 | +1.60% |
| Total | 266 | 124 | 126 | 16 | 2.491 | +0.092319 | +3.71% |