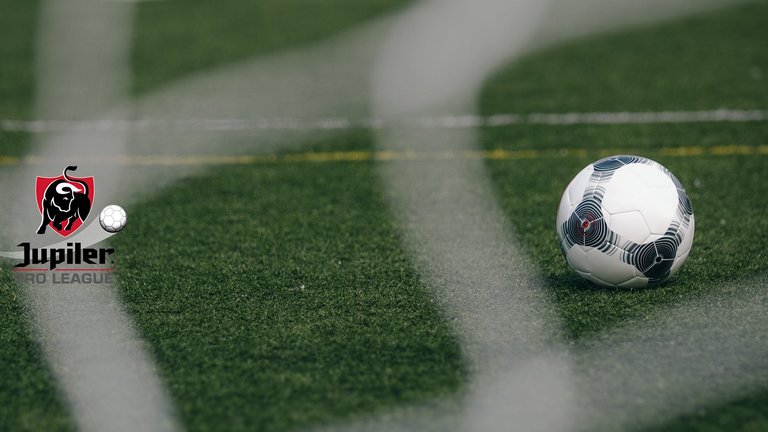 These are previews from matches involving Belgian Teams with all the latest on team news, player form, injuries along with my personal betting angles, ...

Saturday ended with a very small profit thanks to some live hedge bets. Some of what was written in the previews turned out to be way off while other things were spot on. In betting it's all about being right slightly more often than wrong grinding out small edges. Volume remains key and that's what I'm looking to add day by day with many bets. 4 matches to choose bets from today...
---
Zulte-Waregem vs Antwerp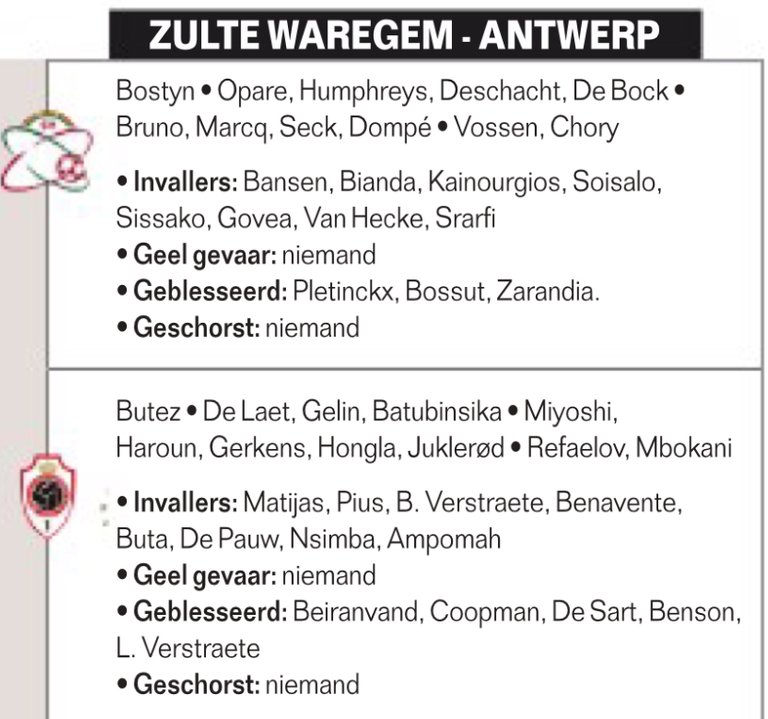 Zulte-Waregem has been disappointing as a team this year. They are only in 15th place and are coming off a 1 on 12 in the last 4 matches. They on top had to let their best player (Beharino) go at the end of the transfer window. Antwerp also struggled at the start of the season but showed the last couple of matches that they found a solid form again. On multiple occasions, Antwerp showed to be a better 2H team while Zulte-Waregem is near the top of the 1H rankings at home. I had to take a small initial bet on
Antwerp -0.25 @ 1.840
just because of the quality and form difference. Mbokani ti score @ 2.49 is also an option for a small beer bet. Most betting in this match will likely be done live. Zulte-Waregem is 100% on at least 1 goal after minute 72', Antwerp is 87.5% (100% away) on this statistic. The over / 2d half over / late over are all on my radar.
---
Moeskroen vs Eupen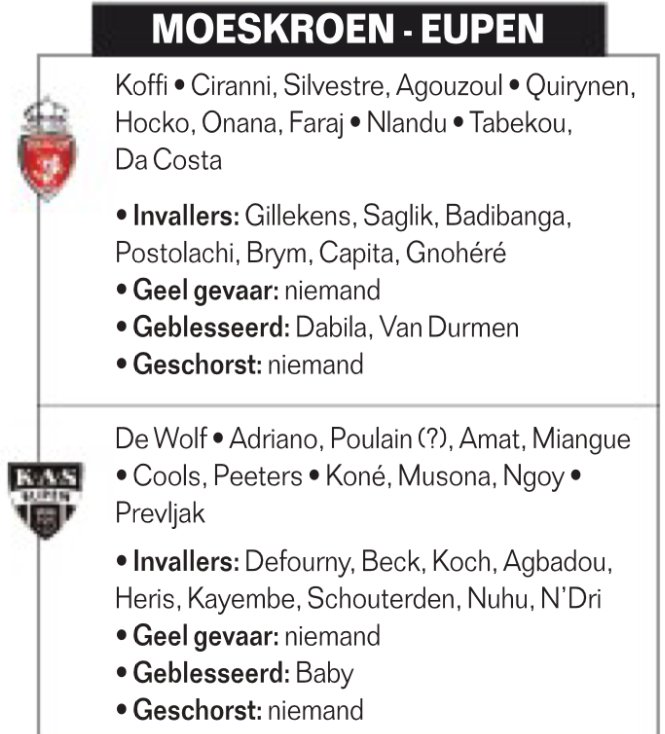 The story of Moeskroen so far this season has been one where they are able to keep a tight defense but still end up losing matches because of a penalty against and the fact that they have a hard time to score goals. The last match against Oostende was the first time they actually got played away. Eupen increased their budget this season, did some good transfers, and have played a lot more mature compared to previous seasons. This hasn't fully translated yet in points though as they only took 8 on 24. Both are teams who are low in the ranking low average goals. Moeskroen 1.25 in their home matches and Eupen 2.0 on average in their away matches. Looking in more detail, both also have a very high 2H ratio with 70% of the goals coming in the 2nd half. I expect this match to start fairly slow with a long study round in which both teams are not willing to take the risk to get behind. I took a good-sized pre-game position on
1st Half Under 1 @ 1.970
as my main bet today.
---
Genk vs Charleroi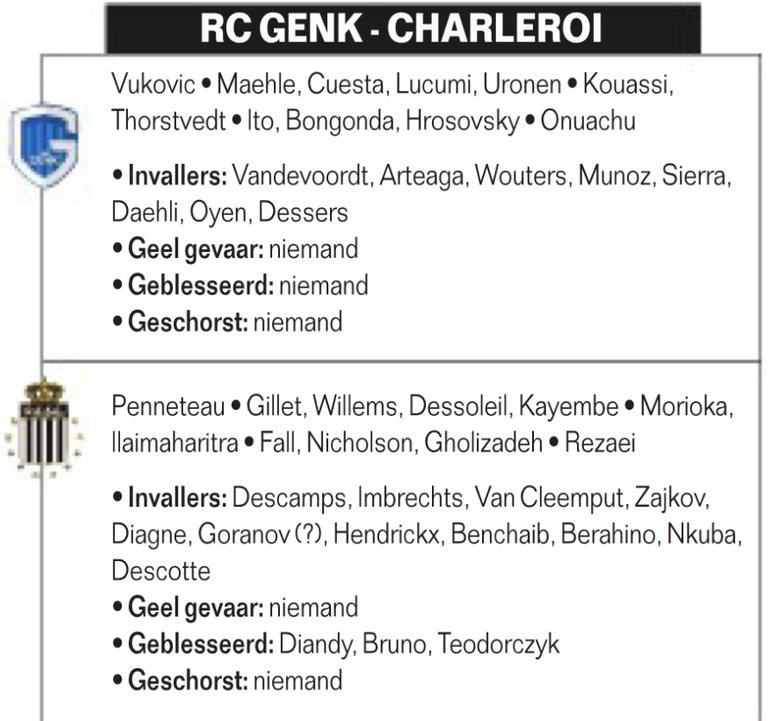 Racing Genk so far has been a 'top team to fade' as they simply haven't shown to be good enough while their odds still reflect the excellent quality they showed in the past. Charleroi on the other hand is a 'new top team' who year after year has shown to be consistent in their performances. Charleroi did have somewhat of a dip at the end before the international break being eliminated from the Europa League and taking their first loss against a good playing Standard. The odds certainly seem to have caught up a bit as Charleroi today is valued as the favorite away against Genk. They did a couple of good transfers with Beharino nad Todrorczyk who both won't start. Vukovic is back for Racing Genk in the goal which should make a difference. This is one of those matches where it could be 0-0 for long but once a goal is scored things can go quickly (as seen in the Charleroi vs Standard match). Both have a ratio of 68% of the goals in the 2nd half and I took a small-medium pre-game position on
1st Half Under 1 @ 2.18
with an eye to trade out and take profit at some point or at least reduce exposure. I will also keep an eye to potentially bet Charleroi as both teams do have a big gap when it comes down to being potentially overrated & underrated on the betting market. (Genk -40% ROI vs Charleroi +33% ROI)
---
Anderlecht vs Oud-Heverlee Leuven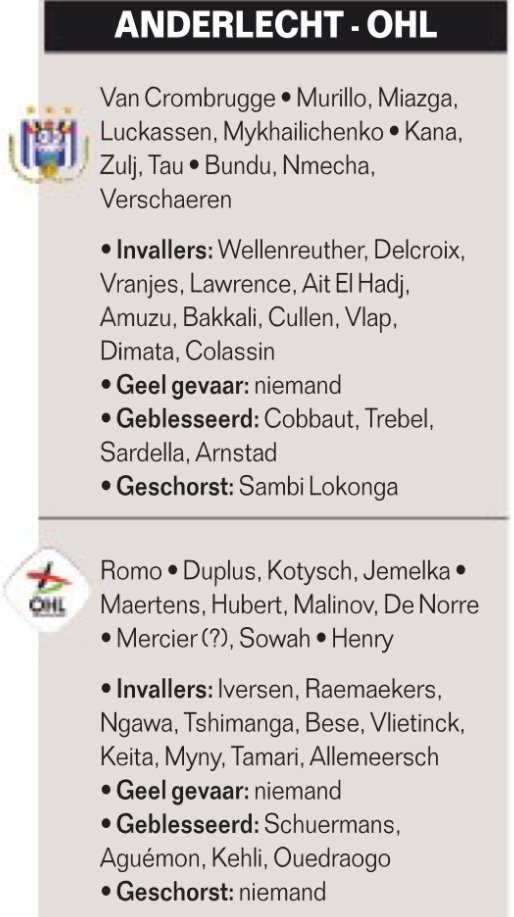 OHL is currently in 7th place (despite the many injuries they suffered) 2 places ahead of Anderlecht who are in 9th spot. Anderlecht had a really easy schedule so far and faced their first real test last week against Club Brugge who completely dominated them and put them with their feet back on the ground. The problem for Anderlecht remains a combination of both lack in quality and experience. The player with most quality (Doku) left and the player with most experience (Trebel) is injured. His replacement Sambi Lokonga on top is suspended. Defender Vranjes is also unlikely to start and Vlap will most likely start on the bench. This leaves them with a team especially in defense that just isn't competitive for a top 4 spot at the moment. OHL on the other hand is a counter team that has played this style excellently. My only concern is the fact that key player Mercier seems to be questionable for this match. I already took minor positions on
OHL +1.25 @ 2.014
and
OHL Team Total Over 0.75 @ 1.75
and might take more if Mercier is confirmed to play. Both teams regularly have matches with way above average corners. (12-2 | 9-5 for Anderlecht at home & 8-5 | 11-2 for OHL away) which made me take the little that was available on
Over 11 Corners @ 2.67
and I will be keeping an eye to take more live.
---
Late info might change my view on what is written in these previews. I will cover these matches live in our SBC Discord Channel. All my bigger pre-game & Live bets can automatically be followed on Copytip
---
Pre-Game Preview Bets
I continue to share many of my pre-game bets in all my preview posts. Most of them are smaller bets or trading positions and some of them I took early in the week and might not have the exact same odds available. These bets should just be seen as info and not as something to blindly follow. Record on them so far this season is 77 Bets | +14.61% on Flat Unit bets (See Results) Bigger pre-game bets which are rare these days I also tend to take extra on in BTC.
Season 2020-2021 BTC Bets
| Date | Bet | mBTC | Odds | Result | Betslip |
| --- | --- | --- | --- | --- | --- |
| 03/10/2020 | OHL vs Zulte 1H Under 1.25 | 10 | 2.010 | +5.005 | sportbet.one |
---
Bookies, Projects & Platforms I use...

Info

Info

Info

Info

Info
| Month | Bets | Won | Lost | Push | Staked | Profit BTC | ROI |
| --- | --- | --- | --- | --- | --- | --- | --- |
| Jan 2020 | 1 | 1 | 0 | 0 | 0.0100 | +0.01271 | +127% |
| Dec 2019 | 2 | 0 | 2 | 0 | 0.0200 | -0.002000 | -100% |
| Nov 2019 | 2 | 1 | 1 | 0 | 0.0200 | -0.001800 | -9.00% |
| Oct 2019 | 4 | 1 | 3 | 0 | 0.0400 | -0.020800 | -52.00% |
| Sep 2019 | 4 | 3 | 0 | 1 | 0.0400 | +0.028890 | +72.22% |
| Aug 2019 | 10 | 7 | 3 | 0 | 0.1000 | +0.033860 | +33.86% |
| July 2019 | 2 | 2 | 0 | 0 | 0.0200 | +0.018000 | +90.0% |
| Jun 2019 | 0 | 0 | 0 | 0 | 0.0000 | +0.000000 | +0.00% |
| May 2019 | 7 | 0 | 5 | 2 | 0.0700 | -0.050000 | -71.43% |
| Apr 2019 | 5 | 3 | 2 | 0 | 0.0500 | +0.024170 | +48.34% |
| Mar 2019 | 7 | 3 | 3 | 1 | 0.0700 | +0.004120 | +5.89% |
| Feb 2019 | 6 | 4 | 2 | 0 | 0.060 | +0.023210 | +23.21% |
| Jan 2019 | 10 | 0 | 9 | 1 | 0.100 | -0.079640 | -79.64% |
| Dec 2018 | 15 | 4 | 10 | 1 | 0.150 | -0.058880 | -39.25% |
| Nov 2018 | 17 | 7 | 10 | 0 | 0.170 | -0.032170 | -18.92% |
| Oct 2018 | 15 | 6 | 9 | 0 | 0.150 | -0.028290 | -18.86% |
| Sep 2018 | 14 | 13 | 0 | 1 | 0.140 | +0.141820 | +101,3% |
| Aug 2018 | 8 | 5 | 1 | 2 | 0.080 | +0.045470 | +56.84% |
| Jul 2018 | 17 | 8 | 9 | 0 | 0.135 | +0.033590 | +24.88% |
| Jun 2018 | 15 | 7 | 7 | 1 | 0.150 | +0.018200 | +12.13% |
| May 2018 | 2 | 2 | 0 | 0 | 0.020 | +0.023440 | +117% |
| Feb 2018 | 12 | 3 | 8 | 1 | 0.091 | -0.036293 | -39,88% |
| Jan 2018 | 21 | 10 | 10 | 1 | 0.147 | +0.005800 | +3.95% |
| Dec 2017 | 19 | 9 | 8 | 2 | 0.148 | +0.010422 | +7.04% |
| Nov 2017 | 21 | 11 | 10 | 0 | 0.210 | -0.008030 | -3.82% |
| Oct 2017 | 21 | 10 | 10 | 1 | 0.210 | +0.003080 | +1.46% |
| Sep 2017 | 9 | 4 | 4 | 1 | 0.090 | +0.001440 | +1.60% |
| Total | 266 | 124 | 126 | 16 | 2.491 | +0.092319 | +3.71% |