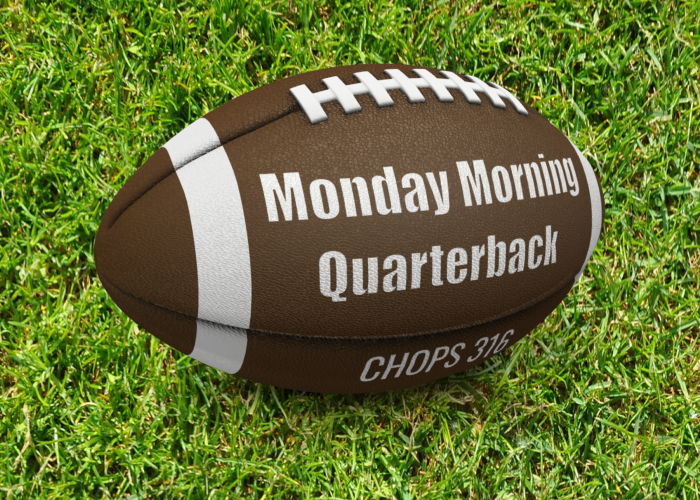 The fifth week of the 2020 NFL season is in the books (finally!) so here are the different thoughts and opinions I have on various things I witnessed this past weekend. The slate was full of lousy matchups this week and sadly most of the games lived up to the lack of hype. Every week can't be a winner. In happier news Chase Elliott was a winner on Sunday as he took the checkered flag at Charlotte Motor Speedway to advance to the NASCAR semi-finals. Whee!
Just remember I am a Dallas Cowboys fan and I'm extremely biased. Feel free to agree or disagree about anything mentioned here. All comments are welcome.

Pyrrhic Victory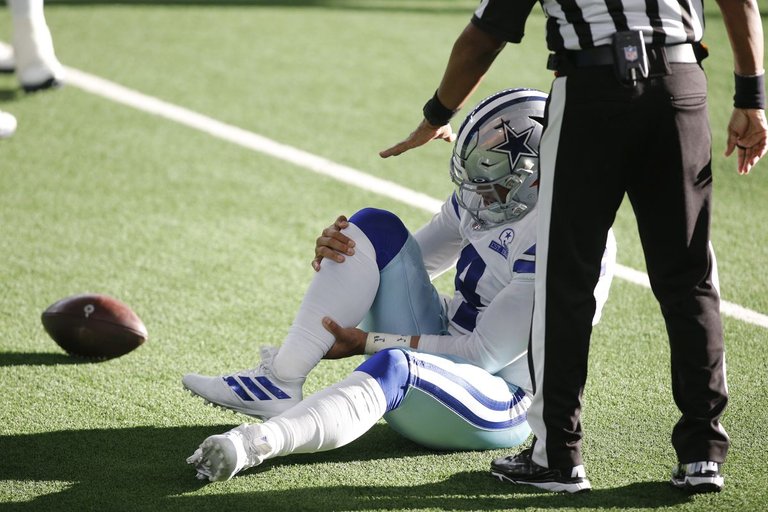 It is not good when your foot is facing the wrong direction
Source
Have you ever seen the ultimate spaghetti western The Good, The Bad and The Ugly? If you haven't go watch immediately after reading this post, it's a great movie. Hell go watch it now. I'll wait. Anyway that film's iconic title summed up Sunday for the Dallas Cowboys. The Good was a 37-34 victory over the New York Giants. The Bad was they needed some ticky-tack penalties to beat the lousy Giants. The Ugly was QB Dak Prescott's right ankle.
Unfortunately the big story of this game was the nasty injury suffered by Dak Prescott. Midway through the 3rd quarter Prescott scrambled for a 9-yard gain and got his ankle trapped under him as he was tackled. He rolled over with his foot pointing in the wrong direction. Just brutal. He suffered a fractured and dislocated ankle. His season is over.
Man this just sucks. First you hate to see anyone playing football get injured so seriously. Second by all accounts Dak is one of the nicest guys in the NFL who is well respected for the example he sets as a leader on and off the field. I have no doubt that Dak will be able to eventually come back because that son of a bitch is a warrior.
A win is a win in the NFL, yet even outside of Dak's injury this was an ugly win for the Cowboys. The Giants offense is awful, in their first four games they scored a paltry 47 points. They failed to even score a TD in their last two games. On Sunday they racked up 34 points against Dallas. Sure they were aided by the defense scoring on a pick-six, but they also had 2 TDs called back by penalties. I'm a Cowboys fan, but I'm also a realist. The refs could have ignored both of those minor penalties. The Giants ended up kicking a FG in each situation and lost eight points.
This Dallas defense is so bad. If you can't even slow down the Giants who can you stop? The Jets? They aren't on the schedule! They did manage to score a TD when DE Demarcus Lawrence stripped-sack QB Daniel Jones and CB Anthony Brown ran it in the endzone. They needed three more of those plays to make up for the rest of their deficiencies.
On the positive side, after Dak (14/21, 166 yards, 1 INT) was knocked out of the game, backup QB Andy Dalton (9/11, 111 yards) led the team on a few scoring drives. Dalton lost a fumble on a bad snap, but hit WR Michael Gallup (4 receptions, 73 yards) with a couple of huge passes to set up the game-winning FG. WR Ceedee Lamb (8 receptions, 124 yards) burned the Giants secondary all afternoon.
In a pleasant surprise, the offense concentrated more on the rushing attack. RB Zeke Elliott (19 carries, 91 yards, 2 TDs) had a good game and RB Tony Pollard (6 carries, 30 yards) contributed as well. The Cowboys should have been emphasizing the ground game all year, controlling the clock is essential when your defense is trash. The only positive you can take from losing Dak is Zeke should be the focal point of the offense once again.
Give the Giants credit for going into enemy territory and giving Dallas a helluva fight. QB Daniel Jones (20/33, 220 yards) made some nice throws, most of them to WR Darius Slayton (8 receptions, 129 yards).
Dear Lord the NFC East is sad. The Cowboys now lead the division with their 2-3 record. Even with Dalton at QB Dallas could still win this crapfest if the defense ever comes around. I doubt they will, but what the hell, I can hope. The Giants remain winless at 0-5. They have no hope.

Yinz vs. Yous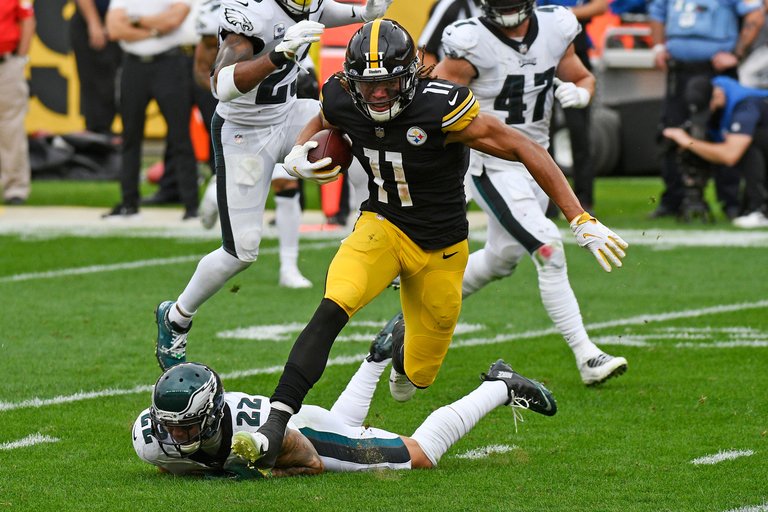 Rookie Chase Claypool had a record-setting day
Source
If you are not from Pennsylvania (in case you are unaware I am) the title of this section probably doesn't make any sense. In western PA, say in the city of Pittsburgh, a group of people are referred to as "yinz". In southeastern PA, say in the city of Philadelphia, a group of people are referred to as "yous". In northeastern PA, where I live, we use proper English.
Anyway it was battle for the Pro football Championship of Pennsylvania as the Pittsburgh Steelers defeated the Philadelphia Eagles 38-29. Congrats to the Yinzers!
I expected the Steelers to crush the Eagles, but it was a surprisingly competitive game. I didn't think Philly would be able to score much against the top-notch Steelers D, but QB Carson Wentz (20/35, 258 yards, 2 TDs, 2 INTs) found a new top target in the Eagles depleted WR corps: Travis Fulgham. Fulgham, who was waived by both the Lions and Packers earlier this year, exploded for a big game (10 receptions, 152 yards, 1 TD).
Fulgham's heroics kept the Eagles in the game until the end, but it was the usual bad play calling and turnovers that prevented the Eagles from winning. Wentz threw 2 more INTs, giving him 9 on the season. Last year he only tossed 7 INTs in 16 games. Part of Wentz's troubles is the Eagles are missing their top two WRs (Alshon Jeffrey and Desean Jackson) and TE Dallas Goedert. He is throwing to a field full of backups and is forcing throws to guys who are struggling to get open.
Eagles head coach Doug Pederson could help Wentz out by calling more running plays, but for reasons only known to him he refuses. The Eagles have a good RB in Miles Sanders (11 carries, 80 yards, 2 TDs) who doesn't get the amount of carries a player of his talent deserves. Despite missing so many receivers, the Eagles attempted 36 passes against only 16 rushes. Pittsburgh didn't pull away, there was no excuse for Philly to abandon the run.
The Steelers defense gave up too many points against a depleted opponent, but the offense bailed them out by scoring their most points in two years. Unlike the Eagles, the Steelers ran a balanced offense: 34 passes, 32 rushes.
QB Ben Roethlisberger (27/34, 239 yards, 3 TDs) had a strong game with the help of an unlikely source: WR Chase Claypool. The rookie caught seven passes for 110 yards, three of them for TDs. He also scored a rushing TD. He should have a fourth receiving TD, but the refs negated it with a lousy penalty call.
The Steelers improve to 4-0, their first 4-0 start since 1979. 40 years without a 4-0 start was the longest stretch in the NFL for any team. Pittsburgh leads the AFC North. The Eagles fall to 1-3-1, good enough for second place in the terrible NFC East.

I didn't see that coming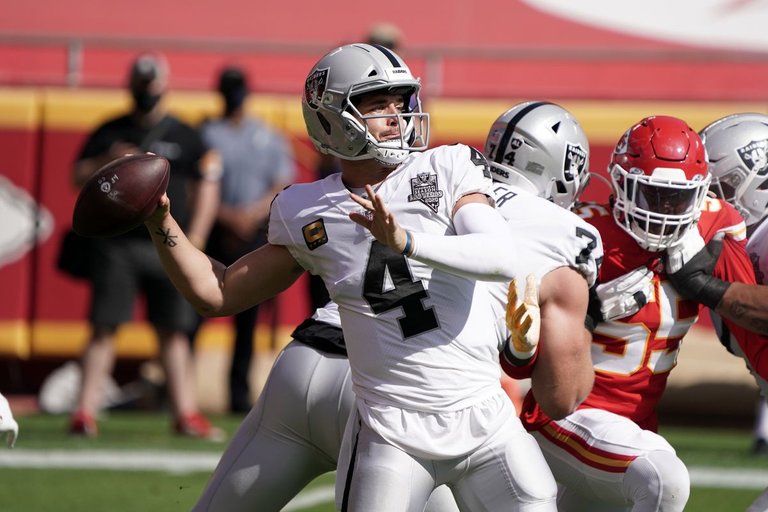 Raiders QB Derek Carr channeled his inner Daryle Lamonica in KC
Source
The matchups were weak this week and most of the games finished as you probably predicted. However a couple of TD+ favorites did fall by the wayside. That's why they play the games a wise man once said. Actually I have no clue who first said that, let alone if he was wise or not. For all I know he could have been an idiot.
In Kansas City QB Patrick Mahomes got outdueled by QB Derek Carr(!) as the Las Vegas Raiders upset the Kansas City Chiefs 40-32. The Chiefs were 11.5 favorites to beat their arch rivals.
It's natural to think the last thing you want to have happen when facing the Chiefs is to have a shootout. However, if your defense is poor it's probably your best bet to win. I'm guessing that was head coach Jon Gruden's thinking as he dialed up a downfield attack of bomb after bomb that caught the Kansas City defense flat-footed.
Raiders QB Derek Carr isn't known as a downfield passer, but as you can see in the video above his arm was looking strong and his stats back it up: 22/31, 347 yards, 3 TDs, 1 INT. Carr had four 40+ yard passes on Sunday, he only had one in the team's first four games. The return of rookie WR Henry Ruggs III, who had missed the two previous games, certainly helped. The rookie only caught two passes but he turned them into 118 yards and a TD.
Carr got plenty of help from the RB tandem of Joshua Jacobs (23 carries, 77 yards, 2 TDs) and Devontae Booker (7 carries, 62 yards). It was a team effort on offense to take down the defending champs.
While he was overshadowed by Carr, KC QB Patrick Mahomes wasn't bad either: 22/43, 340 yards, 2 TDs, 1 INT. Mahomes INT was his first of the season. It was costly too, it helped set up a TD by the Raiders. The Chiefs offense seemed to run out of gas in the second half. They were hurt by the Raiders stronger running game, which kept the KC offense of the field.
The Raiders won the time of possession battle (35:17 to 24:43) and committed fewer penalties (LV 8-59, KC 10-94). That's how you win a shootout. The Chiefs fell to 4-1, first place in the AFC West. The Raiders are right on their heels as they improved to 3-2.
The other upset on Sunday was even more shocking as the Miami Dolphins rolled into Santa Clara and beat the hell out of the San Francisco 49ers 43-17. Ouch. The 49ers were 7.5 favorites to win.
The Niners have had a lot of injuries, but many of their top players have begun to return to the gridiron. No matter, the Dolphins punched them in the mouths right out of the gate to take a 30-7 lead at halftime. It was so bad returning 49ers QB Jimmy Garoppolo was benched at the half so he wouldn't take more of a pounding in a lost cause.
Dolphins QB Ryan Fitzpatrick can be a mystery. It seems he is just as likely to deliver a dud as he is a strong performance. Well he had the old Fitzmagic working against the Niners: 22/28, 350 yards, 3 TDs. He torched the secondary with the help of WR Preston Williams (4 receptions, 106 yards, 1 TD) and TE Mike Gesicki (5 receptions, 91 yards). The Dolphins defense shined as well as they forced three turnovers and sacked the 49ers QBs five times. The Dolphins are now 2-3.
The 49ers struggled without QB Jimmy Garoppolo last week, they stunk even worse with him this week. Garoppolo (7/17, 77 yards, 2 INTs) didn't look ready to comeback and he was benched after the first half. His replacement QB C.J. Beathard (9/18, 94 yards, 1 TD) put up garbage time stats that weren't all that great either. Woof. The Niners did move the ball on the ground (19 carries, 131 yards, 1 TD), but that was after the Dolphins took a big lead. Miami was happy to let San Francisco help the run out the clock.
The 49ers fell to 2-3 and are quickly becoming an afterthought in the highly competitive NFC West. They need to get their shit together fast because they are entering a brutal stretch of their schedule.

Am I dreaming or am I just drunk?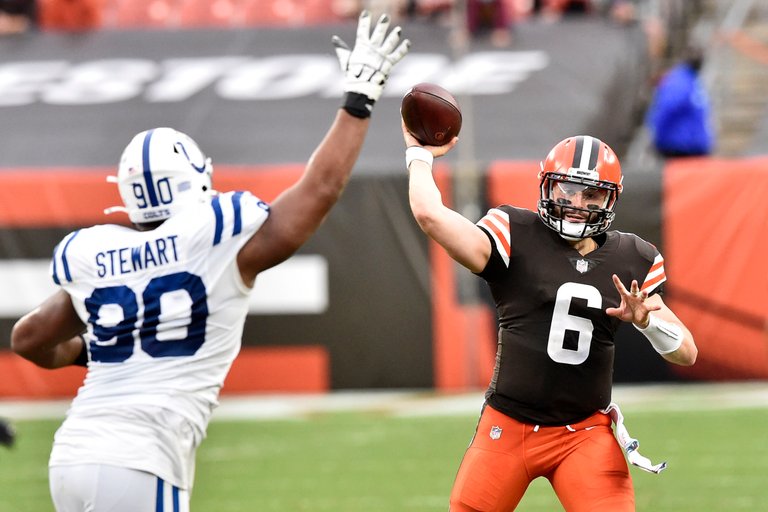 In a turn of events Mayfield bailed out the running game
Source
Here is a sentence I didn't expect to write this season: The Cleveland Browns are starting to look like a real playoff contender.
The Cleveland Browns defeated the Indianapolis Colts 32-23. The Browns put up a boatload of points against the Cowboys sad defense last week, it is even more impressive they could score 32 points against a quality defense like the Colts, albeit with the aid of a pick-six by S Ronnie Harrison Jr. and a safety. It was a team effort to put points on the board.
Browns head coach Kevin Stefanski has figured out Cleveland is a running offense, not a passing one. Yet this week the Browns showed if you load up against the run, they can make enough passing plays to beat you. While Indianapolis contained the Browns running attack (33 carries, 138 yards), QB Baker Mayfield (21/37, 247 yards, 2 TDs, 2 INTs) made enough plays to put the Browns in the endzone.
Even though the Browns running game wasn't overly impressive, Stefanski was smart enough not to abandon it and turn the Browns offense one-dimensional. He kept the Colts defense honest and let Mayfield pick his spots to do damage. It's been awhile since we've seen this kind of smart play-calling in Cleveland. The Browns improve to 4-1, tied for second place in the AFC North.
The Colts are a running team as well, but when they fell behind they were forced to pass more to try to play catch up. It didn't work, QB Philip Rivers (21/33, 243 yards, 2 INTs) is still a pick-throwing machine who is way past his prime. He needs a lot of help from the running attack and Sunday he didn't get it: 18 carries, 68 yards, 1 TD. The Colts are a good team, but if the defense struggles they don't have the firepower to come back from deficits. The Colts fell to 3-2, good enough for second place in the AFC South.

Sunday Night Thriller
There is no moment that is too big for Russell Wilson to handle
Source
In surprisingly good game, the Seattle Seahawks snatched victory from the jaws of defeat to beat the Minnesota Vikings 27-26.
The first half was all Minnesota as the Vikings staked a 13-0 lead. The Seahawks couldn't do anything on offense. Seattle adjusted at halftime and came out on fire in the third quarter, scoring 21 unanswered points. Oh no, another Minnesota let down. Yet the Vikings recovered to score 13 unanswered points of their own to take a 26-21 lead midway through the fourth quarter.
Seattle took possession, but turned it over when QB Russell Wilson tossed an INT at the Minnesota 43-yard line with a shade under 6 minutes remaining. The Vikings had already lost RB Dalvin Cook to injury, yet they wisely rushed the ball to move into position to make a game-deciding score while bleeding the clock.
At the two-minute warning, Minnesota's drive stalled at the Seattle 6-yard line with a 4th and one. Big decision for head coach Mike Zimmer. Do they kick the FG and potentially take an eight-point lead or do they go for the kill and try to pick up the first down? If the Vikings make the first down, they could nearly run out the clock. Zimmer decided to go for it, but the Seahawks stuffed the attempt.
It didn't work, but I thought it was the right call. Wilson is dangerous anywhere on the field and an opportunity to keep the ball out of his hands is tempting. Plus if you can't convert a 4th and one in this situation you don't deserve to win.
Seattle had the ball, but still needed to drive 94 yards in less than two minutes with only one timeout remaining. A daunting task for most mortals, but not for Russell Wilson. He expertly guided Seattle down the field, converting two fourth downs along the way, to score a game-winning TD with 15 seconds remaining. Another heartbreaker for the Vikings, another miraculous last second win for the Seahawks.
Russell Wilson (20/32, 217 yards, 3 TDs, 1 INT) didn't have his best game, but he came through when the game was on the line. WR D.K. Metcalf (6 receptions, 93 yards, 2 TDs) continues to make big plays, he caught the game-winner as well as a crucial 4th down reception on the final drive. The Seahawks are 5-0 and lead the NFC West.
The Vikings made a great effort to win, but this team always seems to fall apart in the game's biggest moments. QB Kirk Cousins (27/39, 249 yards, 2 TDs, 1 INT) played well, but it was the running game that kept the Vikings moving. RB Dalvin Cook (17 carries, 65 yards, 1 TD) was injured in the 3rd quarter, but backup RB Alexander Mattison (20 carries, 112 yards) picked up the slack. Unfortunately for Minnesota the Vikings rushing game was really good, yet failed in the game's biggest play. The Vikings fall to 1-4 and their playoff hopes are quickly falling.

Around the League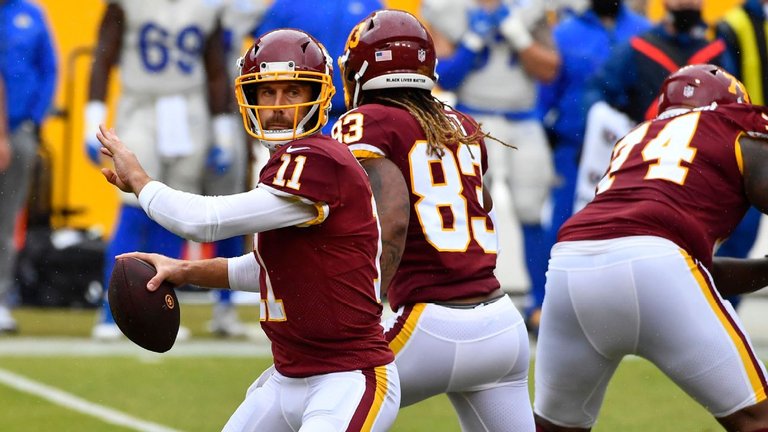 Welcome back Alex Smith
Source
After suffering a gruesome leg injury that nearly cost him his life let alone his leg two years ago, Washington QB Alex Smith made his unlikely return to NFL action on Sunday when the Rams knocked out starting QB Kyle Allen. It would be a great fairy-tell ending if Smith was able to lead his team to victory, but Smith plays for a team so bad they don't even have a name and the Washington No-names fell to the Los Angeles Rams 30-10.
No shock a good team like the Rams easily defeated a dumpster-fire like the No-names, but the return of Alex Smith is a feel-good story everyone can enjoy.
Smith underwent 17(!) surgeries on his leg to repair it and fight off life-threatening infections. Amputation was considered. Yet Smith persevered and not only regained his health, he came back strong enough to return to the NFL. One tough hombre. Too bad he plays for a terrible team that gives him no hope of winning.
The Rams improved to 4-1, while the No-names fell to 1-4.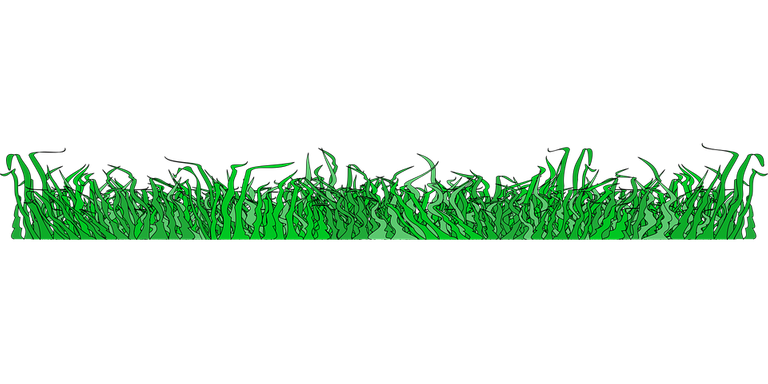 The Carolina Panthers picked up their third straight win in a 23-16 victory over the Atlanta Falcons. Don't be fooled by the final score, the Panthers had a 20-7 lead at halftime and just bled out the clock in the second half by playing it safe.
Panthers QB Teddy Bridgewater (27/37, 313 yards, 2 TDs) used WRs Robby Anderson (8 receptions, 112 yards) and D.J. Moore (4 receptions, 93 yards, 1 TD) to take the early lead. RB Mike Davis (16 carries, 89 yards, 9 receptions, 60 yards, 1 TD) is filling in well for injured RB Christian McCaffrey. The Panthers move to 3-2 and have officially turned their season around after a bad start.
The Falcons can't do anything right. RB Todd Gurley (14 carries, 121 yards, 1 TD) and WR Calvin Ridley (8 receptions, 136 yards) had big games, but Atlanta still struggled to put up points.
The Falcons fell to 0-5 and owner Arthur Blank finally reached his breaking point. Head coach Dan Quinn and G.M. Thomas Dimitroff were fired Sunday night. These moves should have been made two years ago. The Falcons have talent, on offense at least, but have never recovered from their epic Super Bowl choke job.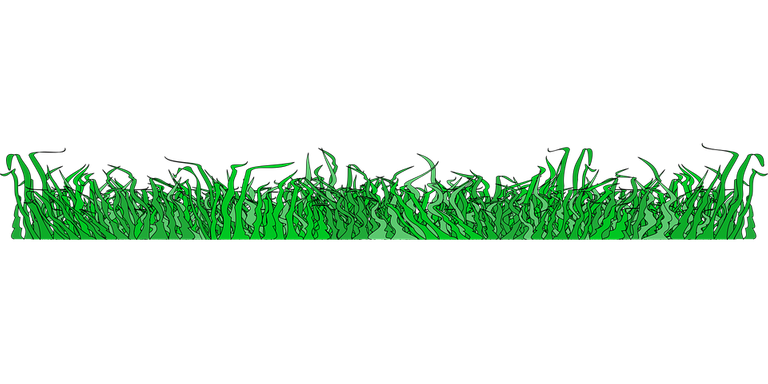 The Houston Texans celebrated the firing of head coach Bill O'Brien by smashing the Jacksonville Jaguars 30-14.
The Texans have struggled all year, yet had no trouble beating a punching bag like Jacksonville. Houston racked up 486 yards of offense, something they only did twice in O'Brien's six year tenure, but to be fair to O'Brien he rarely faced a team tanking so well. QB Deshaun Watson (25/35, 359 yards, 3 TDs, 2 INTs) tried to aid the Jaguars with a couple of picks, but it didn't help. WR Brandin Cooks (8 receptions, 161 yards, 1 TD) and RB David Johnson (17 carries, 96 yards) also played well.
Jaguars QB Gardner Minshew (31/49, 301 yards, 2 TDs) is trying like hell to mess up the tank, but he isn't getting much help. Both teams now have 1-4 records.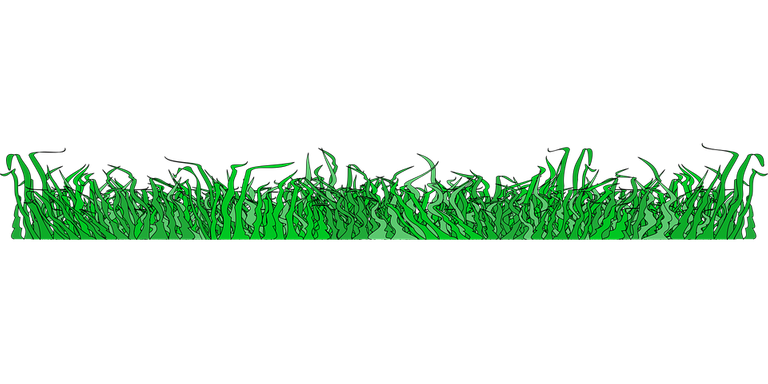 The Cincinnati Bengals have shown some life this season, but the Baltimore Ravens farted in their general direction for an easy 27-3 win.
The Ravens knew all they had to do was show up to win and that's all they did, at least on offense. QB Lamar Jackson (19/37, 180 yards, 2 TDs, 1 INT, 2 carries, 3 yards) had a lousy game and Baltimore still won by 24 points. The defense handled business by not allowing the Bengals to run or pass. Bengals QB Joe Burrow (19/30, 183 yards, 1 INT) was sacked seven times.
The Ravens improved to 4-1 and the Bengals fell to 1-3-1.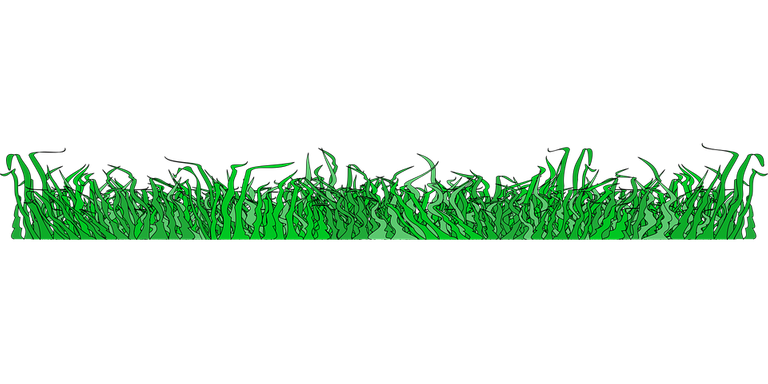 The Arizona Cardinals had lost two in a row and desperately needed a win to stay competitive in the brutal NFC West. The schedule gifted them a game against the New York Jets to fix the problem. The Cardinals easily beat the Jets 30-10.
The combo of QB Kyler Murray (27/37, 380 yards, 1 TD, 1 INT, 9 carries, 31 yards, 1 TD) and WR DeAndre Hopkins (6 receptions, 131 yards, 1 TD) made mincemeat of the Jets defense.
On Tuesday the Jets released RB Le'Veon Bell. Why not? Even though he looks like a shell of his former self, he was still one of the Jets best players. Since the Jets seem to be only interested in losing he isn't needed.
The Cardinals improve to 3-2. The Jets are winless at 0-5. 0-16 is a real possibility.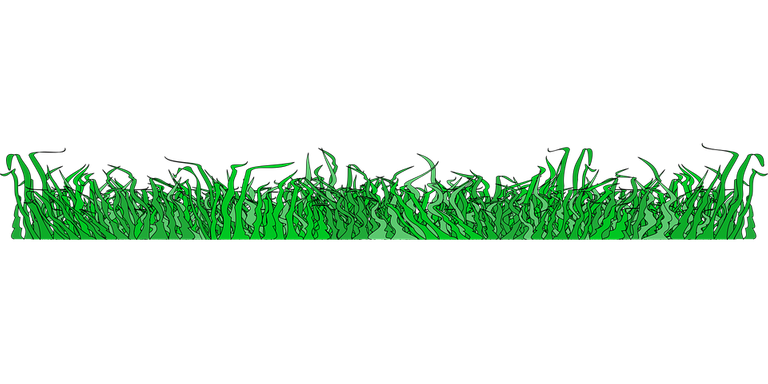 New England Patriots vs. the Denver Broncos. Oh crap.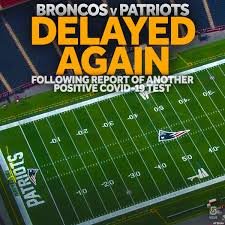 Thank God. Wait, they will play it later in the season? Oh crap.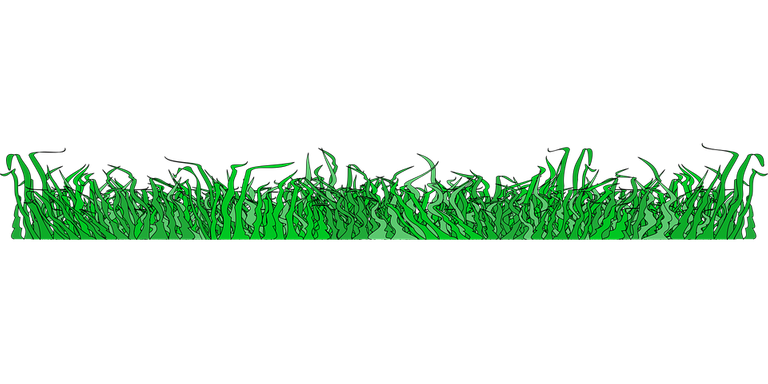 On Monday Night the Los Angeles Chargers teased us by taking a 17 point lead over the New Orleans Saints, but in the end lost due to kicking woes, as the Chargers are historically wont to do. The Saints prevailed 30-27 in overtime.
Chargers kicker Michael Badgley missed an extra-point in the first quarter, which came back to haunt the team when the Saints tied the game at 27. He had a chance to redeem himself with a last second 50-yard FG, but it clanked off the goalpost.
Saints QB Drew Brees (33/47, 325 yards, 1 TD, 1 INT, 1 rushing TD) started slow but came around in the second half. WR Michael Thomas was supposed to return, but he was benched for punching a teammate. Way to go asshole. WR Emmanuel Sanders (12 receptions, 122 yards) picked up the slack. Weird stat, for only the second time in his long, long career Drew Brees came back to win after falling behind by 17 points. I figured he had done it more with the way he plays.
Chargers rookie QB Justin Herbert (20/34, 264 yards, 4 TDs) continues to impress. Looks like the Chargers found a keeper. Good for them, but they are another team which always finds a way to lose.
The Saints improve to 3-2 while the Chargers fell to 1-4.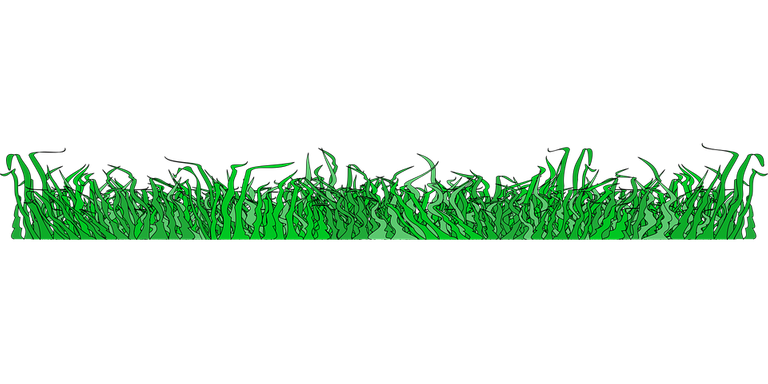 Well that does it for Week 5. Wait, there is another game? On Tuesday? WTF NFL, I have baseball games to watch! The Dodgers are losing and I'm loving it!
Because of Covid the Buffalo Bills-Tennessee Titans game was moved to Tuesday night. Although I'm not sure anybody told the Bills because they didn't show up. Tennessee trounced Buffalo 42-16.
Wasn't Tennessee the team that was supposed to come out flat? I think they've practiced twice in the past month. Never mind, they came out ready to play and stomped Buffalo. QB Ryan Tannehill (21/28, 195 yards, 3 TDs) looked sharp. RB Derrick Henry (19 carries, 57 yards, 2 TDs) didn't kick it into gear but the rest of the team (15 carries, 82 yards, 1 TD) helped him out. The Titans remain undefeated at 4-0.
The previously undefeated Bills hadn't missed any practice time so they had no excuse to come out and lay an egg. QB Josh Allen (26/41, 264 yards, 2 TDs, 2 INTs) tossed 2 picks, he only had one in his first four games this season. The Bills fall to 4-1 and have to face the Chiefs next week. They better get their shit together quick. Real quick.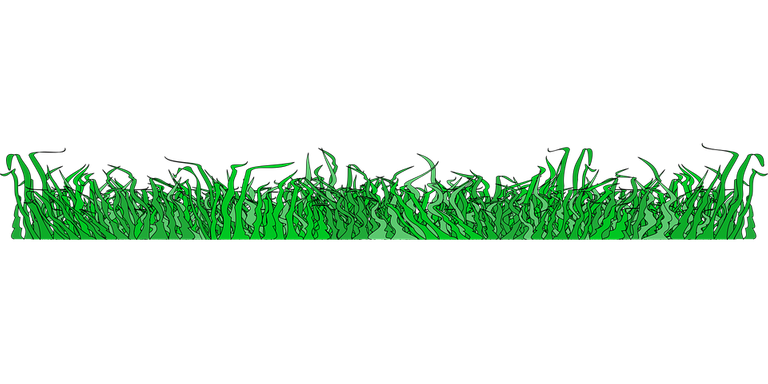 Any more games this week? Are you sure? OK. I'm going to finish watching the Rays/Astros game. Let me know your thoughts on Week Five.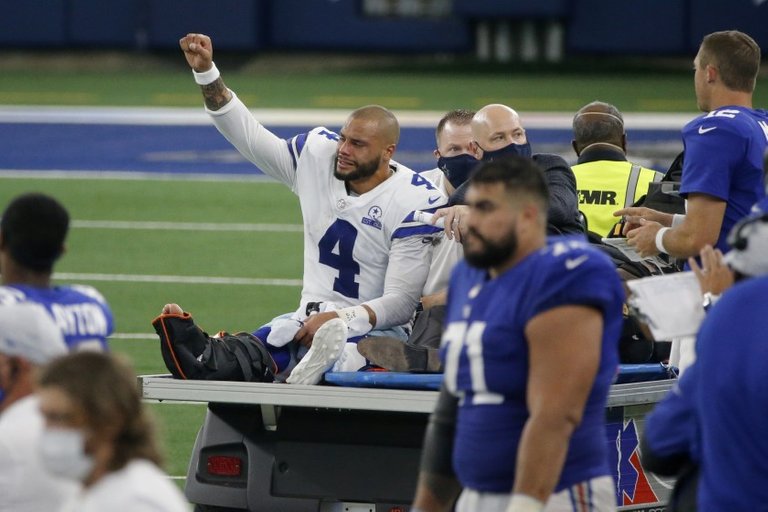 Source
Get well Dak. We are going to miss you