Chops316 Monday Morning Quarterback: 2021 Week 6 Part Two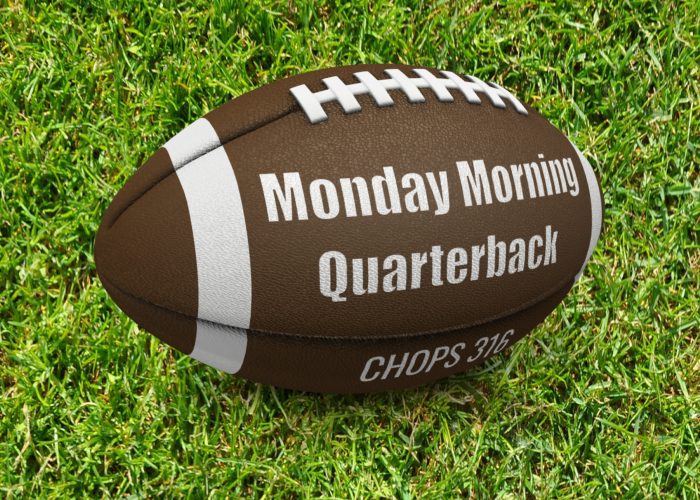 Welcome to Part II of my Monday Morning Quarterback Post for Week 6. I'll be covering the rest of the slate here and fair warning much of it wasn't pretty. Quite a few beat downs and blowouts this week, but there were a couple of gems mixed in.
No games for the Falcons, Jets, Saints or 49ers this week as they all had a bye.
Just remember I am a Dallas Cowboys fan and I'm extremely biased. Feel free to agree or disagree about anything mentioned here. All comments are welcome.
He Still Owns Chicago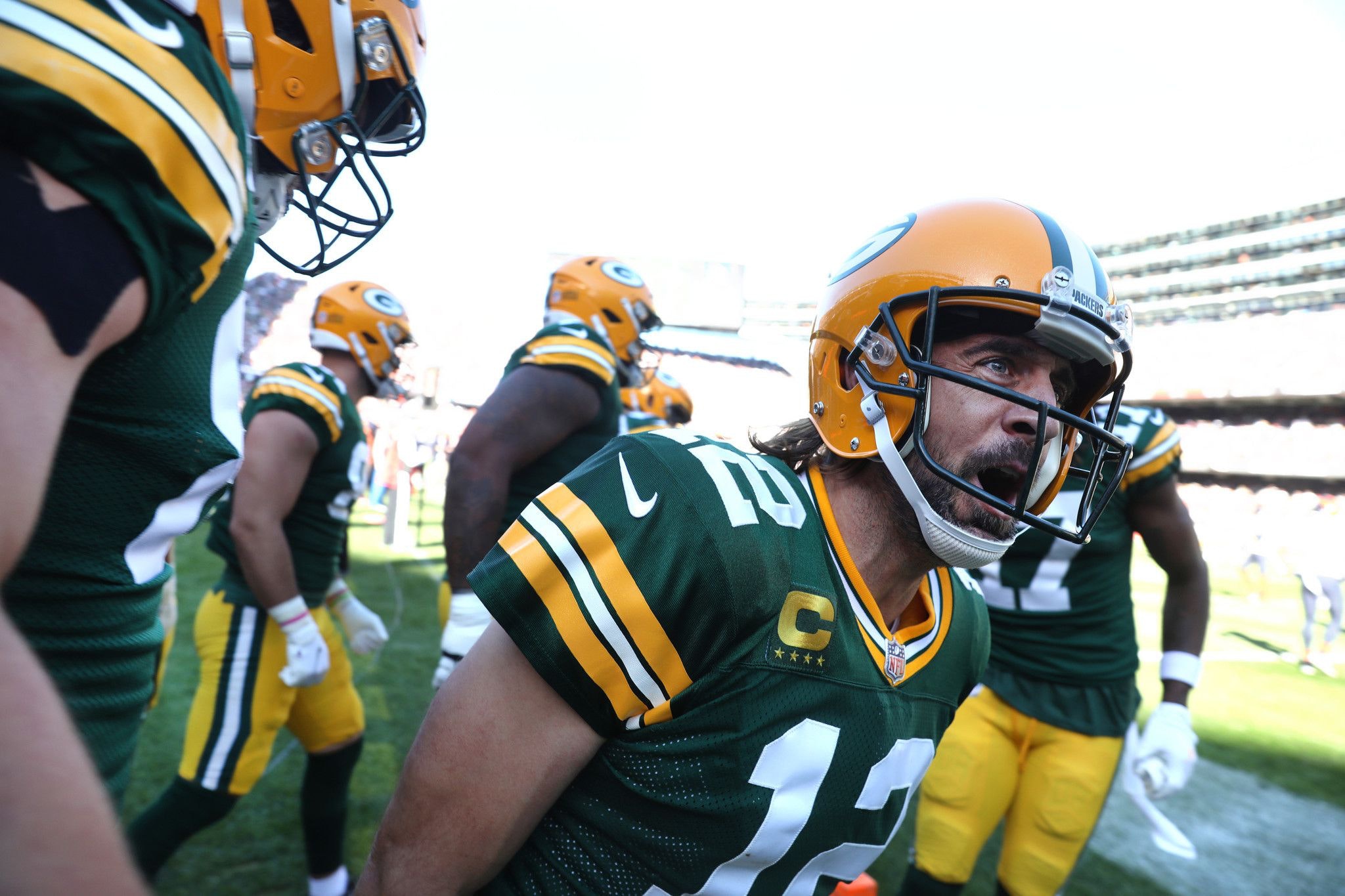 Maybe Bears fans should think twice before they shoot Aaron Rodgers the double bird
He does own them after all
Source
Packers 24 Bears 14
The Bears got off to a hot start on Sunday, but it fizzled out quick when Aaron Rodgers remembered that he owns Chicago. All his f*cking life! Nothing better in the NFL than true rivalry games.
The Bears drew first blood by scoring a TD on their opening drive and after forcing a punt by Green Bay were driving for another score when disaster struck. Already at midfield, the Packers jumped offsides and Justin Fields took advantage of the free play by taking a deep shot in the endzone. He ran into two problems. First the referees blew it by missing the call so his free play wasn't free. Second his pass was intercepted by Darnell Savage. Double whammy.
The turnover sparked the Packers offense that had started out sluggish and deflated the Bears offense that suddenly turned ice cold. The Packers took a 17-7 lead into the 4th quarter when Justin Fields found his mojo again. He led a 90-yard drive that culminated in a TD pass to Darnell Mooney that cut the Bears deficit to 17-14 with eight minutes remaining in regulation.
That is when Aaron Rodgers was compelled to show the Bears who really owns Chicago. After moving the ball into the redzone, Rodgers capped off a 75-yard TD drive by scrambling six yards into the endzone. That's when he gave a special message to the Bears fans:
I love it! He isn't wrong either, Rodgers is now 22-5 against the Bears.
The Bears had one more chance to retaliate but turned the ball over on downs and the Packers bled out the clock to win 24-14.
This was a typical game for Green Bay this season, who were seemingly in control most of the afternoon but never really pushed the pedal to the floor to blow out the Bears. Aaron Rodgers (17/23, 195 yards, 2 TDs, 1 rushing TD) was solid under heavy pressure by Chicago. Per usual Davante Adams (4 receptions, 89 yards) was his top target. The Packers pounded the rock with good games by both Aaron Jones (13 rushes, 76 yards) and A.J. Dillon (11 rushes, 59 yards). Well balanced offense by Green Bay who improved to 5-1, first place in the NFC North. They'll host a team with no name but plenty of email servers next week.
The Bears made a great effort, but ultimately their offense led by a rookie quarterback and a backup running back couldn't keep up with the Packers. Justin Fields (16/27, 174 yards, 1 TD, 1 INT) is showing improvement from to week to week and that has to be encouraging. Backup running back Khalil Herbert (19 rushes, 97 yards, 1 TD) had strong game. Chicago's offense needs to keep improving if they are going go anywhere this season. The Bears fell to 3-3, tied for second in the NFC North. They face a huge test next week when they travel to Tampa Bay.

Dud of the Week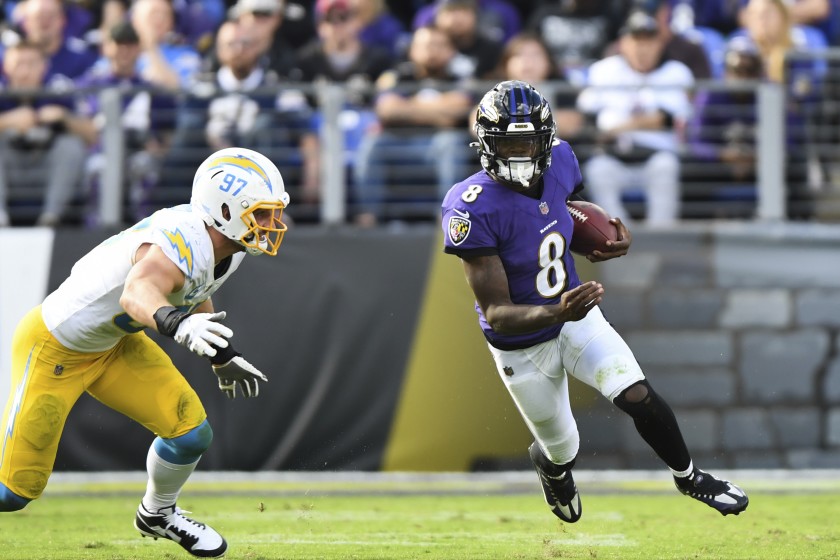 Lamar Jackson had no problem running right on by the Chargers defenders
Neither did any of his teammates
Source
Ravens 34 Chargers 6
Aside from the Dallas game, the matchup I was most interested in watching this week was the Ravens-Chargers game. I was expecting an exciting shootout between an up-and-coming contender and one of the better squads in the AFC the past several seasons. I was disappointed real fast. This game became the dud of the week as Baltimore absolutely trampled Los Angeles right out of the gate.
The Chargers offense that mauled the Browns last week was nowhere to be found in Baltimore. They probably would have been shut out if not for a Lamar Jackson interception that set them up for short field TD and they couldn't even finish that right as the extra-point attempt was no good.
The Ravens offense can attack in different ways and this week it was the ground game that assaulted the Chargers. Talk about a running back committee, the Ravens used six different ball carries to pile up 187 yards and three TDs on 38 rushes. It was like an old-timers games as Devonta Freeman, Latavius Murray and Le'veon Bell each scored a TD. Baltimore knows how to run and it seems like it doesn't matter who is getting the touches they still get results.
Lamar Jackson (19/27, 167 yards, 1 TD, 2 INTs) wasn't sharp, but he didn't need to be. Baltimore imposed their will all day anyway, keeping possession of the ball for nearly forty minutes. Dominating day for both the offense and the defense. The Ravens improved to 5-1, first place in the AFC North. They'll host the Bengals next week and that should be a fun game to watch.
The Chargers would be best off to just pretend this game didn't happen and move on. The running game was pathetic as Austin Ekeler and Joshua Kelley combined for 14 yards on 10 carries. Woof. Justin Herbert (22/39, 195 yards, 1 TD, 1 INT) was forced to shoulder the load on offense and he was out of rhythm the entire afternoon. The defense was run over and left for dead. Maybe Los Angeles isn't quite ready for prime time just yet. The Chargers fell to 4-2, tied for first place in the AFC West with the Raiders. They'll get a chance to recover from this ass kicking with a bye next week.

Monday Night Mayhem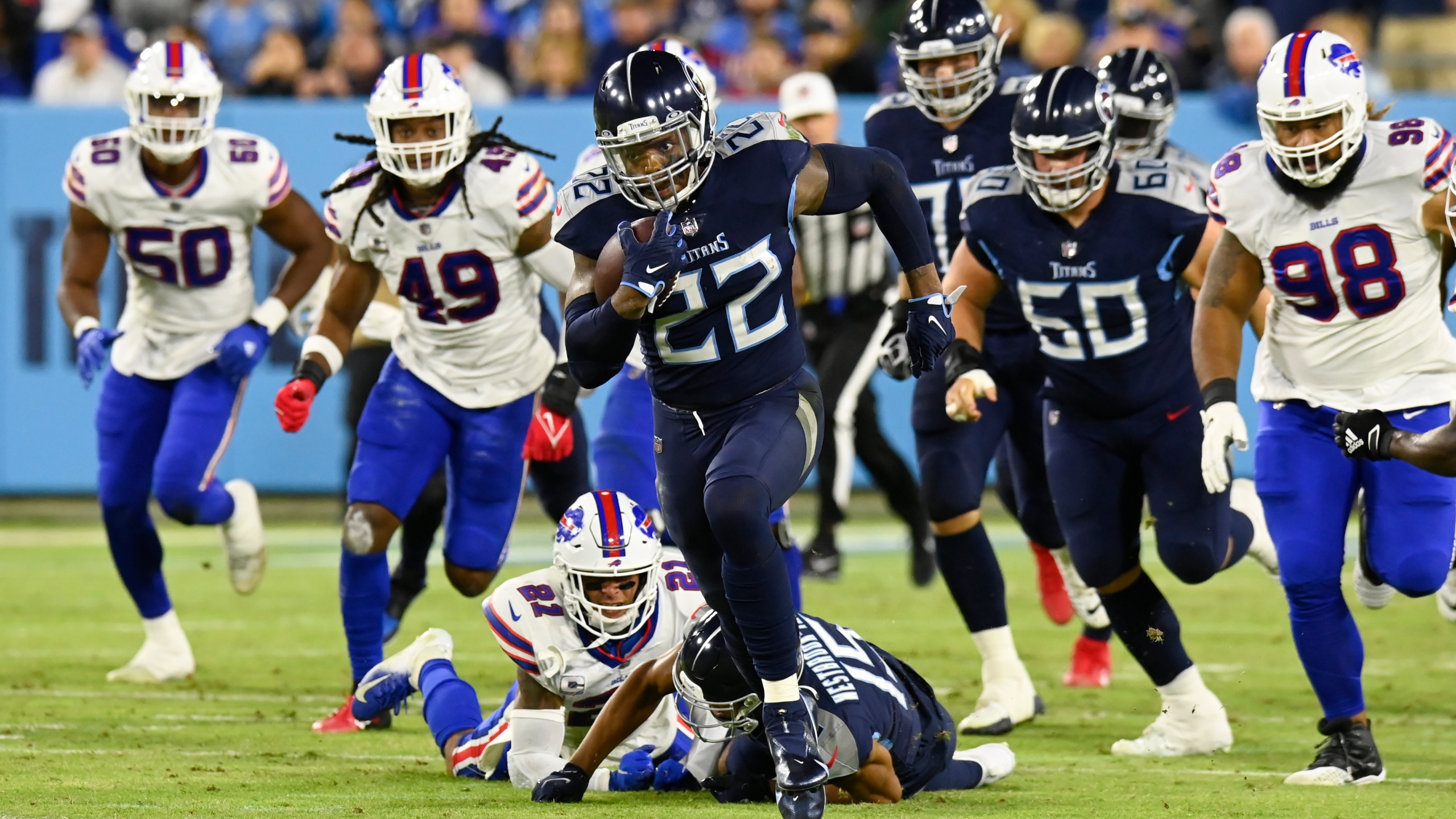 Derrick Henry went into berzerker mode Monday night
Source
Titans 34 Bills 31
I may have been disappointed Sunday afternoon, but Monday night more than made up for it with a thrilling game that featured eight lead changes and a game-winning goal line stand in the finals seconds. OK Tennessee explain this to me: If you are good enough to beat Buffalo, how in the hell did you lose to the Jets?
The game actually got off to a mundane start as the 1st quarter saw three punts and a Ryan Tannehill interception that left Buffalo with a 3-0 lead. The Bills added another field goal early in the 2nd quarter to double their lead to 6-0. That's when Derrick Henry decided to unleash the beast. On the Titans next possession he took a handoff, broke right through the gut of the Bills defense and sped off for a 76-yard TD run.
From that point it was game on as the two teams traded body blows and the lead back & forth until the end. Another Henry TD gave the Titans a 34-31 lead in the 4th quarter, but there was still 3 minutes left for Buffalo to make a comeback. Josh Allen was up to the challenge as he connected on four straight passes to drive the Bills into the redzone. A few running plays moved the ball down to the 3-yard line where Buffalo faced a 4th and one with 22 seconds remaining.
Big decision time for Buffalo head coach Sean McDermott. Should he kick the FG and force overtime or go for the win now. Kudos to McDermott for showing balls by going for the win. Josh Allen took the snap and attempted a QB sneak, but he lost his footing and was stone-walled by the Titans defensive front. Turnover on downs and Tennessee escaped with the win. Man what a game!
The Bills had given up the fewest points in the league before Week Six, including two shutouts, but Derrick Henry didn't care. He destroyed Buffalo's defense by gaining 143 yards and 3 TDs on only 20 carries. He was so dominant that Ryan Tannehill (18/29, 216 yards, 1 INT, 1 rushing TD) was mainly a non-factor. The Titans defense wasn't very good, but when the game was on the line they came up with a big play. Tennessee improved to 4-2, first place in the AFC South. They'll face another massive challenge next as they host the Chiefs.
Like Derrick Henry, Josh Allen (35/47, 353 yards, 3 TDs, 1 INT) was the dominant force on the Bills offense. Allen spread the ball around to nine different receivers with Emmanuel Sanders, Stefon Diggs and Cole Beasley gaining around 90 yards. The ground game was an afterthought as the running back committee gained 56 yards on 14 rushes. The offense held their own, but the defense was completely derailed by Derrick Henry. The Bills fell to 4-2, first place in the weak AFC East. Buffalo will have a chance to re-group with a bye next week.

Around the League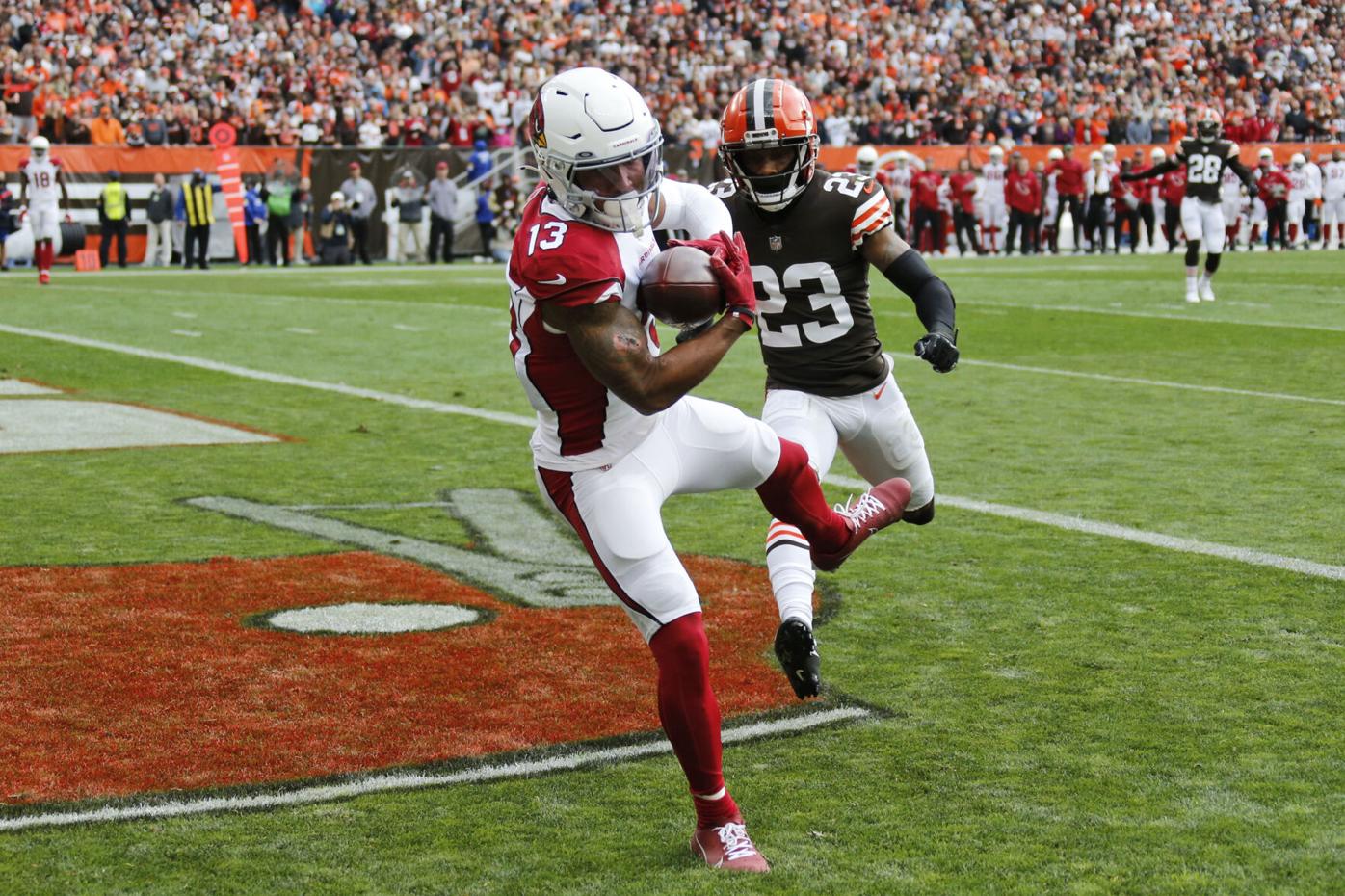 Christian Kirk and the Cardinals flew past the Browns with ease
Source
Cardinals 37 Browns 14
The Arizona Cardinals kept on rolling as they marched into Cleveland and hammered the banged up Browns. The Cards scored on all of their first half possessions and added a couple more TDs in the second half to complete the blowout.
Arizona was missing several players and their head coach Kliff Kingsbury due to covid protocols but didn't miss a beat. Kyler Murray (20/30, 229 yards, 4 TDs) didn't need to do much outside of throwing TD passes. The ground attack piled up 144 yards with James Conner (16 rushes, 71 yards) accounting for nearly half of them. The Arizona defense smothered the Browns, sacking Baker Mayfield 5 times and forcing three turnovers. Another impressive performance by the Cardinals, who remain undefeated at 6-0. They are sitting in first place in the NFC West and will be big favorites next when they host the Texans.
Cleveland came into this game with a number of injured players and left it in even worse shape. Unfortunately for them they have a short week coming up as they play on Thursday against the Broncos. Literally the entire offense is listed on the injury report and Baker Mayfield has already been ruled out. Mayfield (19/28, 234 yards, 2 TDs, 1 INT) gutted it out this week and played OK, but he was obviously hurting.
Nick Chubb didn't play and his backfield partner Kareem Hunt (14 rushes, 66 yards) left this game early with an injury. Donovan Peoples-Jones (4 receptions, 101 yards, 2 TDs) had a big game but the rest of the offense was fairly forgettable. The defense was embarrassed, not only did they get run over they looked like they didn't even care. Terrible outing for Cleveland. The Browns fell to 3-3, tied for third place in the AFC North.


Jaguars 23 Dolphins 20
Man the NFL must really hate England. First they ship a Jets game over there and they followed it up with a battle to determine the worst team in Florida. Poor Brits, I doubt even anyone in the Sunshine State cared.
The Jaguars got off the schneid and finally picked up their first win of the season by playing somewhat like a real NFL team. That's good enough when you're playing a real bad football team who are playing way worse now than when they were tanking. Trevor Lawrence (25/41, 319 yards, 1 TD) is looking more comfortable each week. The Jags defense gave up a ton of yards, but they tightened up in the redzone to keep the score down. Congrats to Jacksonville for no longer having the worst record in the league and as a bonus they can celebrate an extra week since they will be on a bye. Can't wait to see how Urban Meyer parties after a win! Jacksonville improved to 1-5, last place in the AFC South.
My God the Dolphins suck. Seriously they were better when they were trying to lose. Tua Tagovailo (33/47, 329 yards, 2 TDs, 1 INT) came back and played well, but he gets no help. The Dolphins will probably end up with a top three draft pick next year, too bad they already traded it to the Eagles. The Dolphins fell to 1-5, tied for last place in the AFC East. They'll host the Falcons next week.


Bengals 34 Lions 11
Remember when the Bengals were the terrible team that got their asses handed to them each week? The tide has turned as now the Bengals are the team beating the hell out of the chumps. The Bengals led this game 27-0 heading into the 4th quarter.
Joe Burrow (19/29, 271 yards, 3 TDs, 1 INT) couldn't be happier Cincy drafted Ja'Marr Chase (4 receptions, 94 yards), who is looking to run away with the rookie of the year award. Joe Mixon (18 rushes, 94 yards, 5 receptions, 59 yards, 1 TD) continued being a dual threat. I'm starting to believe the Bengals are for real this year, as long as the big names stay healthy. Cincy improved to 4-2, second place in the AFC North.
The Lions are lousy, but at least they had been competitive each week. Not in Week 6, the Bengals crushed them. The Lions couldn't pass and couldn't run. At least they were a balanced team since their defense couldn't stop the pass or run either. Jared Goff (28/42, 202 yards, 1 INT) was bad, but the ground attack that gained 35 yards on 17 carries was even worse. The defense was non-existent. 0-17 is starting to look real. The Lions fell to 0-6, last place in the NFC North and the last winless team in the league. They play the Rams in L.A. next week, I see more pain in their immediate future


Colts 31 Texans 3
The Colts only led this game 10-3 at the half. Must have been a helluva halftime speech by Frank Reich as Indy blew out the Texans 21-0 in the second half.
Carson Wentz (11/20, 223 yards, 2 TDs) wasn't particularly accurate, but was hitting passes for big yardage when he did connect. The real hero of the Colts offense was Jonathan Taylor who only needed 14 carries to gain 145 yards and 2 TDs. That is domination. Good bounce back win after their collapse against Baltimore last week. The Colts improved to 2-4, second place in the AFC South. They'll head to Santa Clara next week to face the 49ers.
Did the Texans think this game was only scheduled for two quarters? I think they went home at halftime. David Mills (29/43, 243 yards, 2 INTs) threw a lot of passes, but had very little to show for his efforts. The running back committee was little better, gaining 124 yards on 29 rushes. The Texans fell to 1-5, third place in the AFC South since they have the tie-breaker over the Jaguars. It is safe to assume things won't be any better next week when they go to Arizona.


Rams 38 Giants 11
Rams head coach Sean McVay played a cruel joke on the Giants this week by giving them a false sense that they could actually win this game. The Giants were up 3-0 at the end of the 1st quarter, it was their high water mark of the game. When McVay was done laughing he unleashed his offense who put up 28 points in the 2nd quarter alone. From there they just cruised home for the easy win.
Matthew Stafford (22/28, 251 yards, 4 TDs, 1 INT) did most of his damage with Cooper Kupp (9 receptions, 130 yards, 2 TDs), who topped 90 receiving yards for the fifth time in the Rams sixth game. Maybe somebody should start covering that guy. The offense was balanced out by a running back group that gained 132 yards and a TD on 32 carries. The Rams made it look easy because, well, it was the Giants after all. The Rams improved to 5-1, second place in the NFC West. Oddly enough it might be even easier next week with the Lions coming to town.
Total garbage by the Giants. Daniel Jones (29/51, 242 yards, 3 INTs, 1 fumble) was dreadful. Even when he wasn't turning the ball over he couldn't get anything going. Are the Giants sure he recovered OK from that concussion against Dallas? He played like he didn't understand football. The Giants fell to 1-5, dead last in the NFC East. They'll host the Panthers next week.


Vikings 34 Panthers 28 OT
Minnesota should have run away with this game, but they can't do anything the easy way. Their special teams were a disaster. Kicker Greg Joseph missed two FGs and a blocked punt was returned for a TD. That's a 13 point swing there, this game shouldn't have even been close to needing overtime.
Kirk Cousins (33/48, 373 yards, 3 TDs) was stellar, Adam Thielen (11 receptions, 126 yards, 1 TD) was open all day and Dalvin Cook (29 rushes, 140 yards, 1 TD) returned from injury with a vengeance. All told the Vikings racked up 571 yards in offense. The fact that they needed overtime to get a win with that kind of offensive production says a lot and none of it is good. Minnesota evened up their record at 3-3, tied for second place in the NFC North. They have a bye next week and they better get plenty of rest because the Cowboys will be waiting for them when they return.
The Panthers were 3-0 when Christian McCaffrey played, they are now 0-3 without him. And he isn't going to be back any time soon. Sam Darnold (17/41, 207 yards, 1 TD, 1 INT) has been lost without McCaffrey propping him up. He looks more and more like the guy who played for the Jets with each passing week. In case you don't remember that is really, really bad. The Panthers defense held their own in the first half, but wore down as the game went on. That tends to happen when the offense has a lot of three and outs. The 3-3 Panthers are in third place in the NFC South and get a softer matchup next week when they head to New Jersey to play the Giants.


Chiefs 31 No-Names 13
Washington actually held a 13-10 lead at the half, mainly because the Chiefs turned the ball over 3 times. Kansas City righted the ship in the second half by holding on to the ball and blew out the No-Names 21-0 to go home with the win.
Patrick Mahomes (32/47, 397 yards, 2 TDs, 2 INTs) has already thrown more interceptions this year than he did in the entire season last year. Either somebody got into his ear at halftime or he was just mad at himself because he came out of the locker room blazing in the third quarter. Travis Kelce (8 receptions, 99 yards) and Tyreek Hill (9 receptions, 76 yards, 1 TD) were the main beneficiaries. When they aren't shooting themselves in the foot the Chiefs offense is still dynamic, but they desperately need to cut down on the turnovers. The Chiefs improved to 3-3, tied for third place in the AFC West with the Broncos. Big game next week against the Titans in Tennessee.
KC gave the No-Names multiple chances to take control of this game in the first half and they blew it. Then they didn't even show up for the second half. Taylor Heinicke (24/49, 182 yards, 1 TD, 1 INT) was not impressive against a stinky Chiefs defense. The running game was better when given the opportunity, gaining 94 yards on 19 rushes. The Washington defense was alright when they were forcing turnovers. When the turnovers stopped so did their effectiveness. After looking so strong last season the defense has been total trash this year. The No-Names fell to 2-4, tied for second place in the NFC East with the Eagles. It is never good to be tied with the Eagles in anything. It won't get any easier when they head to Green Bay next week.


Raiders 34 Broncos 24
Las Vegas had their entire world upended last Monday with the resignation of head coach Jon Gruden and still walked into Denver and kicked the Broncos ass with ease. Don't be fooled by the final score, nearly all of Denver's scores and stats came in garbage time.
David Carr (18/27, 341 yards, 2 TDs) got back on track after a rough couple of starts. Henry Ruggs (3 receptions, 97 yards, 1 TD) helped with a couple long catches. The running back duo of Joshua Jacobs and Kenyan Drake each scored a TD as they combined to gain 87 yards on 20 carries. The Raiders always collapsed after strong starts under Gruden. Who knows, maybe they can hold it together for a full season under new head coach Rich Bisaccia. Las Vegas improved to 4-2, tied for first place with the Chargers in the AFC West. They'll host the Eagles next week.
After a 3-0 start against some of the worst teams in football (combined 3-15 record), the Broncos have been outed as frauds once they faced real competition. Teddy Bridgewater (35/49, 334 yards, 3 TDs, 3 INTs, 1 fumble) was a turnover machine who padded his numbers in garbage time. He did very little before then, accept turn the ball over of course. The Broncos dropped to 3-3, tied for third in the AFC West with the Chiefs. They get a break this week with a quick turnaround Thursday game against the Browns, who are banged up on offense beyond belief.


Steelers 23 Seahawks 20 OT
The Steelers got the win, yet the fact that they needed overtime to defeat a Seattle squad without Russell Wilson at home says everything is still not right in Steeltown. The Steelers took a big lead at the half, coughed it up in the third quarter and traded FGs to set up overtime. Overtime wasn't pretty either as the two teams traded punts until Pittsburgh linebacker T.J. Watt had enough of that shit and strip-sacked Geno Smith on the Seattle 15-yard line to set up a chip shot game-winning FG.
Ben Roethlisberger (29/40, 229 yards, 1 TD) got away from the deep balls once again as he dinked and dunked the ball down the field, settling for mostly check downs. Either the Steelers wide receivers are failing to get any separation down the field or Roethlisberger has lost confidence in his old arm. I'm leaning towards the latter. Najee Harris (24 rushes, 81 yards) and the Steelers running game wasn't very effective, but Mike Tomlin stuck with it to take pressure off of Big Ben. It was the smart thing to do.
Once again it was Pittsburgh's defense who were the real stars. They sacked Geno Smith 5 times, held Seattle to 3/12 on third down conversions and forced the turnover in overtime to set up an easy game-winner for the offense. This team will only go as far as the defense will take them. The Steelers improved to 3-3, tied with Cleveland for third place in the AFC North. They have a bye next week.
The Seahawks were in a tough spot this week, having to face a stiff Steelers defense in Pittsburgh without Russell Wilson and Chris Carson. They held their own, but in the end didn't have enough juice on offense to sneak out of town with a win. Geno Smith (23/32, 209 yards, 1 TD) played smart, he held the offense together instead of trying to ball out like Wilson. He got a lot of help from running back Alex Collins (20 rushes, 101 yards, 1 TD), who pounded the Steelers in the second half to power Seattle's comeback. The Seahawks fell to 2-4, last place in the NFC West. They better hope Russell Wilson heals fast from his thumb surgery. They'll host the Saints next week.


Well that's a wrap for Week 6. I'd say it's time to look forward to Week 7, but the Cowboys are on a bye so who really cares? I guess I'll watch the games anyway. Thanks for reading, feel free to leave a comment below.
---
---