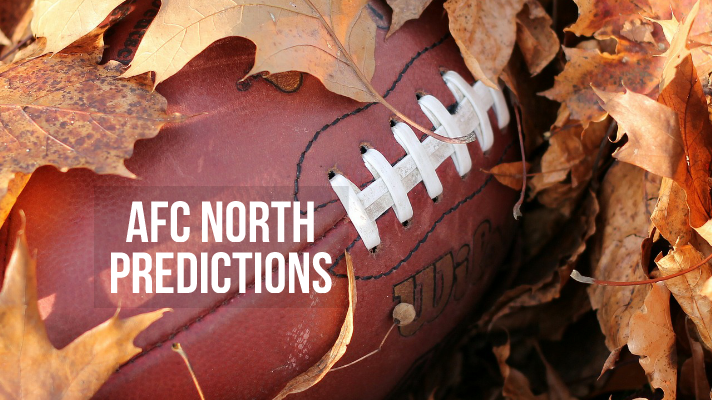 | AFC North Standings | W | L |
| --- | --- | --- |
| Cleveland Browns | 10 | 6 |
| Pittsburgh Steelers | 7 | 9 |
| Cincinnati Bengals | 7 | 9 |
| Baltimore Ravens | 5 | 11 |
Steelers win higher place over Cincinnati based on better win percentage in common games.

1. Cleveland Browns, 10-6
If Cleveland hadn't shown me signs last season, it would be really difficult to predict a ten win season for them. They finished their last seven games with a 5-2 record. Baker Mayfield played well last year. The defense of the Browns is also very strong. This team and city seems young and hungry with decent momentum from last season. When you add Kareem Hunt and Odell Beckham Jr. to a team like that I just got a good feeling about the Browns.
2. Pittsburgh Steelers, 7-9
The Steelers are usually solid but this season I don't quite see the playoffs for them. Couple years ago I remember Big Ben saying he was contemplating retirement. No Antonio Brown anymore. AB is annoying but still very strong talent. I like James Conner as a person and his story is inspirational. I also like him for the most part as a running back. But I don't think Pittsburgh can lean on Conner like they used to lean on Bell. Time will tell for the Steelers.
3. Cincinnati Bengals, 7-9
I expect the Bengals to have a similar season as last season. They had several good seasons in a row a few years back but it seems like the league has sort of figured out the Andy Dalton lead Bengals. They are consistently scrappy though and always play tough. Sort of a lesser version of the Steelers. On paper this team could do better but based on recent years I see no big reason to expect huge changes for the Bengals in 2019.
4. Baltimore Ravens, 5-11
I am not really sold on Lamar Jackson. This dude might be an injury waiting to happen. He ran the ball last season and proved he can do it pretty well at times, but it's hard to imagine him playing a clean sixteen game NFL season injury free with such a blatant and obvious running style. If he improves as a passer I suppose that could help, but I really don't picture him improving drastically enough in 2019. Quarterback is the most important position unless your defense is legendary. Even then it's not always enough. I just don't see Baltimore having a huge year in 2019.

What do you think of my predictions for the AFC North? How do you see the division playing out in 2019? Steem on and Sport on!