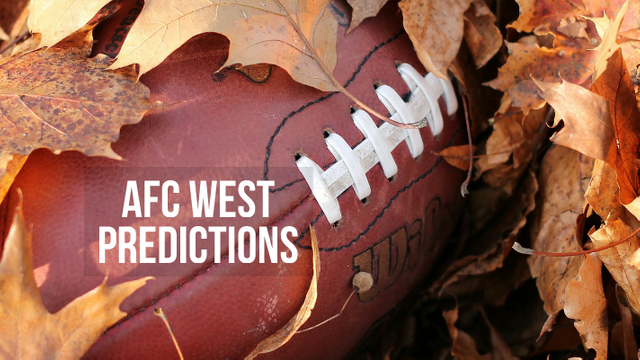 | AFC West Standings | W | L |
| --- | --- | --- |
| (1) Los Angeles Chargers | 12 | 4 |
| (2) Kansas City Chiefs | 10 | 6 |
| (3) Denver Broncos | 7 | 9 |
| (4) Oakland Raiders | 5 | 11 |

1. Los Angeles Chargers, 12-4
QB Philip Rivers and WR Keenan Allen have been a sorely underrated duo in this league. The Chargers defense, when healthy, has proven to be pretty good. I believe people will sleep on this team once again, similar to last season.
I'll be honest the RB Melvin Gordon holdout does kind of mess up my prediction. He was a big part of why I gave the Chargers twelve wins. Either I was completely ignorant towards his holdout or his holdout/possibility of a holdout wasn't very publicized at the time.
Either way I do expect this team to be competitive so all is not really lost.
2. Kansas City Chiefs, 10-6
I was very very impressed by QB Patrick Mahomes last season, honestly it was pretty scary to watch as a fan of an AFC team. Maybe I am hating based on my fear, but as good as Mahomes was I still have a mental checkmark that I need to be checked before I declare Mahomes the second coming of Favre like everyone says he is.
I need to see if teams don't start to gameplan harder towards Mahomes and really respect his game more and take him seriously. I really believe a good percentage of teams didn't fully understand how good Mahomes was when they faced him last year. I can almost guarantee some teams didn't take him 100 percent serious.
So to make it clear, if Mahomes does repeat or nearly repeat his season from last year than it's official, the dude is going to be the next great. But this second season is big.
With all that being said I believe there will be a little slump for Mahomes but not a disastrous one. The Chiefs have another strong season.
3. Denver Broncos, 7-9
There is a chance that the Broncos perform better than this record, they could be sneaky good. New QB Joe Flacco is a seasoned vet that may be low-key motivated after he basically straight up got his job taken by Lamar Jackson, a player who may be injured by Week 8. Flacco is a solid game manager.
In the years post Peyton Manning it was obvious that the Broncos were a quarterback away from being a premier team. The defense in Denver has never been in question. I am curious to see how Denver's season plays out, this team may surprise some people.
4 Oakland Raiders, 5-11
I really thought Derek Carr was going to be the next great QB in the league a few years ago. There is still a chance he can be great but the last few years haven't been so kind on the QB. Back in 2016 he helped lead the Raiders to a 12-4 record, but hasn't been able to replicate that success.
They recently picked up star wideout Antonio Brown and he's been nothing but drama, a headache, a giant ego. A baby.
Jon Gruden is a reality TV star for a head coach. I don't see much hope for the Raiders. Unless they come together despite the drama and use it all as motivation. But I don't see the Raiders getting many wins in 2019.

What do you think of my predictions for the AFC West in 2019? How do you think the AFC west teams will finish in 2019? Steem and Sport on.