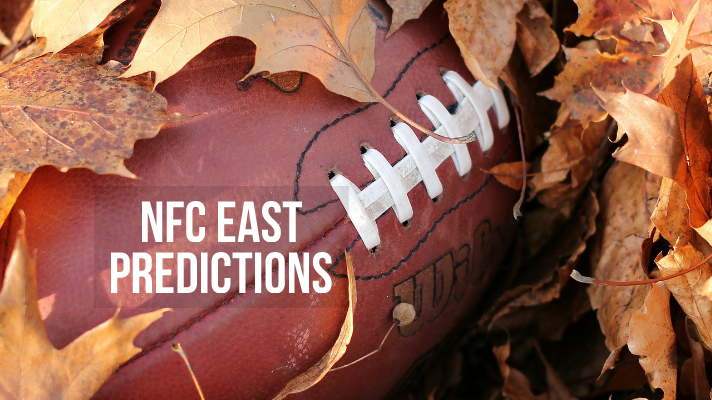 | NFC East Standings | W | L |
| --- | --- | --- |
| 1.Philadelphia Eagles | 11 | 5 |
| 2. Dallas Cowboys | 8 | 8 |
| 3. Washington Redskins | 3 | 13 |
| 4. New York Giants | 2 | 14 |

1. Philadelphia Eagles, 11-5
Despite various uncertainties that surround the Eagles, this team has proven to me to be consistently good in recent years. The core of this team is pretty intact and I like the addition of running back Jordan Howard for this team. Carson Wentz is good he just has gotta stay healthy. I think he's motivated to prove himself all over again after all of the Nick Foles hype. The defense seems stingy every year now as well. The Eagles are just too talented for a lot of teams.
2. Dallas Cowboys, 8-8
The Dallas Cowboys are just a tad overrated in my opinion. With Zeke out I remember the Cowboys were really a different team. There is a chance Zeke holds out in 2019. Dak is average but I like his effort, he really seems to give it his all every Sunday. I will admit the Cowboys are a tricky team to predict. As I went through the schedule it was hard to choose a lot of their matchups.
I just don't see them being as good as last season. Their defense solid but it isn't dominant enough for me to say they can be extra special or anything. Maybe I am just being a hater. We shall see.
3. Washington Redskins, 3-13
The Redskins have just an ok defense with a bunch a question marks on offense. I like rookie QB Dwayne Haskins but I see him having maybe like a Josh Allen type of rookie season and developing more down the road. Adrian Peterson is a quality back, but with not that great QB play and their seven time pro-bowl offensive lineman Trent Williams refusing to ever play for the Redskins again, I just don't see this being a great year for the Skins.
4. New York Giants, 2-14
I can't say Daniel Jones will never be solid but I just don't see it happening quite yet. I think he's in a similar boat as Haskins but perhaps he will need even more time in my opinion. There is some upside for Daniel Jones though. The Manning family has helped train and supports Daniel in his professional journey, which is not a bad thing. Also Daniel has looked solid in the preseason which, once again, is not a bad thing.
Unless Manning or Jones can play significantly better than expected and the entire team improves from their recent poor seasons, I expect more of the same for the G-men in 2019.